Why the U.N Is Right to Worry About the Trump Administration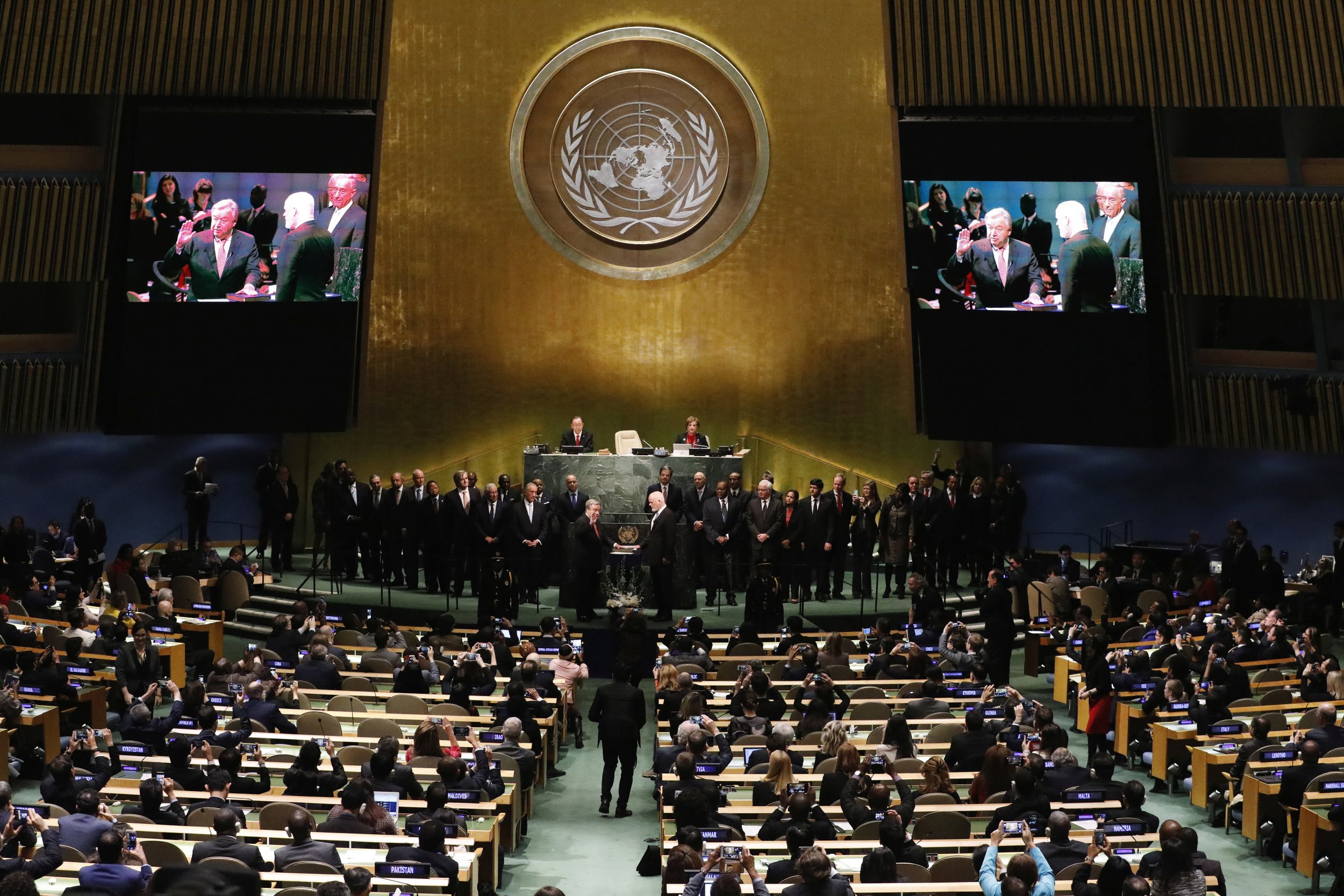 Donald Trump and Antonio Guterres will assume their respective posts as U.S. President and U.N. Secretary-General next month. The imperious American businessman and the polished Portuguese diplomat will oversee a new and potentially confrontational era in U.S.-U.N. relations—one that could carry high costs for the United Nations. While much remains difficult to predict, the views of Trump and his advisers—combined with Republican majorities in both houses of Congress—indicate that Washington is poised to adopt a more negative approach toward the international body than it has in recent years.
Trump and some key people advising him—including his National Security Adviser (Michael Flynn) and rumored pick for deputy Secretary of State (John Bolton, a former U.S. ambassador to the U.N.)—ascribe to the self-described "America First" camp of Republican foreign policy. Anti-globalist sovereignty hawks, America Firsters tend to see the U.N. in narrow transactional terms. According to this view, the U.N. is at best a sometimes-convenient instrument to serve U.S. foreign policy interests; at worst, it is pernicious to U.S. interests and does not merit U.S. support. Once called "the U.N.'s bogeyman," Bolton illustrates the case in point: He believes treaties are "only political documents," sees the U.N. Secretariat as a largely clerical body at the service of the U.S., and views the U.N.'s roles in developing norms and global governance as shackling the United States.
These views represent a sharp reversal from President Barack Obama's embrace of the United Nations. A committed multilateralist, Obama worked through the U.N. to tighten sanctions against Iran and North Korea and get a mandate for military action to protect civilians in Libya (although he failed to follow through on his humanitarian principles in Syria). He also pushed back on Congressional efforts to restrict U.N. funding, cleared U.S. arrears, took the lead on strengthening U.N. peacekeeping, and sought—and won— for the first time a U.S. seat on the Human Rights Council.
Shifts in U.S. policy are likely to provoke tension across the board, but especially in four areas at the heart of the U.N's work: Security Council dynamics, human rights, climate action, and U.N. funding.
The Security Council
With Trump, his designated Secretary of State Rex Tillerson, and Flynn priding themselves on their warm relations with the Kremlin, a détente is likely to emerge in the U.N. Security Council between Russia and the U.S. Rising tensions between them, mainly over Syria, have increasingly paralyzed the body. This honeymoon—while improbable and perhaps fated to be short-lived—may undermine U.N. action on human rights and civilian protection.
Trump has implied he could support Moscow's acceptance of Syrian leader Bashar al-Assad, whom U.N. reports implicate in war crimes, as a possible partner in the fight against ISIS. The Trump administration and the Kremlin will surely reinforce each other's take-no-prisoners attitude to terrorism. And the America Firsters' distaste for liberal interventionism will be warmly greeted by Russia and China, which are skeptical of the notion that the international community has a responsibility to protect civilians from mass atrocities. While U.S.-Russian comity is likely to grow within the Security Council, the Western coalition on issues such as human rights, peacekeeping, protection of civilians, humanitarian access and democracy promotion is likely to fray.
Human Rights
The U.N.'s human rights machinery more broadly may come under attack by the new U.S. administration. A number of statements made by Trump on the campaign trail led to public warnings by the U.N.'s human rights chief of the dangers of a Trump presidency—a rebuke Trump is unlikely to forget. The appointment of Mike Pompeo, a supporter of torture methods, as CIA head, has raised further concerns. Given that Bolton called his casting of the U.S. vote against the creation of the Human Rights Council in 2009 one of his "proudest moments," Obama's embrace of the body will almost certainly be reversed if the former is nominated and confirmed.
Vice-President-elect Mike Pence's unyielding positions on women's rights and abortion suggests that the U.N. Population Fund and related U.N. programs could become soft targets for the new administration. LGBTI rights could slip from the U.N.'s agenda without an outspoken American advocate like Samantha Power ; and Trump's pick for U.S. Ambassador to the U.N, Nikki Haley, is unlikely to champion this issue.
Climate action
International climate action may become a prime victim of the new administration. Trump's selection of Scott Pruitt, a climate skeptic, to lead the Environmental Protection Agency indicates he may follow through on his campaign promise to withdraw the U.S. from multilateral climate efforts. Tillerson, who believes fears about climate change are overblown, would be unlikely to prioritize the issue as his predecessor John Kerry did. The new administration would have trouble undoing Obama's regulatory measures on climate change, and would be unlikely to reverse the wider international commitment to combatting the threat, given its acute manifestations in many countries, including China.
However, a Trump administration could take steps—like withholding U.S. support to the U.N's Green Climate Fund—that would threaten the current process. Moreover, given that climate change is widely considered the defining test for global governance of our time, a U.S. repudiation of the Paris agreement would undercut the credibility of the multilateral system to address global problems, and threaten to harm multilateral cooperation in other areas.
U.N. Funding
Already in dire straits, U.N. funding is likely to face new threats due to Republican control of both the White House and Congress. Congressional Republicans, who have long sought to selectively and sometimes extensively de-fund the organization, may soon find a more sympathetic White House. During the campaign, Trump complained that the U.S. disproportionately funds the U.N. in return for nothing but good real estate prices. Bolton wrote a book arguing that the "only meaningful U.N. reform" would be a shift to a voluntary funding model—a radical demand that would cripple the world body financially and render it, above all, pliable to its biggest donors (the U.S. being at the top of the list).
Pence, while serving in the House, co-sponsored two bills (in 2005 and 2011 ) that threatened to cut U.S. funding unless the U.N. were to meet potentially devastating budgetary demands. With the new constellation of Republican power in Washington, the U.N. may face a decrease in U.S. contributions and an increase in the strings attached to the surviving income.
Come January, Guterres is likely to find himself in a tough spot. On the one hand, as Secretary-General he must ensure U.S. buy-in to keep the U.N. running and relevant. Guterres will rely on the U.S. not only for a substantial part of the U.N.'s budget, but also for its unique ability to mobilize the international community in support of U.N. objectives and activities. On the other hand, as Secretary-General, he will also be expected to be a guardian and advocate of U.N. principles, including human rights and protection norms.
These dynamics could bedevil Guterres in engaging the new team in Washington, which will disapprove of a Secretary-General who acts as a moralizing secular pope or anything like it. They likely want a Secretary, not a General. Guterres will need to strive for the right balance throughout his term: seeking constructive cooperation with Washington on issues of mutual concern whenever possible, while speaking truth to power in defense of U.N. principles and fundamental norms whenever necessary. How Guterres manages the coming period of U.S.-U.N. relations will likely define the effectiveness of his tenure as a whole.
Sebastian von Einsiedel is the Director of the United Nations University's Centre for Policy Research (UNU-CPR). Cale Salih is a Research Officer at UNU-CPR.