Former White House Communications Director Anthony Scaramucci said Wednesday that he had only heard President Donald Trump apologize twice in the 20 years he has known him. Scaramucci, a longtime ally of Trump's in New York City, was reacting to Trump's stunning reversal Tuesday on his comments about Russian election interference from the previous day.
Related: Donald Trump Claims He Meant to Say the Exact Opposite of What He Said About Russian Election Interference
The other time that Scaramucci had seen Trump apologize? When he said sorry to wife Melania Trump and the American people after the release of an Access Hollywood tape shortly before the 2016 election in which he was heard bragging about committing sexual assault.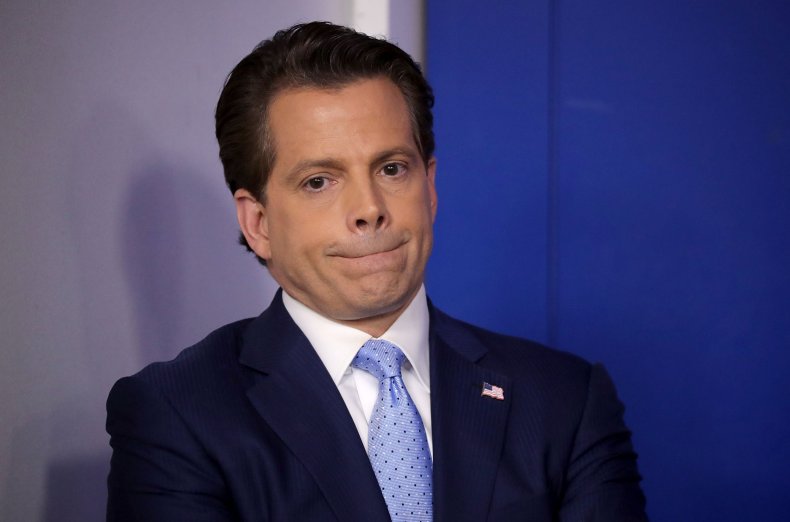 Trump has now been compelled to make two uncharacteristic climbdowns in a matter of days. Last week, Trump was forced on the back foot when appearing alongside British Prime Minister Theresa May just hours after the release of an interview in which he criticized May's plan for Brexit and cheered on one of her political opponents.
Still, that was nothing compared to his reversal on Russia.
Speaking at a press conference alongside Vladimir Putin in Helsinki, Finland, Monday, Trump said of Russia's alleged attempts to meddle in the 2016 elections: "President Putin says it's not Russia. I don't see any reason why it would be."
Trump's comments came just three days after 12 Russian officials were indicted by the Justice Department for hacking into the servers of the Democratic National Committee and Hillary Clinton's campaign.
The president's apparent siding with Putin over his own Justice Department and intelligence agencies sparked bipartisan outrage on Capitol Hill.
Attempting to defuse the explosion of criticism, Trump spoke to reporters from the White House Tuesday and claimed that the issue was that he simply misspoke.
"I said the word 'would' instead of 'wouldn't' and the sentence should have been: 'I don't see any reason why it wouldn't be Russia.' Sort of a double-negative," Trump said.
Trump made no such attempted clarification either in tweets or interviews recorded after the press conference. The reversal was accepted by some of his supporters. But to many others it rang hollow.
And Trump was back on Twitter Wednesday moring doubling down on his favorable tone toward the Russian president.
"Some people HATE the fact that I got along well with President Putin of Russia," he tweeted. "They would rather go to war than see this. It's called Trump Derangement Syndrome!"