A Brief History of Donald Trump's Strange Relationship With Apologies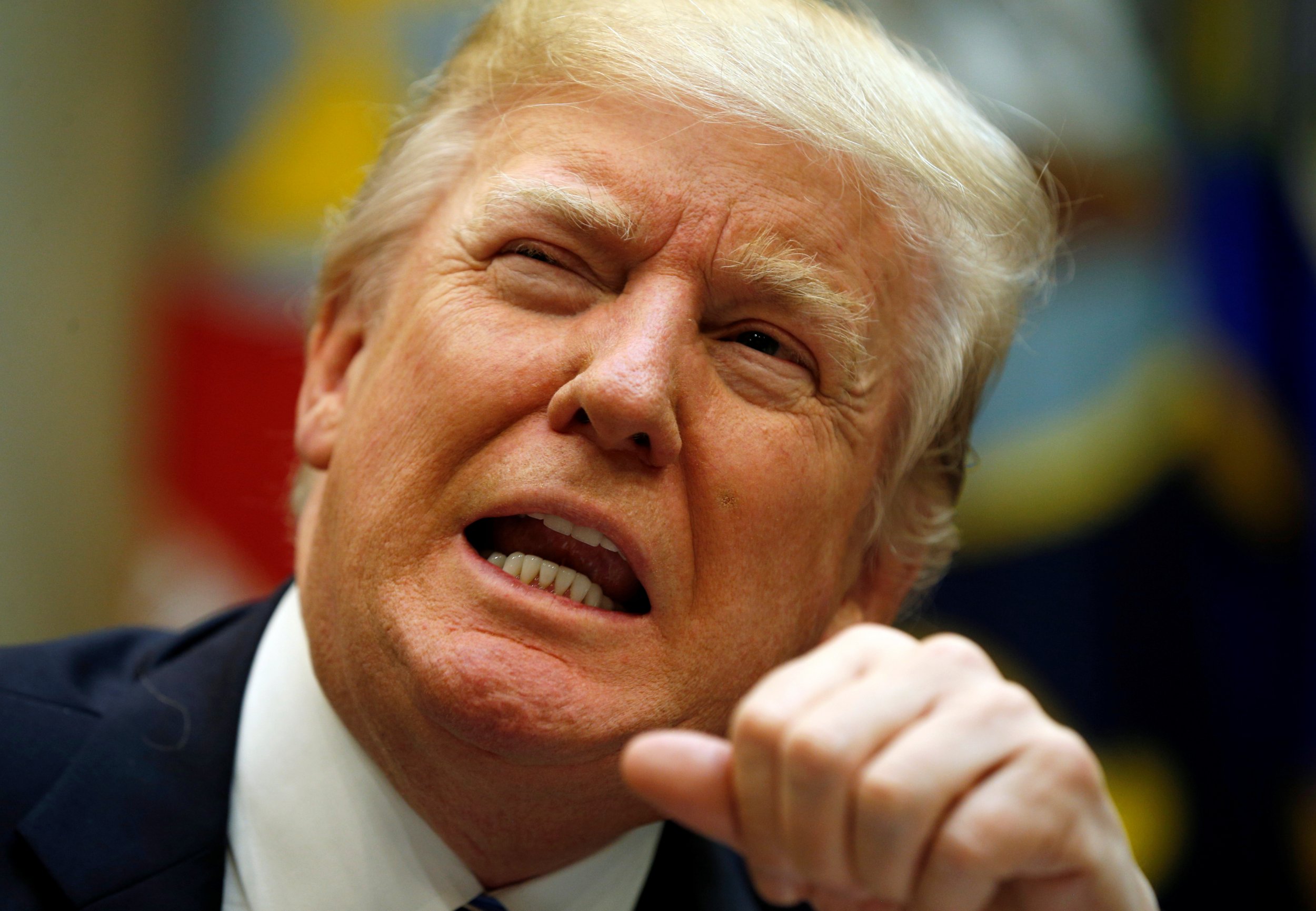 Apologies are very important to Donald Trump. Here are some of the ways he has asked for them:
"Apology?"
"Apologize."
"Apologize!"
"Please apologize!"
"I want an apology!"
"They should apologize."
"Will you apologize?"
"He owes apology!"
"He should apologize."
"Will he apologize?"
"He doesn't have the guts to apologize!"
"Are you man enough to apologize?"
"Why not apologize?"
"APOLOGIZE!"
Related: Snoop Dogg "shoots" fake Donald Trump in new video
The latest request for atonement goes out to Snoop Dogg, through Trump's personal attorney, Michael Cohen. On Sunday, the electronic group BADBADNOTGOOD released a music video in which the rapper points a toy gun at a clown dressed as Trump. The president did not take kindly to the mock assassination, tweeting Wednesday morning that Snoop would be facing "jail time" if he "had aimed and fired the gun at President Obama."
"It's totally disgraceful," Cohen told TMZ Live on Tuesday. "Snoop owes the president an apology."
It may seem to be a waste of the president's time to spend his energy scavenging for apologies from every last person who slights him, but this is the currency with which the outer-borough real estate developer with a chip on his shoulder trades. He values loyalty above all else, he holds grudges, and if he feels he has been disrespected, he demands atonement. Many have compared Trump's temperament to that of a child, and this is another kindergarten lesson that he has clung to longer than Shinzo Abe's hand. For the 70-year-old Trump, though, apologies are not about coming to any sort of mutual understanding; they are about wresting power away from adversaries. He has very little chance of actually getting it, but by asking for it publicly he feels he can create a perception that he is owed something. It's a final, feeble attempt to secure the thing he desires more than anything else: respect.
In light of Cohen's admittedly reasonable request for Snoop Dogg to apologize to the president for pretending to assassinate him, we bring to you a brief history of Trump and apologies. It's just as one-sided as you might have guessed.
Pop Culture
If you can muster the energy to think all the way back to before Donald Trump announced his candidacy, you'll recall that the president was not only a reality TV star, but a voracious consumer of tabloid culture. He famously latched on to Robert Pattinson's relationship with Kristen Stewart in 2012, tweeting about how Pattinson should "drop her" 10 times in less than a month. Trump loves the world of fame, and when famous people disrespect them, they must apologize.
Two years later, Trump became infatuated with Katy Perry's relationship with British comedian Russel Brand, tweeting repeatedly that the singer deserved better. One of Trump's tweets mentioned that Brand sent him "a really nice letter of apology," which seems unlikely considering Brand responded by asking Trump, "Are you drunk when you write these tweets? Or does that foam you spray on your bald head make you high?"
Nevertheless, Trump saying that Brand apologized—regardless of the degree to which it is true—gives the impression that Trump "won" the feud. As we've come to realize over the course of Trump's candidacy and now presidency, the impression is often more important than the reality.
It gets weirder.
In May of 2014, Trump called for a reporter to apologize for disparaging comments about then–Oklahoma City Thunder forward Kevin Durant, whom Trump called a "truly great player and a winner." The motivations behind this are a mystery. He's also called for Saturday Night Live to apologize for a sketch about the Germanwings plane crash and, famously, for the cast of Hamilton to apologize to Mike Pence after they expressed their concerns about the incoming Trump administration while Pence was in the audience. Pence has said that he was not offended by the incident.
Nearly all of Trump's apology requests fail to elicit a response, but when Trump in 2012 demanded an apology from David Letterman, the late-night host couldn't resist. Trump had been a mainstay on Letterman's shows since the '80s, but after the host called Trump a racist in light of his remarks about President Barack Obama's place of birth, Trump refused to return to his show and demanded an apology. Letterman did "apologize," in the most Letterman way possible.
"Maybe it's that he's not just a racist," Letterman said, feigning sincerity. "Maybe he's just a guy that periodically says stupid things to get people's attention."
"I would like him to be on the show," he added. "It's an element that we miss, especially with the [2012] campaign nearing fruition, to have big, dopey, puffy Donald Trump here.... So this is my apology. I'm saying it's possible that I was wrong that he's a racist. We don't want to think that of anyone. He's just a dope. How about that?"
Politics
Trump has long held a superficial interest in politics. (Some would say he still holds a superficial interest in politics.) Prior to announcing his candidacy, though, the future president would often air his opinions from a kind of unassailable moral high ground. He was the backseat drunk driver, the armchair third-string quarterback of political theorizing. Even if Trump himself is not directly involved, the act of getting someone to apologize to someone else implies a similar measure of respect paid to Trump.
In 2012, he called for Pakistan to apologize for "providing safe sanctuary" to Osama bin Laden. In 2013, he tweeted that he would not only have gotten Russia to apologize for harboring Edward Snowden, he would have gotten them to return him to the United States on "their fastest jet." In 2014, he asked for both President George W. Bush and Obama to apologize for the Iraq War, for Republicans to apologize for "blowing" the 2012 election to Obama and for Jonathan Gruber, the "architect" of Obamacare, to not only apologize for the health care plan, but to "return all taxpayer money."
Since he announced his candidacy, Carly Fiorina, John McCain and, of course, Hillary Clinton have all been called on to admit their wrongdoing to Trump. Meanwhile, Trump insulted Fiorina's appearance, said that McCain "is not a war hero" because he was captured and hurled an incalculable number of offensive, apology-worthy accusations and insults at Clinton. He has apologized for nothing.
No one came out against Trump more forcefully during the campaign than Mitt Romney, who in March delivered a televised address calling Trump a "con man." Trump responded by lashing out at Romney, but the apology ask came in November as Trump was searching for his secretary of state. Romney was a candidate, and even had dinner with Trump, but Trump demanded Romney apologize for his remarks in March. Romney ultimately refused and Trump tapped Exxon CEO Rex Tillerson, but it begs the question: Was Trump seriously considering Romney, or was he just dangling the position in front of him as a way to coerce a public admission of defeat?
The politician who owes Trump the most apologies, though, is Obama. In addition to the Iraq War, Trump has called for Obama to apologize for Obamacare, Benghazi and Ebola, for which Trump also felt Obama should resign. Citing an article from the Washington Times about the "influx of illegal immigrants" from Central America, Trump said that Obama "will soon apologize."
Despite proof that Obama was born in the United States, Trump wasn't very receptive to the idea of apologizing for propagating the conspiracy that he was born in Kenya.
The Media
Perhaps Trump's greatest enemy is the media, and there is nothing he would love more than for Fake News CNN, the Failing New York Times or any other "biased" outlet to apologize for wronging him. He's called on NBC's Mark Halperin to apologize for showing video of Trump "using a very bad word" to a focus group. Citing a Breitbart article, he tweeted that CNN should apologize for favoring Clinton. Univision's Jorge Ramos was asked by Cohen to apologize not only to his employer but also to "fellow journalists" for calling Trump anti-immigrant. Trump even asked his beloved Fox News to apologize for "allowing" Rich Lowry to "use such foul language" on TV.
Trump has asked the Wall Street Journal to apologize both for a "totally incorrect" editorial, and for failing to mention that Clinton's primary advantage over Trump was, in Trump's estimation, due to her running against only one opponent. The Journal wasn't wrong in either case; it just delivered information in a way that Trump found unflattering.
On a lighter note, Cohen in 2013 demanded that satirical news outlet The Onion apologize for an article offering a temporary cure for depression.
Trump, if you haven't realized by now, doesn't have much of a sense of humor about himself.
Perhaps the biggest flurry of media-related apology requests came in the wake of Trump's claim that he saw "thousands and thousands" of New Jersey Muslims celebrating 9/11. There is no evidence of this, and yet Trump doubled down not only by reiterating his claim, but by demanding apologies from those who questioned it.
"I want an apology!" Trump tweeted along with an excerpt from a 2001 Washington Post story that noted that "a number" of people that were detained after celebrating on a rooftops. Later, citing a CBS report that eight people were found celebrating, Trump retweeted a call for NBC's Chuck Todd to "APOLOGIZE HYPOCRITE." A day earlier, he tweeted a link to a Breitbart article that referenced the same report. "Will the mainstream media apologize?" he asked.
Of course, the only person who should actually apologize for any of this is Trump, but despite how often he will call for others to do so, Trump is steadfast in his refusal to apologize himself. To apologize is to defer and to supplicate. It's an act of humility to which Trump seems to be allergic. To apologize is also to admit wrongdoing, and as we have come to understand, Trump will always find a way contort reality so that it syncs up with his vision of the world and of himself.
Trump didn't apologize for accusing thousands of New Jersey Muslims of celebrating 9/11. He didn't apologize for mocking disabled reporter Serge Kovaleski. He didn't apologize for implicating Ted Cruz's father in the assassination of John F. Kennedy. He's not likely to apologize for claiming that millions of illegal votes were cast for Hillary Clinton, of which there is no evidence, or for accusing Obama of wiretapping Trump Tower, of which House Intelligence Committee Chairman Devin Nunes said on Wednesday no evidence exists.
The only time Trump has made any attempts at apologies, they have come in service of his own desire to win the presidency. The most notable recent example came following the leak of audio from 2011 that featured Trump rattling off a string of lewd remarks about women. You know the ones.
Despite the Facebook video, Trump would go on to defend his comments on several occasions. During the second presidential debate, he denied that he bragged about sexually assaulting women. "This was locker room talk," he said. "I'm not proud of it. I apologize to my family. I apologize to the American people. Certainly I'm not proud of it. But this is locker room talk."
Later in the debate, he once again refused to accept full responsibility for what he said, before quickly—like, really quickly—pivoting to ISIS. "Yes, I'm very embarrassed by it," he said. "I hate it. But it's locker room talk, and it's one of those things. I will knock the hell out of ISIS. We're going to defeat ISIS. ISIS happened a number of years ago in a vacuum that was left because of bad judgment. And I will tell you, I will take care of ISIS."
The initial apology was necessary politically, and the debate revealed Trump's true feelings: that he didn't really do anything wrong. Like all of the other negative news stories about Trump, the furor over the Access Hollywood tape was just another case of the media treating him unfairly. It was a conspiracy to ensure he lost in the following month's election, and we already knew Trump's thoughts about apologies and media conspiracies.
Read more from Newsweek.com:
- Judge says Hawaii can challenge Trump's new travel ban
- Trump's budget to include major cuts to State Department, EPA
- Lawmakers pressure Comey to provide evidence on Trump's wiretap claim