Did Donald Trump And 'The Apprentice' Really Help NBC's 'Failed Lineup' In The Ratings?
President Donald Trump's pre-political television career may seem like a millennia ago, but on Sunday the president reminded of us all of his time as host of NBC's The Apprentice when he took aim at one-time network stablemate — and long-time critic — Debra Messing of Will & Grace fame.
Earlier, Messing called for The Hollywood Reporter to name and shame attendees at a planned Beverly Hills fundraiser for Trump's 2020 re-election campaign, which, according to THR, will coincide with the week of the Emmy Awards.
That apparently prompted Trump to tweet Sunday: "I have not forgotten that when it was announced that I was going to do The Apprentice, and when it then became a big hit, helping NBC's failed lineup greatly, @DebraMessing came up to me at an Upfront & profusely thanked me, even calling me 'Sir.' How times have changed!"
What, if anything, was said between Trump and Messing at this unidentified NBC is between them. But did Trump's Apprentice really help boost NBC's ratings to the extent he claims? Here are the facts.
Did Trump's The Apprentice boost NBC's "failed lineup?"
In January 2004, when The Apprentice first premiered, NBC was in a transition phase. Two of its two biggest shows, Friends and Frasier, signed off for good in May 2004 prompting the network's all-comedy Thursday night lineup to be reworked for the first time in over two decades.
The first season of The Apprentice was indeed a huge hit when it premiered in January 2004, giving NBC the fifth top-rated broadcast program of the 2003-2004 television season, per Nielsen ratings data. Trump isn't wrong that Apprentice helped NBC's Thursday night lineup greatly in that respect; prior to Apprentice at 9 p.m., NBC's winning Thursday night comedy lineup had been losing ground to CBS' CSI: Crime Scene Investigation. But to say that NBC's Thursday night lineup was failing seems another classic piece of Trump rhetoric.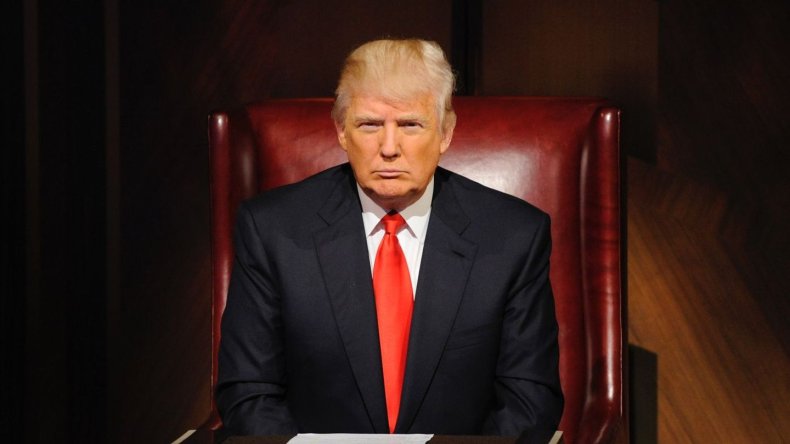 Even without The Apprentice, NBC had prime real estate to give it a competitive edge on Thursdays: Friends and ER. For all of its 10 seasons, Friends consistently ranked in the 10 top-rated shows on network television and in its final year ranked as the third top-rated program on broadcast, ahead of Apprentice. Medical drama ER, which aired on Thursdays at 10 p.m. for its entire run, ranked in the 10 top-rated network shows for the first 10 of its 15 years on air.
Will & Grace, though only once ranked in the top 10 shows, in the 2001-2002 TV season, was also a consistent player for NBC, making the cut of top 30 broadcast shows for half of its initial eight-season run between 1998 and 2006. (Will & Grace was revived for a further two seasons in 2017; a third season — the 11th overall — premieres this month.)
The Apprentice's ratings legacy
While Trump and The Apprentice premiered big in the 2003-2004 television season, its popularity waned with each of its successive seasons.
In the 2004-2005 TV season, The Apprentice aired two seasons — one in September 2004 and one in January 2005 — but it dropped out of Nielsen's top 10 rated programs, ranking 14 out of Nielsen's 30 top-rated programs and tying with CBS's Cold Case. What changed? Perhaps the lack of Friends lead-in on Thursday nights and oversaturation of the show — airing its first four seasons in a 24-month period between January 2004 and December 2005.
By Season 4, which premiered in the 2005-2006 TV season, The Apprentice fell out of Nielsen's 30 top-rated programs altogether and never returned. That despite airing a further three regular seasons and seven more editions of The Celebrity Apprentice. By Season 5, The Apprentice relocated from its cushy Thursday 9 p.m. time slot and moved around the NBC schedule. Only once did it return to its original time slot for the first season of Celebrity Apprentice in January 2008.
In terms of consistency and longevity, compared to Friends, ER and Will & Grace, Trump's Apprentice wasn't exactly the great savior of NBC's Thursday lineup.
But that has not stopped Trump from claiming otherwise, such is his preoccupation with television ratings and being No. 1. Former Apprentice publicity manager Jim Dowd recalled in September 2016 that before Apprentice Trump "knew nothing about Nielsen ratings" but "became obsessed."
After the great numbers for Season 1, Dowd told PBS' Frontline that Trump struggled to comprehend The Apprentice's flagging popularity.
"He never saw it that way. And it became really difficult to try to tell that story. There's about 10 people who cover ratings in terms of the publications that matter most," said Dowd. "And he would want to make sure I called all those 10 people and told them, 'Number one show on television, won its time slot,' and I'm looking at the numbers and at that point, say season five, for example, we were number 72 ... he became kind of a monster when it came to these ratings."