Donald Trump's Approval Rating Worse Than Obama's, Clinton's When They Suffered Massive Defeats in Midterm Elections
Ahead of elections viewed in part as a referendum on his first two years in office, President Donald Trump has an approval rating below that of Presidents Barack Obama and Bill Clinton when they saw the Democratic Party suffer crippling losses during their first midterms.
Trump's approval rating sat at 40 percent, according to Gallup's results from October 29 to November 4. Obama registered a 45 percent approval rating before the 2010 midterms, and Clinton was at 46 percent just before the 1994 elections.
The current president has seen his approval rating remain steady throughout his second year in office, but it did not show any improvement over the sharp decline he suffered in 2017. A CNN poll released Monday indicated a 39 percent approval rating for Trump, one of his lowest marks of the year, but his average of 43.7 percent in other major national polls reflected most of his results in 2018.
Other recent polls have shown a much higher approval rating for Trump. Rasmussen Reports, which often has the highest figures for the president, showed a 50 percent approval rating in its daily poll Monday. And CBS News showed a 47 percent approval rating in its poll conducted from October 30 to November 3.
The latest CNN poll's results largely showed that many voters view this year's midterms as an up-or-down vote on Trump. Forty-two percent of respondents said their vote would represent "opposition" to Trump, while 28 percent said their vote would be to show support for the president. Another 28 percent said their vote did not hinge on their view of the president.
But Trump could face the same fate as Obama and Clinton after their first two years in office. At 45 percent between November 1 and 7 prior to the 2010 midterms, Obama saw the Democrats lose 63 seats in the House of Representatives and six in the Senate. However, the Democrats still maintained a 53-47 advantage in the Senate.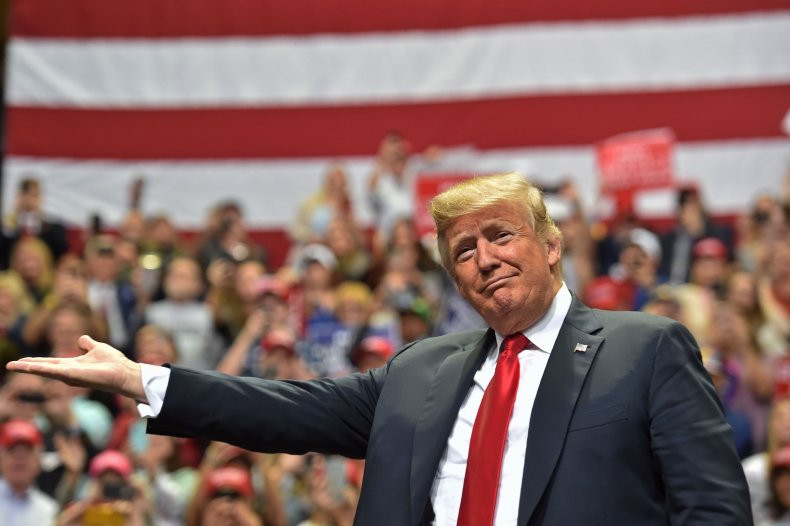 Obama had spent much of his political capital from his 2008 landslide victory on passing his signature health care bill, but the economy remained stagnant after the 2008 financial crisis.
Clinton struggled during his first year in office after defeating President George H.W. Bush in 1992, and two years later the Republicans picked up 54 extra House seats and eight seats in the Senate. After that 1994 massacre, the GOP controlled both chambers for the rest of Clinton's presidency.
By contrast, President George W. Bush was the last commander in chief to see his party gain seats in his first midterms, in 2002. Bush had a 63 percent approval rating, which had been heavily inflated to as high as 90 percent in the weeks following the September 11 attacks, but it steadily declined from that all-time record in the run-up to the 2002 midterms.
Nevertheless, Republicans took back the Senate by winning two extra seats and padded their lead in the House with eight more seats.
Updated: This story was updated to include approval rating results from other polls ahead of Election Day.