Donald Trump's Approval Rating Has Plunged in a State Crucial to His 2020 Election Hopes
President Donald Trump's approval rating recently slipped in the key state of Ohio as Republicans and the president dealt with the prospect of losing control of the House of Representatives in November's critical midterm elections.
Trump received a 42 percent approval rating and a 55 percent disapproval rating in the Buckeye State, according to Politico /AARP's new poll released on Monday. These numbers were higher than the president's average approval ratings but not high enough to dispel fears potential upheaval less than two months from the midterms.
The results could even hinder Trump's shot at re-election in 2020. Ohio has served as a major hurdle between Republicans and the presidency. Historically, no GOP candidate who failed to win Ohio has ever won the presidency.
In the poll, Trump received strong approval for his handling of the economy (57 percent), as well as national security (51 percent), but on every other issue he received no higher than 44 percent approval. Notably, the president received 44 percent approval on taxes, and 42 percent on immigration, guns and trade, but 35 percent on drug prices, 36 percent on Medicare and 37 percent on Social Security.
The last three figures were of major importance, both to Ohio voters and Republican chances of keeping control of the House. Seventy-eight percent of Ohio voters polled said that health care would be a major factor in how they would vote in the November miderms, whose results could make or break Trump's agenda for the rest of his first term.
The 42 percent approval rating in Ohio was a huge dip in how Trump stood in the state almost two years ago. Trump received 51.3 percent of the Ohio vote compared with Hillary Clinton's 43.2 percent. Its18 electoral votes played a big part in getting him to the White House.
Ohio's approval of Trump was higher than the president's recent average ratings but also reflected the results of several recent, less-favorable polls. The president's average approval rating was 40.9 percent and his disapproval 53.4 percent, according to RealClearPolitics, even including the Republican-leaning poll Rasmussen Reports, showing a 47 percent approval and 51 percent disapproval rating.
Trump did experience a significant lull in his approval rating earlier this month, with both NPR/Marist College and Quinnipiac University finding a 38 percent approval and CNN a 37 percent approval rating.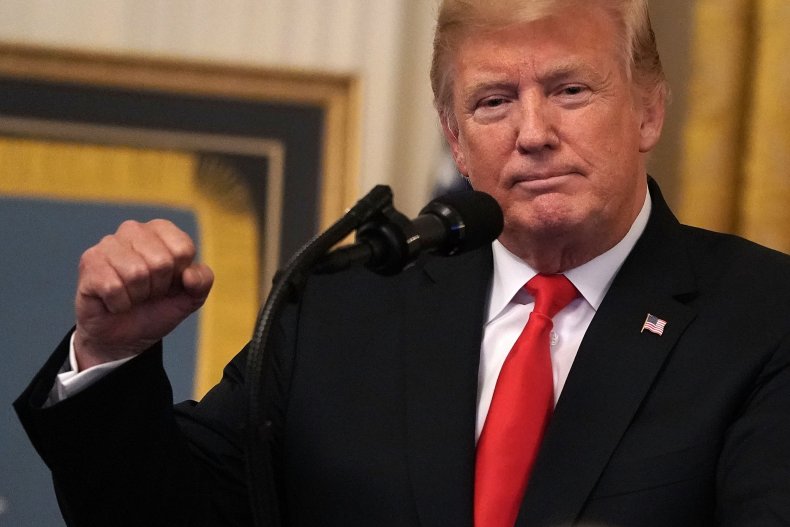 Those results were considerable dips Trump had not seen throughout 2018. The president, riding high with Republicans in the high 80s and even 90 percent approval range, remained near the mid-40 percent approval rating for much of the first half of the year, but his administration's "zero-tolerance" immigration policy and summit with Russian President Vladimir Putin appeared to hurt him.
Trump claimed Saturday his poll numbers were "good" but added they would be "25 points higher" if not for the special counsel investigation of Russia's meddling in the 2016 election.
"While my (our) poll numbers are good, with the Economy being the best ever, if it weren't for the Rigged Russian Witch Hunt, they would be 25 points higher! Highly conflicted Bob Mueller & the 17 Angry Democrats are using this Phony issue to hurt us in the Midterms. No Collusion!" the president tweeted.
The Politico/AARP poll was conducted between September 2 and 11 and drew its results from 1,592 registered voters with a margin of error of three percent.