Donald Trump's Approval Rating Actually Went Up, Halting His Downward Spiral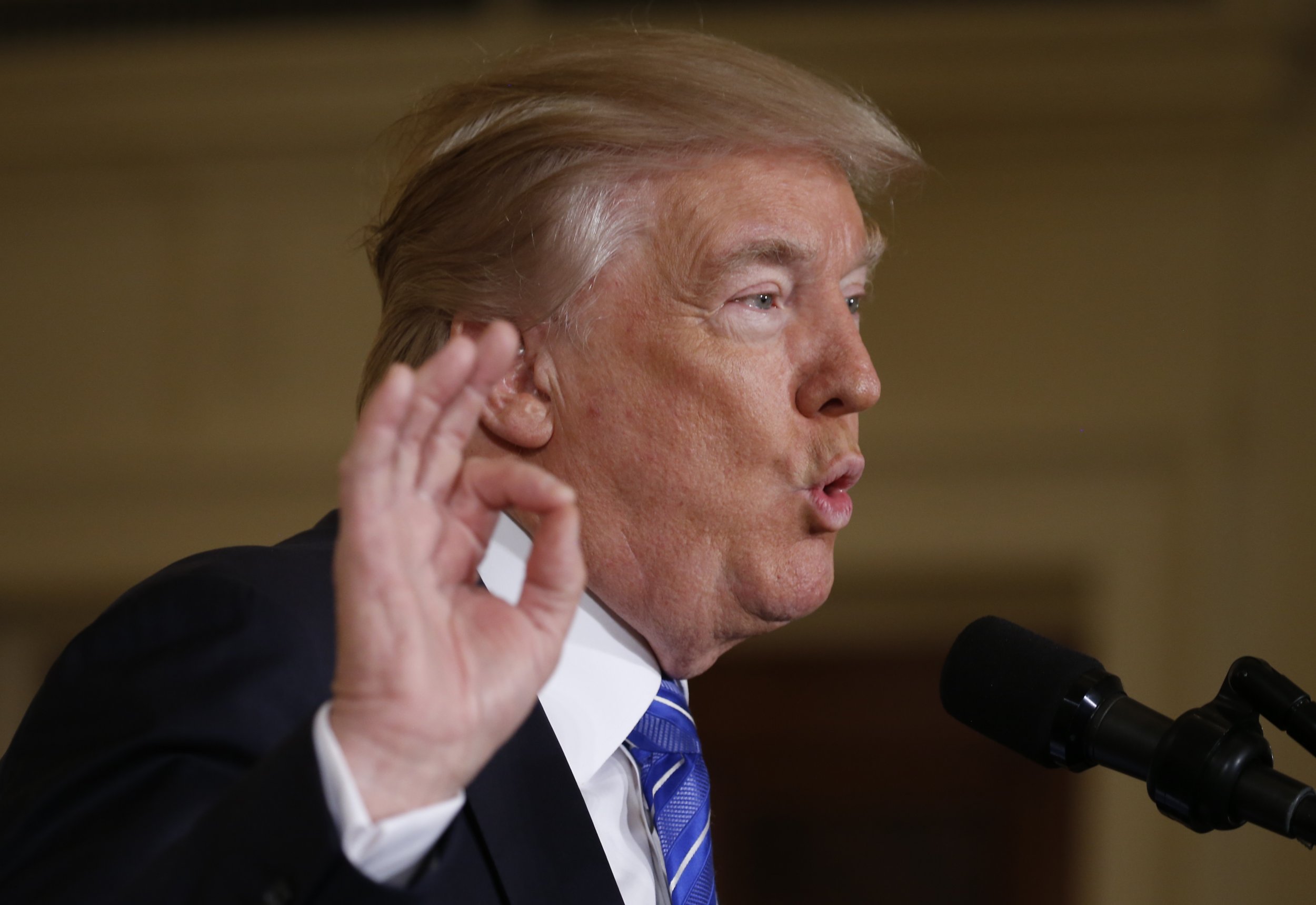 Some good news for President Donald Trump: His approval rating actually went up Friday.
The polls haven't been kind to Trump lately, with results showing that he was either sinking or holding steady at relatively low levels of support. But Gallup's tracking poll Friday found the president's approval rating stood at 42 percent. Fifty-four percent disapproved.
Mind you: 42 percent approval isn't great; in fact, it's downright bad for a president so early in his tenure. But for Trump, it's a big spike. Earlier this week, Gallup pegged Trump's approval at just 37 percent, dangerously close to the low point of 35 percent he set in late March. The Gallup daily tracking survey interviewed 1,500 U.S. adults and had a margin of error of plus or minus 3 percentage points.
It's still too soon to tell exactly what effect the current health care debate will have; Republican senators are working to get an Obamacare replacement passed even as the House bill proved deeply unpopular. But the Gallup poll could be seen as an encouraging sign for the White House. The last two times big health care news dropped—both when the House bill failed to garner enough support to take a vote and when that unpopular bill actually passed—Trump's approval rating took a nosedive.
It's expected that the Congressional Budget Office will release its score on the bill early next week. If it's anything like the report on the House bill, which estimated the legislation would lead to 23 million Americans losing coverage, it could certainly lead to the public growing upset with GOP lawmakers and the president, who has backed the Republican effort to dismantle Obamacare.
As the score approaches, Trump's average approval rating is inching closer to making its way out of the 30s. The weighted average from data-focused website FiveThirtyEight rose slightly to 39.1 percent Friday. The FiveThirtyEight average adjusts for a survey's quality, recency, sample size and any partisan leanings. FiveThirtyEight's tracker has shown a pretty steady decline for the president's approval rating, falling from about 42 percent at the beginning of last month to the high 30s now.
And while Gallup gave the Trump a morsel of hope, it hasn't been all good news for the former reality TV star in the polls. The latest daily tracking survey from Rasmussen Reports—the president's favorite right-leaning firm that has often found his approval to be higher than other surveys—put his rating at just 46 percent, down from 50 percent this time last week. "Great news!" Trump tweeted at the time.