President Donald Trump's approval rating has slowly climbed with less than three months to go until the 2020 presidential election, according to polling data.
The FiveThirtyEight approval rating tracker shows that the president's popularity rose almost two percentage points from a low of 40.1 percent at the end of July to 41.9 percent as of Wednesday evening.
Trump's disapproval rating has also fallen over the past month, despite criticism of his handling of the coronavirus pandemic and the economy's rebound from related shutdown measures.
At the end of July, the president's disapproval rating stood at a little more than 55 percent, but has since dropped to 53.9 percent—putting his net disapproval rating at 12 points.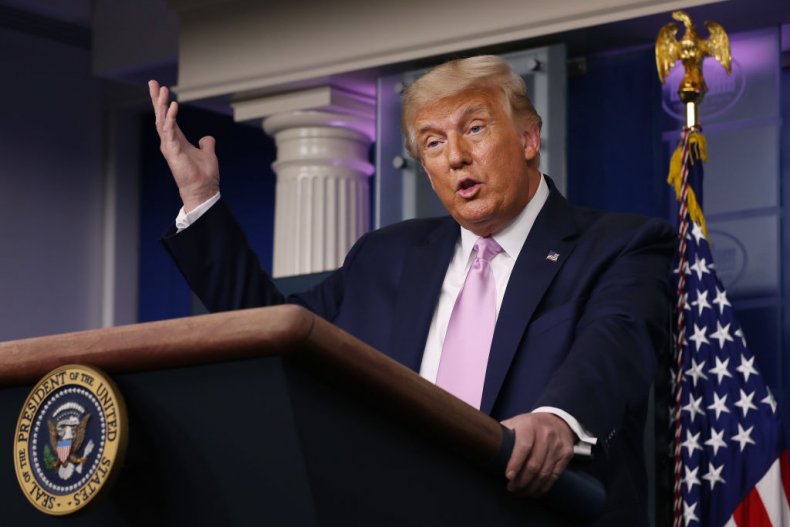 Although Trump's net disapproval rating is still high, it's a marked improvement on the beginning of July, when the president's net unpopularity ranking stood at almost 16 points.
Individual polls have looked similarly positive for Trump, with the Rasmussen approval index showing 47 percent of likely voters approve of the commander-in-chief's record as 51 percent disapprove.
Another survey of U.S. adults released by YouGov earlier this week found that Trump had a net disapproval rating of 8 points. Fifty-two percent of respondents said they were unhappy with the president's record, and 44 percent told pollsters they approved.
While Trump's average approval rating is slowly improving, the trend is not being reflected in head-to-head polling between him and Democratic nominee Joe Biden.
According to the FiveThirtyEight tracker of head-to-head national polls, Biden is 9 percentage points ahead of Trump, meaning the gap between the pair has barely shifted since the start of the month.
A separate forecast from The Economist also heavily favors Biden's chances of winning the White House on November 3, rating the former vice president's odds of victory at around 88 percent. His estimated hopes of taking control of the Oval Office were almost identical when the Economist model was run at the start of this month.
The former vice president has also been found to have a significant lead over Trump among the large number of Americans who didn't vote in the 2016 election.
Data released on Wednesday by the University of Southern California found that 52 percent of people who didn't vote in the last presidential election planned to back Biden in the coming contest.
By comparison, a little less than a third (32 percent) said they would be turning up to the ballot box to vote for Trump.