Donald Trump's Approval Rating Picks Up as Administration Pushes Tougher Coronavirus Guidelines and $1 Trillion Stimulus Plan
President Donald Trump's approval rating has risen over the last week as he has shifted his position on the COVID-19 pandemic while his administration has unveiled plans for a $1 trillion stimulus package as well as guidelines on how to contain the spread of the new coronavirus.
FiveThirtyEight's rating tracker found that 43 percent of Americans approved of Trump's performance in office as of Tuesday evening, while 52.7 percent said they disapproved.
Trump's position marked a slight improvement on Wednesday of last week, when 53.2 percent of Americans disapproved of the president and 42.3 percent approved—bringing his rating to a new post-impeachment acquittal low.
President Trump has shifted his tone on the coronavirus outbreak in recent weeks, having compared it to seasonal flu at the start of March as he sought to dismiss fears about the spread of the disease.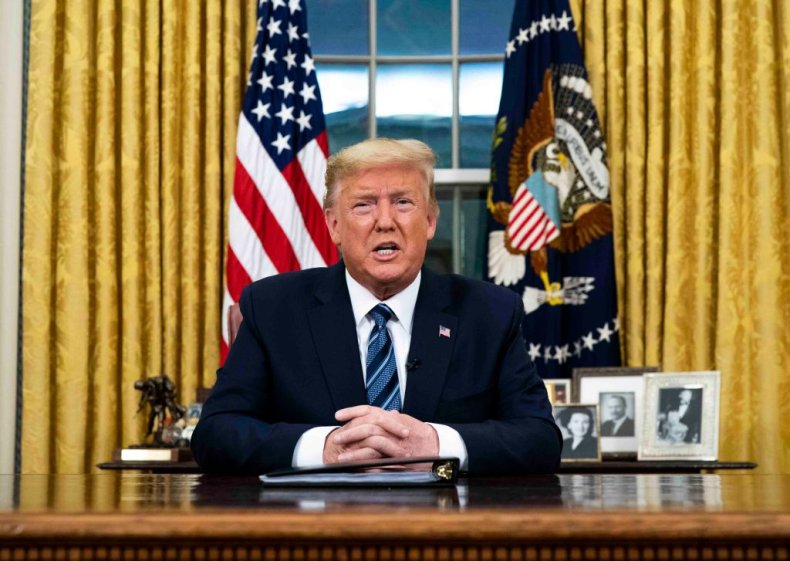 Outlining a new set of guidelines telling Americans how they can contain the spread of COVID-19 at a Monday press conference, President Trump recognized the potential severity of the pandemic.
He said: "If everyone makes this change or these critical changes and sacrifices now, we will rally together as one nation, and we will defeat the virus. And we're going to have a big celebration all together. With several weeks of focused action, we can turn the corner and turn it quickly."
His new guidelines advised older people and those with underlying health conditions to stay at home, and also discouraged gatherings of more than 10 people.
Americans were further asked to avoid work if they felt sick and keep their children away from schools if they showed symptoms of the novel coronavirus.
Treasury Secretary Steven Mnuchin also revealed that the administration was looking to inject a $1 trillion stimulus package into the economy to combat the impact of COVID-19 at a closed door meeting with Republican lawmakers on Tuesday.
Speaking to reporters after the meeting, he said: "It is a big number. This is a very unique situation in this economy. The government has requested that parts of this economy shut down."
Politico also reported that the top administration official warned GOP senators that unemployment could reach 20 percent should an agreement on a stimulus package not be agreed quickly.
In a White House briefing on Tuesday, Mnuchin said: "Americans need cash now, and the president wants to get cash now. And I mean now in the next two weeks."
Trump later added, "I think we're going to do something that gets money to them as quickly as possible."
The stimulus package is expected to include loans to small businesses as well as money for individuals that will come on top of two separate proposals that seek to provide workers with paid sick leave and pay for coronavirus vaccine and treatment costs.
According to the Johns Hopkins University tracker, more than 6,400 confirmed cases of COVID-19 have been reported in the United States at the time of writing. The virus has resulted in 114 deaths in the U.S. while 17 people have rrecovered from the disease.