Donald Trump's Approval Rating Drops Below 40 Percent, Popularity Dips After Putin Summit in Helsinki
President Donald Trump's approval rating has taken a dip, according to the latest poll released on Tuesday by Quinnipiac University.
Just 38 percent of voters approved of Trump's job performance, according to the survey. Fifty-eight percent disapproved. Last month, the Quinnipiac University poll found 43 percent approved of Trump's job performance while 52 percent disapproved.
A contributing factor to the dip might've been the president's summit with his Russian counterpart, President Vladimir Putin, in Helsinki, during which Trump declined to say Russia meddled in the 2016 election—something he would later chalk up to misspeaking. A majority of voters—52 percent—said the meeting was a failure, according to Quinnipiac.
"Whether it is with love or not, President Donald Trump's relationship with Russia has delivered a small blow to his already poor standing with the American people," said Peter Brown, assistant director of the Quinnipiac University Poll in a statement. "Following his meeting with Russian President Vladimir Putin, President Trump's job approval is back below 40 percent again. The president gets a split 49-47 percent score on the economy, but he receives negative reviews on his handling of a bevy of international problems and especially his relationship with Russia."
The Quinnipiac University poll surveyed 1,177 voters from July 18 through July 23. (The summit in Helsinki took place on July 16.) The poll had a margin of error of plus or minus 3.5 percentage points.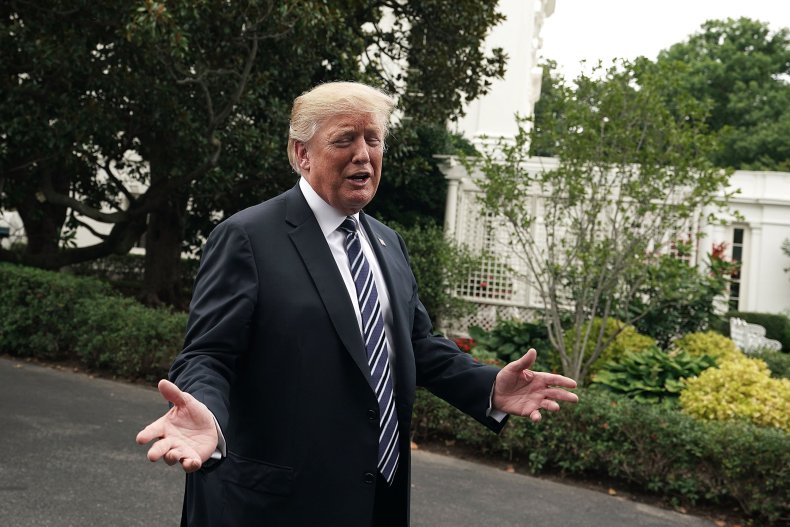 The tracker from data-focused website FiveThirtyEight pegged Trump's average approval rating at 41.4 percent on Tuesday. That's far from Trump's worst mark—he has dipped below 37 percent—but it's not great either.
"The 538 average shows a bit of movement against Trump in the past few weeks," FiveThirtyEight Editor-in-Chief Nate Silver posted to Twitter. "Certainly not *much* movement, but a bit. His net approval rating today is the worst it's been since 4/30."
It'll take time to see if this is a real popularity descent for Trump—one poll does not a trend make.
"It's in the zone where it could just be noise, but also in the zone where it could be real and his approval rating has regressed to 40% within a couple weeks," Silver added on Twitter. "That's not super helpful, I know. But there haven't been a lot of high-quality polls, post-Helsinki."