Donald Trump's Approval Rating on Economy Now Equal to Barack Obama's When He Left Office, New Poll Indicates
In a poll released Tuesday, President Donald Trump's approval rating on the economy, the issue he achieved the highest marks on, just about equals that of his predecessor Barack Obama's when he left office.
Trump's 56 percent approval rating for handling the economy in the latest Gallup Poll, conducted from February 12 to 28, was the highest he had received since entering the White House, and the highest among the 14 domestic and foreign issues assessed in the survey. It also marked a 4-point increase since early February.
"Americans' assessments of the national economy have been mostly positive since Trump took office and his handling of it has been a relative strength for his public image," the Gallup Poll report stated, attributing an unemployment rate of only 4 percent in January and the stock market performing better than in December and January.
By comparison, Obama's average approval rating on the economy from January 12 to 17, 2017, right before his tenure ended, was 57 percent, just one point above Trump's, according to Real Clear Politics. The four polls included in the average calculation were Economist/YouGov, CBS News, ABC News/The Washington Post and CNN/ORC.
While Trump's economy rating essentially matched Obama's, they both paled in comparison to President Bill Clinton's, who had the record economic approval rating of 81 percent in 1999. The record low rating since Gallup began polling on the economy, at the start of President Ronald Reagan's term, was 17 percent for President George H. W. Bush in 1992. Trump's latest rating is well above the average rating of 43 percent. Trump's economic approval rating never dipped below 45 percent.
Trump repeatedly claimed credit for a strong economy, despite the fact that it was under Obama's leadership that the United States came out of the Great Recession post-2007.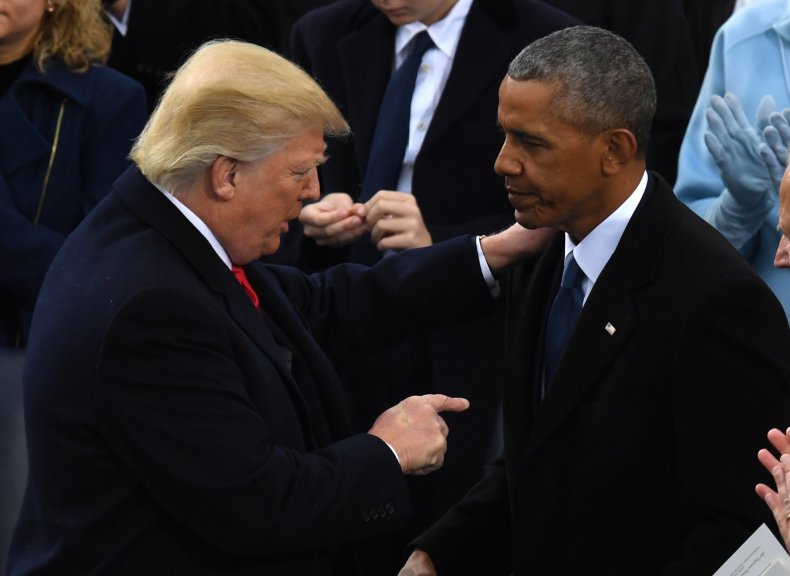 In an address to the 2019 White House business session with governors last week, Trump claimed his achievements around the economy have gained him praise from leaders worldwide.
"Whenever I greet a prime minister or a president, or any leaders of any countries, they always start off by saying, 'Congratulations on your economy. It's been incredible. Congratulations,'" Trump said. "And many of them are trying to follow our formula, which was cutting taxes, cutting regulations and many other things."
Trump made a similar claim earlier in February at a rally in El Paso, Texas.
"When prime ministers, and when presidents, and kings and queens, they talked to me, they say, 'Congratulations on what's happened with your economy, Mr. President, it's incredible.' They're emulating what we're doing," Trump said. "They can't believe it."
Trump added, "Nothing like this has ever happened before." Trump also frequently claimed his overall job approval rating surpassed Obama's.