Donald Trump Approval Rating Equals All-Time Low as Americans Blame Him for Government Shutdown: Poll
The government shutdown stemming from President Donald Trump's demand for border wall funding has damaged his approval rating further to equal his all-time low.
A three-day Morning Consult survey that started two hours before some government agencies shut down found that only 39 percent of registered voters approved of Trump's job performance. That figure included 80 percent of Republicans. The majority of respondents across party identifications, 56 percent—including 90 percent of Democrats and 57 percent of independents—did not approve of his performance, the poll released on Wednesday showed.
Trump's 39 percent approval rating matches the lowest point of his popularity, in August 2017, when he condemned "many sides" for the Unite the Right rally in Charlottesville, Virginia, where a white nationalist drove a car into a group of protesters, resulting in the death of Heather Heyer, 32, and causing injuries to 19 others.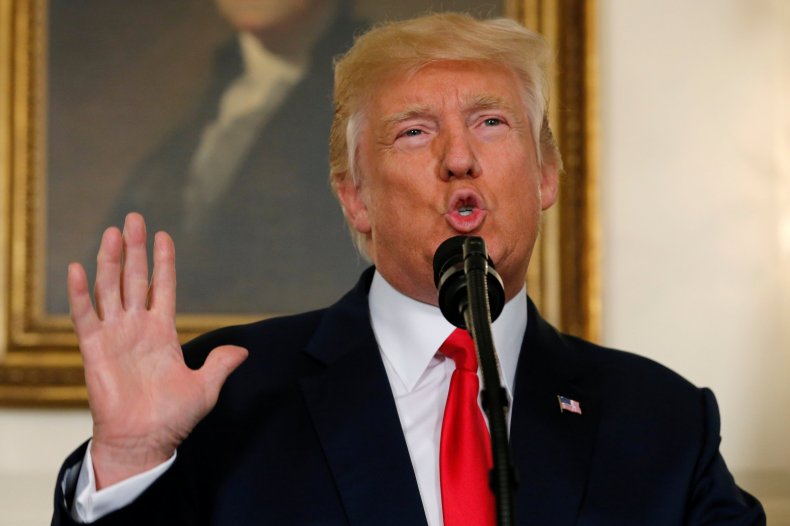 Trump has blamed Democrats for the partial government shutdown and refused to back down from his demands for $5 billion in funding for the wall along the Mexico border.
Even so, 43 percent of voters blamed Trump for the shutdown, compared to about one-third who placed the blame on Democrats like Trump did, while seven percent found Republicans at fault. Among Democrats, 73 percent blamed Trump, as well as 41 percent of independents. Two-thirds of Republicans sided with Trump in blaming Democrats for the shutdown.
The majority of voters, 53 percent, opined that Trump did not do enough to avoid the shutdown. That included 22 percent of Republicans and 52 percent of independents.
On Thursday morning, Trump continued to blame Democrats.
"Have the Democrats finally realized that we desperately need Border Security and a Wall on the Southern Border. Need to stop Drugs, Human Trafficking, Gang Members & Criminals from coming into our Country," Trump tweeted. "Do the Dems realize that most of the people not getting paid are Democrats?"
Americans are not very confident that Trump will get his border wall funded. Among Republicans, 54 percent said it was "not too likely" or "not likely" that Congress will allocate funds for the border wall, while only 35 percent said it was "very likely" or "somewhat likely" that the wall will get funded.
The poll was conducted from December 21 to 23 among 1,992 registered voters and had a margin of error of plus or minus 2 percentage points.
Congress on Thursday quit trying to reopen the government until after the new year as negotiations were at a standstill between Democrats and Republicans. Democrats will be in control of the House of Representatives in January. The continuing shutdown may continue to have a negative impact on Trump's approval ratings.