Donald Trump's Approval Ratings Flounders Amid Jan. 6 Revelations
Donald Trump has faced a dip in his popularity according to a Fox News poll taken after the first January 6 hearing.
The opinion poll was conducted between June 10 and June 13, according to a Fox News report. This is days after the first January 6 hearing that was held on June 9.
The poll, which also highlighted that President Joe Biden has seen his popularity fall, showed the fluctuation in the former president's popularity.
According to the poll, 55 percent of registered voters asked have an unfavorable opinion of Trump, compared to 44 percent holding a favorable opinion.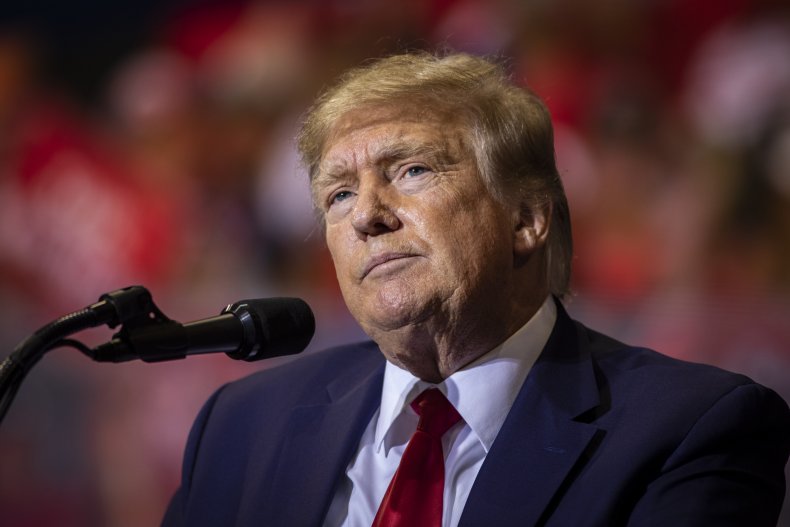 The poll also highlighted data taken from previous polls of the former president.
In February, 54 percent of registered voters held an unfavorable opinion of Trump, this is compared to 45 percent favorable. In December 2021, Trump received the same percentage of favorable and unfavorable votes.
According to the poll, the last time Trump held such a small favorable opinion vote of 44 percent was in late October 2020. In this poll, 55 percent of participants held an unfavorable opinion of him.
In June 2018, 45 percent of Fox News poll participants held a favorable opinion of Trump while 53 percent held an unfavorable opinion.
Newsweek has contacted Donald Trump's office for comment.
The first January 6 hearing, which was televised during prime time, was able to focus on Trump and his role, if any, in the January 6 Capitol riot.
In a moment that reportedly elicited gasps at the committee hearing, Representative Liz Cheney, vice chair and one of just two Republican members of the committee, outlined the former president's alleged reaction to the chants of "Hang Mike Pence" that some of the protesters directed at then-Vice President Mike Pence on January 6.
"Aware of the rioters' chants to 'hang Mike Pence,' the president responded with this sentiment: 'Maybe our supporters have the right idea.' Mike Pence 'deserves it,'" Cheney said.
Cheney went on to say that Trump was taking steps to ensure that his claim that the 2020 election was stolen could continue and encouraged others to repeat his claim.
Cheney said on Thursday that the committee will reveal how Trump planned to "corruptly" replace the U.S. attorney general "so the U.S. Justice Department would spread his false stolen election claims."
"In the days before January 6, President Trump told his top Justice Department officials 'Just say the election was corrupt and leave the rest to me and the Republican Congressmen,'" Cheney said, quoting Trump.
"Senior Justice Department officials, men he had appointed, told him they could not do that, because it was not true. So President Trump decided to replace them," she said.
Trump allegedly offered the role of attorney general to Jeff Clark, an environmental lawyer in the Department of Justice, and wanted Clark to write a letter to the state of Georgia and five other states falsely claiming the DOJ had "identified significant concerns that may have impacted the outcome of the election."