Donald Trump Approval Rating Ties Lowest Point in 10 Months Amid Growing Legal Threat to President
President Donald Trump's approval rating dipped in the Gallup poll this week to just 38 percent, according to the latest results on Monday. Last week, Gallup pegged Trump's approval rating at 40 percent.
Trump's approval rating has never been especially high, but this week's figure tied his lowest point in the Gallup poll since February, when he came in with 37 percent support. Trump's lowest point ever in the Gallup poll is 35 percent, just 3 percentage points lower than where he stood on Monday.
The weekly poll from Gallup surveyed 1,500 adults nationwide and had a margin of error of plus or minus 3 percentage points.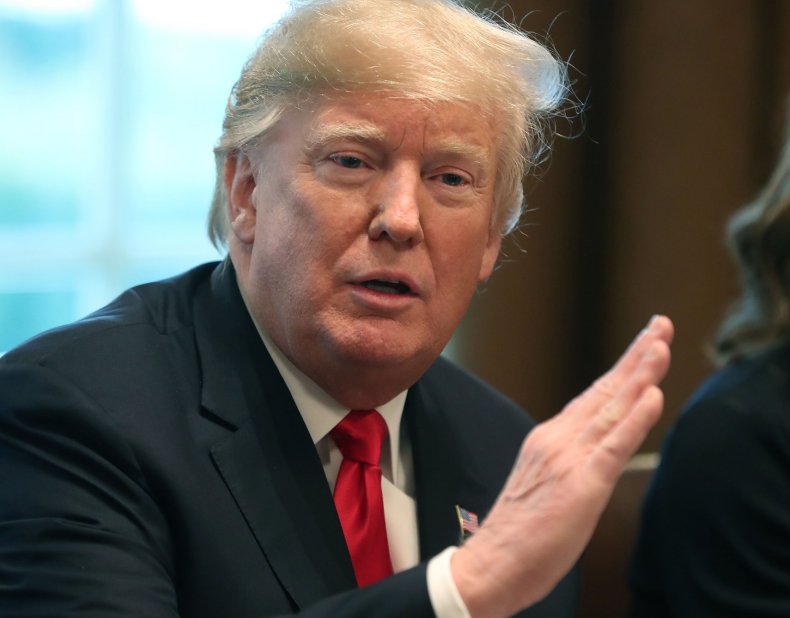 The president has paid close attention to polls, often tweeting about results he finds favorable. He has also regularly slammed results he doesn't like, even criticizing Fox News in a recent interview with the network's Harris Faulkner.
"The news and the polls are really fake, but I have the greatest base in history, because the 46 and 48 percent, those people, they never waver... Frankly, Fox has always given me a bad poll. I don't know why that is, because they've treated me fairer than most," Trump said. "But the polls have always been lousy."
According to the tracker at data-centric website FiveThirtyEight, which aggregates public polls and weights for each survey's quality, recency, sample size and partisan lean, Trump's approval rating on Monday was 42.5 percent. The tracker has had Trump hovering at around 42 percent for about three months.
Trump's presidency has never really been a smooth ride, but the last week or so has been chock full of negative news for the White House. His former lawyer Michael Cohen was sentenced to three years in prison, and prosecutors in the Southern District of New York alleged in court documents that Trump directed Cohen to make hush payments that amounted to campaign finance violations. Further, reports surfaced last week that Trump's inauguration committee was being investigated, and federal prosecutors were investigating whether the committee misspent donations or traded access for money. And, of course, the investigation from special counsel Robert Mueller is ongoing, much to Trump's chagrin. The president has continued to lash out at the invesitgation into Russia's meddling in the 2016 election.
"The Russian Witch Hunt Hoax, started as the 'insurance policy' long before I even got elected, is very bad for our Country," Trump tweeted over the weekend. "They are Entrapping people for misstatements, lies or unrelated things that took place many years ago. Nothing to do with Collusion. A Democrat Scam!"