Many Americans are expressing displeasure over the job President Donald Trump has done in the White House. Polls measuring Trump's approval rating have shown a recent dip, and when compared with where other presidents stood at the same point in their presidencies, Trump's ratings are at an historic low.
A tracker from the data-driven website FiveThirtyEight pegged Trump's average approval rating—with polls weighted for quality, recency, sample size and partisan lean—at 40.4 percent on Wednesday.
That's far from Trump's lowest point ever—he has dipped into the mid-30s. But it's still much lower when compared with the ratings of his predecessors.
At Day 607—where Trump is now—no president in the history of modern polling (which dates back to President Harry Truman) had an approval rating as low as Trump's 40.4 percent, according to FiveThirtyEight.
Former Presidents Bill Clinton, at 41.3 percent approval, and Ronald Reagan, at 42 percent approval, came the closest to equaling Trump's mark of 40.4 percent. Former President Barack Obama had an approval rating of 45.7 percent on Day 607, according to FiveThirtyEight.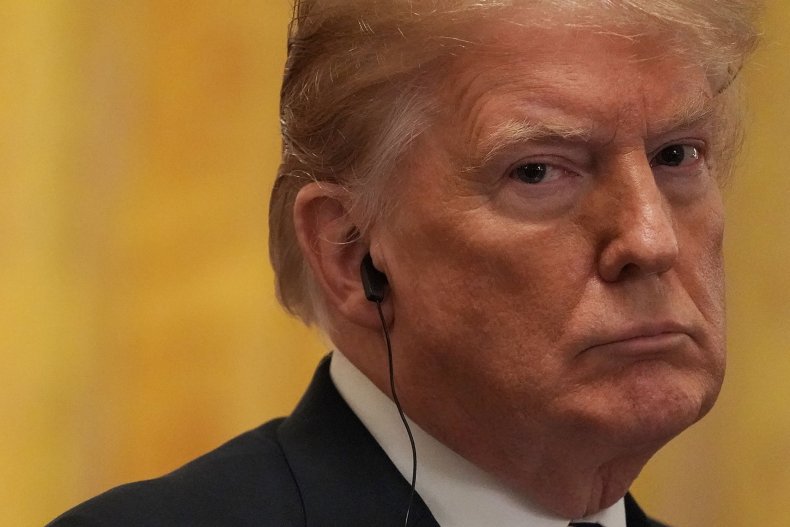 At the beginning of the summer, Trump's popularity was seemingly on the rise, bumping up to the mid-40s. But it has slowly slipped since then. The latest survey from Gallup, for example, had Trump's approval rating at 38 percent.
Trump's White House has largely been defined by turmoil and drama. The former reality TV star spends much of his time railing against perceived enemies. In a recent interview with Hill.TV, Trump launched his latest attack against Attorney General Jeff Sessions. Trump—who has long expressed anger at Sessions's decision to recuse himself from the Russia investigation—said he felt as if he didn't have an attorney general. Trump even said Sessions appeared "mixed up and confused" in his confirmation hearing.
"He did very poorly," Trump said. "And people that worked with him for, you know, a long time in the Senate were not nice to him, but he was giving very confusing answers. Answers that should have been easily answered. And that was a rough time for him."