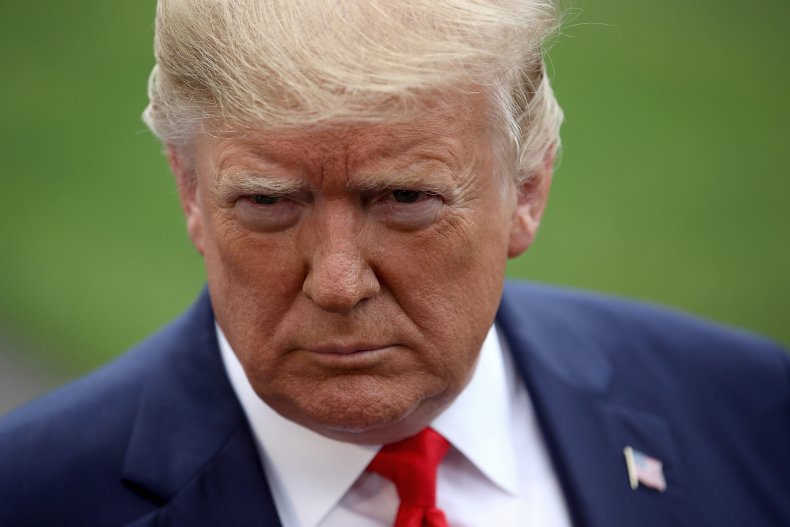 Support for President Donald Trump amid an accelerating impeachment inquiry and unraveling domestic crises has reached its highest level this year, according to a Hill-HarrisX tracking poll.
While still underwater among the voting public, 49 percent of registered voters approve of the president's job performance while 51 percent disapprove, which marks the highest rating Trump has achieved in a Hill-HarrisX survey in 2019.
The survey was taken just days after House Speaker Nancy Pelosi announced a formal inquiry into the impeachment of the president, and while the ultimate political effects of such an inquiry are in dispute, voter sentiment is usually a lagging indicator of political developments.
Trump ranks lowest among suburban voters, a key voting bloc in the 2020 race, with just 48 percent signaling support for the way he has performed as president.
While past presidents have earned ratings comparable to Trump heading into re-election, the current president is unique in the narrow band within which he wavers along the course of his administration. Hard ceilings around the high-forties and floors around the mid-thirties have prevented any individual scandal from wreaking existential havoc on Trump's re-election prospects. Conversely, his baked-in unpopularity has yielded him little room to improve upon his current base of support.
The recent Hill-HarrisX poll had a margin of error of 3.1 percent.
Even at his most popular in 2019, Trump still receives disapproving marks from a majority of U.S. voters, the poll documented. Other surveys have measured notably less support for the president, included the benchmark Gallup poll of U.S. adults. In Gallup's most recent assessments, Trump's job approval rating has hovered anywhere from 39 percent to 43 percent.
But as the president may be seeing some initial consolidation of support in the wake of major steps towards impeachment, overall public attitudes towards his continuation in office may not be as generous.
A larger portion of Americans wants to impeach the president that does not, according to a recent USA Today/Ipsos survey. Forty-five percent opted for an actual vote in favor of impeaching the president, beyond the current phase of initial inquiry, while 38 percent expressed opposition.
Traction on impeachment among the public appears to be gaining quickly. Only several months ago, before the recent Ukraine scandal had emerged, 61 percent of the public opposed impeachment. Though the president has been the subject of numerous allegations of impropriety during his tenure in office, fallout from Trump's phone call with the Ukrainian president and unusual Democratic solidarity on impeachment have appeared to facilitate movement within the general public on this question.