Donald Trump's Approval Rating Sees Record-Equaling Drop Amid Migrant Children Separation Crisis
President Donald Trump's approval rating took a serious blow this week, after reaching new highs following his North Korea summit with Kim Jong-um on June 12. The president's overall approval fell by four points to 41 percent, and his disapproval rating grew by five points to 55 percent, according to Gallup's weekly presidential job approval poll.
While the 41 percent approval rating is still slightly above Trump's 39 percent average, it showed a steep week-over-week fall likely caused by the president's controversial decision to separate immigrant children from their parents at the United States' southern border. The nine-point rating change represented the joint-largest drop in overall support for the president.
"While the more positive feelings toward Trump coming out of the [North Korean Summit] would probably have faded in time, that process was likely hastened by the controversy over the administration's immigration policy," explained Gallup senior editor Jeffrey Jones. "News about the policy dominated the headlines last week. After Trump and administration officials initially defended the policy of separating children and parents, the president reversed course Wednesday by issuing an executive order to overturn it."
The president has separated more than 2,000 migrant children from their parents with no process in place for eventual reunification. Reports of abuse at children's holding centers were rampant last week, and Trump was pushed to end the policy by political forces on both sides of the aisle. On Wednesday, the president bent to pressure and signed an executive order to keep families together, but many families have yet to be reunited.
Republican approval of Trump fell from 90 percent back to its average of 87 percent, and Democratic approval hit a low of 5 percent. After the North Korea summit, 10 percent of Democrats said they approved of the job the president was doing. Approval among independent voters also dropped from 42 percent to 38 percent.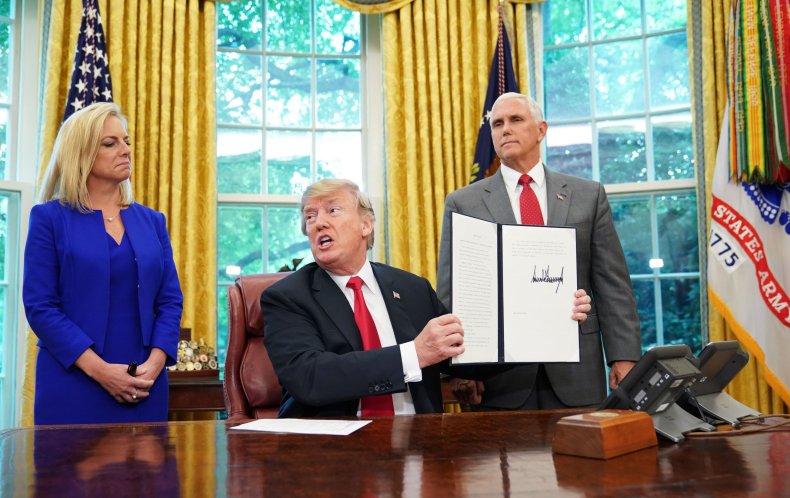 Trump's presidency has been marked by a number of controversies, including the firing of James Comey and his response to the white nationalist marches in Charlottesville, Virginia, which sent approval ratings down, explained Gallup. But these declines were temporary, and the president's approval has generally remained fairly stable, in the high 30 or low 40 percent range.
The president's economic approval rating, meanwhile, grew six points this week to a new high of 51 percent, according to the CNBC All-America Economic Survey.
"People are so locked in to their partisan views that it's really hard to move those approval numbers,'' said Micah Roberts of Public Opinion Strategies, CNBC's Republican pollster. "The most consistent thing about his presidency is how much people who love him, love him and how much the people who hate him, hate him."