Trouble For Trump? President's Approval Rating Only 39 Percent In New Poll
President Donald Trump's approval rating has fallen by four points, according to a new NBC News/Wall Street Journal poll.
Just 39 percent of the 900 adults surveyed said they approved of the president's performance, compared with 57 percent who disapprove—in a drop of four points on last month's poll.
And the poll, which was conducted from April 8-11, also showed the Democrats enjoying a 7-point advantage over the Republicans heading into the 2018 midterm elections.
The NBC/WSJ poll also follows a recent survey from NBC News/SurveyMonkey that showed the president's approval rating had dipped in previous Trump stronghold the South, however, another poll released on Sunday by ABC News/Washington Post had the president's approval rating at 40 percent.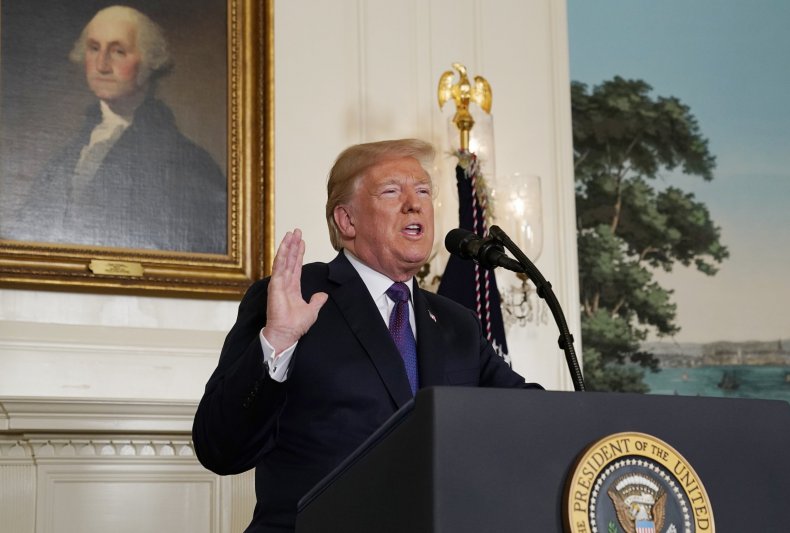 This survey puts the president's approval rating at its highest point in that particular survey since Trump's first 100 days in office—although a greater number still disapprove of the president at 56 percent.
The NBC/WSJ poll's dip in approval ratings for the president comes during a particularly challenging news cycle; with Trump facing ongoing allegations from adult film star Stormy Daniels that the pair enjoyed an affair shortly after the birth of his youngest son Barron, with wife Melania.
Trump also saw his personal lawyer Michael Cohen's office raided last Monday, in an incident that reportedly left the president incensed, while the Department of Justice confirmed on Friday that Cohen has been "under criminal investigation" for several months over his business dealings, CNN reported.
The president has also become increasingly vocal about his frustration with the ongoing investigation into Russia's alleged attempt to interfere in the 2016 presidential election.
Indeed, the president's frustration with the probe, which is also looking into whether there was possible collusion between Russia and the Trump campaign team, has prompted fears over whether Trump will attempt to remove Special Counsel Robert Mueller from his role; with the White House commenting last week Trump believes he has the authority to do so.