Donald Trump's Approval Rating Plunges As Popularity Nears All-Time Low in Latest Polls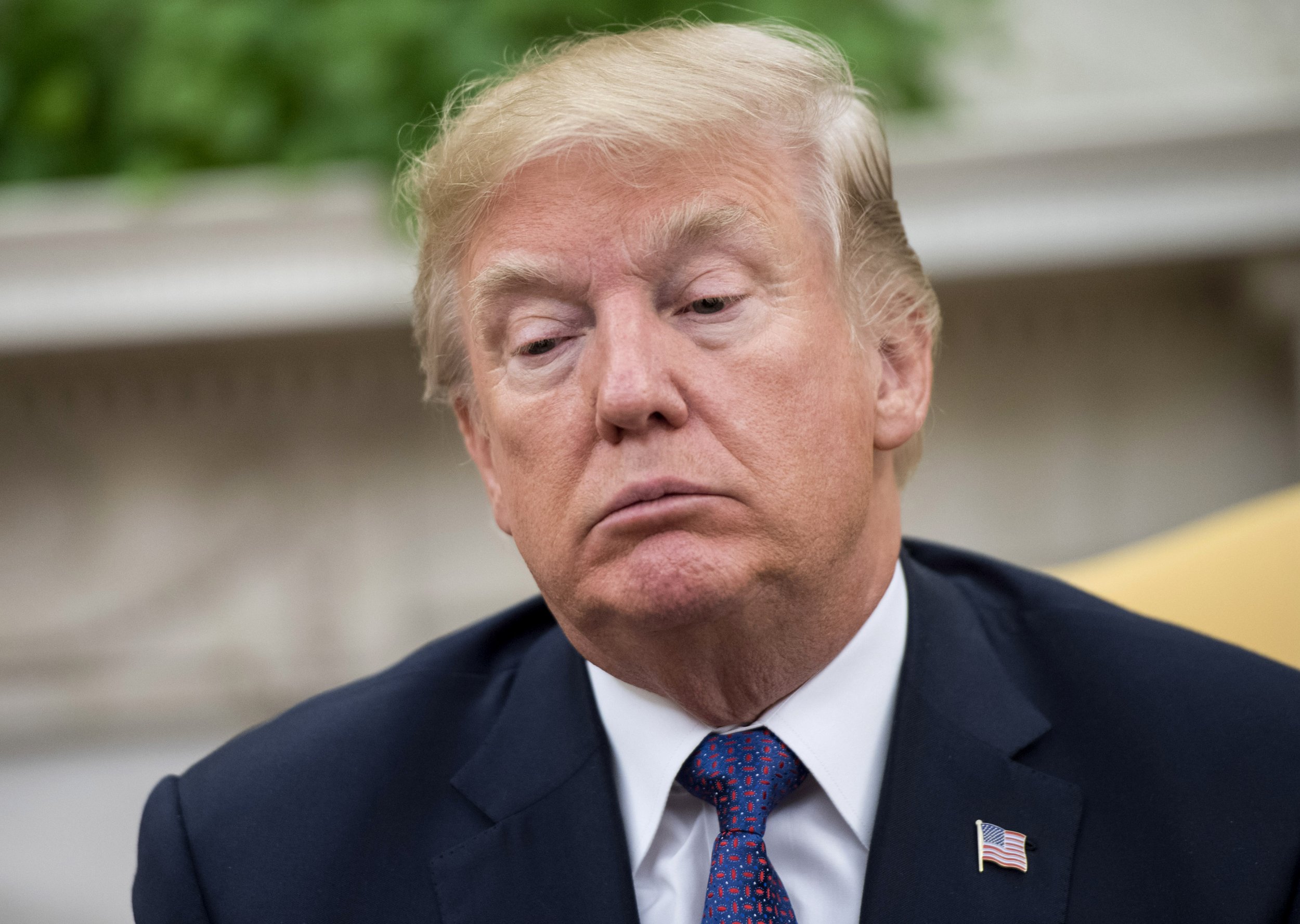 President Donald Trump had a week defined by tumult—but what else is new? Amid the usual flurry of controversy, his popularity has taken a dip, according to the latest approval rating polls Saturday.
Notably, Trump's approval rating neared his all-time low in the Gallup poll. The latest figure in Gallup's tracking survey, released Thursday, pegged Trump's approval at just 35 percent, down from 38 percent at this point last week. He's just one percentage point higher than his lowest rating ever of 34 percent. To make matters worse for the commander-in-chief, Trump's disapproval was nearing his all-time high, as well. It stood at 60 percent, just one percentage point off from his all-time high of 61 percent in early September. The Gallup poll surveys 1,500 U.S. adults and has a margin of error of plus or minus 3 percentage points.
Trump fares a bit better in the tracker from data-focused website FiveThirtyEight. The site aggregates public polls and comes up with an average approval rating that accounts for each poll's quality, recency, sample size and any partisan leanings. It had Trump at 37.8 percent approval Saturday, 1.2 percentage points higher than his all-time low of 36.6 percent in the FiveThirtyEight tracker. Trump's disapproval stood at 56 percent Saturday, according to FiveThirtyEight.
Still, the former reality TV star is the most unpopular president in recent history. In the history of modern polling, no other president had as low an approval rating on day 274 of his presidency, according to FiveThirtyEight. The closest was former President Gerald Ford, who stood at 38.4 percent at the same point in his first term. It's worth noting that Ford's popularity plummeted after he pardoned his predecessor Richard Nixon, who resigned in disgrace amid the Watergate scandal. Ford's decision was unpopular at the time but has largely been accepted as a correct and courageous decision years later. And at day 274, Trump's predecessor, former President Barack Obama, had an average approval rating of 53 percent.
Trump has never really come close to even hitting 50 percent in the FiveThirtyEight tracker. (He got as high as 47.8 percent shortly after inauguration but quickly fell a few percentage points.)
Trump's approval rating has struggled amid a week in which his conversations, or lack thereof, with gold star military families were questioned. Most notably, he reportedly offended the family of a fallen soldier by telling the soldier's widow he "knew what he signed up for."
Trump continued his insults Saturday of Florida Representative Frederica Wilson, who first detailed an account of the phone call with the widow. "I hope the Fake News Media keeps talking about Wacky Congresswoman Wilson in that she, as a representative, is killing the Democrat Party!" he tweeted.