Donald Trump's Approval Rating Has Plunged and so Have Republicans' Midterm Chances, New Poll Indicates
A strong majority of voters favor a Democrat over a Republican in their district races, a potentially damaging sign for President Donald Trump and the GOP ahead of the fall's critical midterm elections, according to the results of a new poll released Tuesday.
Fifty-two percent of registered voters said they would pick a Democrat over a Republican, with only 38 percent selecting the GOP, the latest Washington Post/ABC News poll showed.
The poll reflected deeply partisan results around the country. Ninety-six percent of Democrats would pick a member of their own party, while 92 percent of Republicans would do the same. The Democrats, however, drew 50 percent of independents and Republicans only 32 percent.
Democrats improved their standing with the general public by four points, based on the same poll's results in April. But Democrats were also up by 12 percent in January.
The new results also nearly mirror Trump's disapproval ratings in many major polls. Late last month, both Gallup and Emerson University pegged Trump's disapproval rating at 53 percent, while the Economist/YouGov poll found 52 percent disapproved of the president.
The USA Today/Suffolk University poll showed 56 percent disapproved, while the Reuters/Ipsos poll was even worse for the president, with 57 percent disapproving.
Trump and his allies have increasingly painted this year's midterms as a referendum on his first 19 months in office, claiming Democrats would undo his work and even impeach the president if they assume power in the House.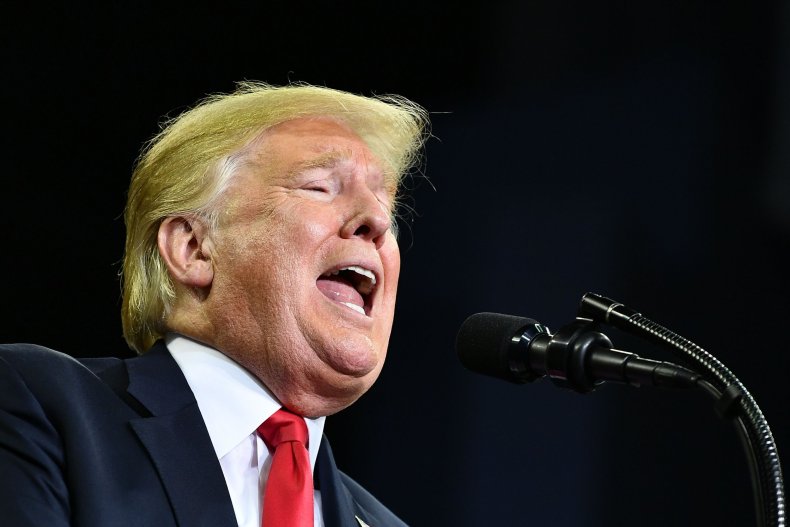 During remarks before Christian evangelical leaders last week, Trump reportedly warned that "violent people" planned to "violently" rescind his accomplishments. And last month, Trump predicted to Fox News that if he were to be impeached the economy would tank.
"I don't know how you can impeach somebody who has done a great job," Trump told Fox News. "I will tell you what, if I ever got impeached, I think the market would crash. I think everybody would be very poor because, without this thinking, you would see—you would see numbers that you wouldn't believe, in reverse."
On Friday, Trump criticized a Post/ABC approval rating poll as being "by far the least accurate…2 weeks out from the 2016 election," and he's previously said his approval numbers are strong despite negative media coverage of the Trump administration.
But the so-called "blue wave" of Democratic support could well be on the horizon as Republicans reportedly scrambled to push and pull campaign funds from dozens of races around the country.
Presently maintaining a 23-seat majority in the House, Republicans are worried that as many as 45 seats could be in danger this fall, according to Politico on Friday.
The latest Post/ABC poll was conducted from August 26 to August 29 and drew results from 879 registered voters with a margin of error of 4 percentage points.
This story has been updated to include more reaction from President Donald Trump.