Donald Trump's Approval Rating Sets Record Low, Below Even Gerald Ford
President Donald Trump may have seen his approval rating get a slight bump this month, but he is lagging well behind his predecessors at this point of his presidency, a new poll shows.
The NBC News/Wall Street Journal poll released on Sunday shows Trump's approval rating stands at 43 percent, an increase of 4 percent from the same poll taken in January.
Unfortunately for President Trump, the poll shows the majority (53 percent) continue to disapprove of his performance.
In addition, the president is seeing a far lower approval rating than his predecessors at this point during his presidency, NBC News reported, stating the average approval rating at 14 months into a president's first term is around 58 percent—15 percent higher than Trump's rating. Indeed, CNN reported, Trump is one point below Gerald R. Ford, who had a 44 percent approval rating at this point in his presidency.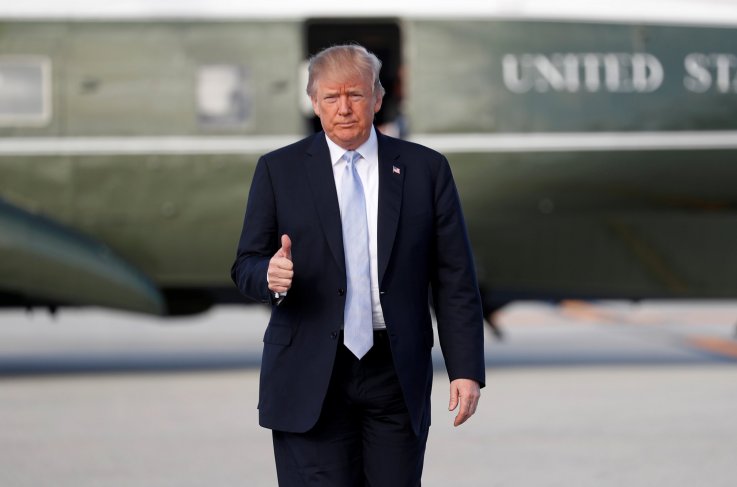 However, former president Barack Obama was around the 48/49 percent approval rating 14 months into his presidency, according to Gallup, while George W. Bush enjoyed approval ratings in the high 70s 14 months into his first term.
Despite polls suggesting Trump is less popular than his predecessors, the president recently instructed people to ignore such polls, also claiming he was more popular than former president Barack Obama.
"Rasmussen and others have my approval ratings at around 50%, which is higher than Obama, and yet the political pundits love saying my approval ratings are 'somewhat low,'" he tweeted at the beginning of March.
Additionally, the new poll shows Democrats are currently 10 points ahead of the GOP in Congressional preference going into the 2018 midterms.
The NBC/WSJ poll, which surveyed 1,100 adults from March 10-14, shows 50 percent of voters would prefer the democrats controlled congress, compared to the 40 percent who want Congress to remain in the control of Republicans.
The latest figures show a four-point jump from the same poll taken in January, when the Democrats enjoyed a six-point advantage over republicans in terms of Congressional preference.
However, the increasing support for a Democrat-controlled Congress comes alongside a slight bump in approval for President Donald Trump, although this is well outweighed by those who disapprove of his performance.
The poll had a margin of error of plus-minus three percentage points.
Donald Trump's Approval Rating Sets Record Low, Below Even Gerald Ford | U.S.