President Donald Trump's approval rating reached a seven-month high in the wake of his election defeat to President-Elect Joe Biden and his ongoing refusal to concede the contest to his Democratic rival.
According to the FiveThirtyEight presidential approval rating tracker, Trump hit an average approval rating of 45 percent on Wednesday last week—a 5-point increase on his July low of around 40 percent.
At the same time, Trump's November 11 disapproval rating stood at 52 percent, a fall of 4 points on July that put his net disapproval rating at 7 percentage points.
President Trump's approval rating last reached 45 percent in was a little more than seven months ago, with his average backing reaching 45.4 percent on April 7, according to the FiveThirtyEight tracker.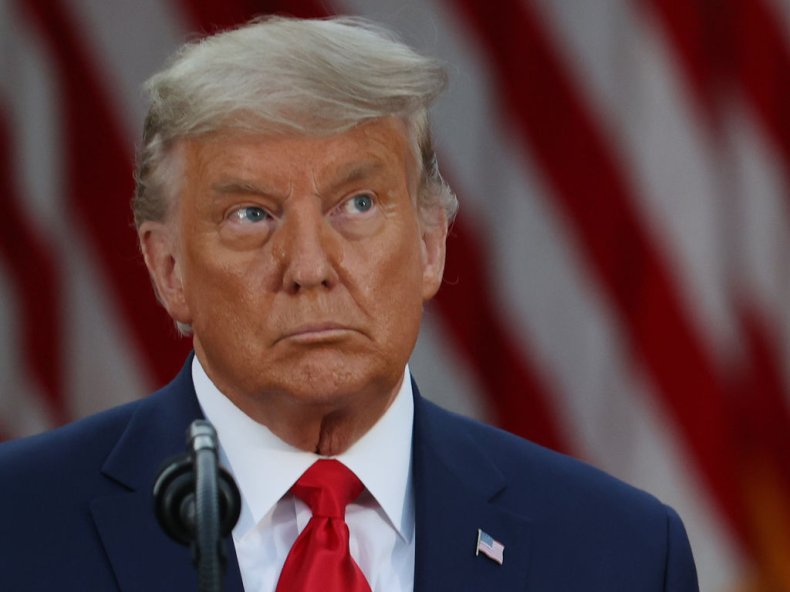 However, his net disapproval rating was slightly better than it stood on Wednesday last week, with 49.7 percent saying they disapproved of the president's performance on April 7—giving the commander-in-chief a 5-point net disapproval rating.
Approval polling conducted by Rasmussen Reports on November 13 showed Trump had a net-positive approval rating of 5 percentage points. Fifty-two percent of those surveyed said they approved of Trump 10 days after Election Day, while 47 percent said they disapproved.
But another survey conducted by YouGov between November 8 and November 10 found that only 46 percent of registered voters approved of Trump as a little more than half (51 percent) said they were unhappy with the commander-in-chief.
Opinion polling has faced a lot of skepticism in the wake of the 2020 election as many surveys proved well wide of the mark. A number of candidates who trailed in polls ahead of Election Day ended up winning their congressional contests with a degree of comfort.
President Trump enjoyed a small approval rating bump as his team continued to obstruct the transition process, file lawsuits in several states and refuse to concede to President-Elect Joe Biden.
"He only won in the eyes of the FAKE NEWS MEDIA. I concede NOTHING!" Trump tweeted on Sunday morning. "We have a long way to go. This was a RIGGED ELECTION!"
The General Services Administration has similarly refused to recognize Biden as the winner of the 2020 election, despite several news outlets calling the race for the Democratic nominee on November 7.
Without an ascertainment letter from the GSA, Biden's transition team will not be able to access federal funding and similar resources, such as office space, typically provided to incoming administrations ahead of inauguration.
Speaking about Trump's refusal to concede last week, Biden said: "The only thing that, how can I say this tactfully, I think it will not help the president's legacy."