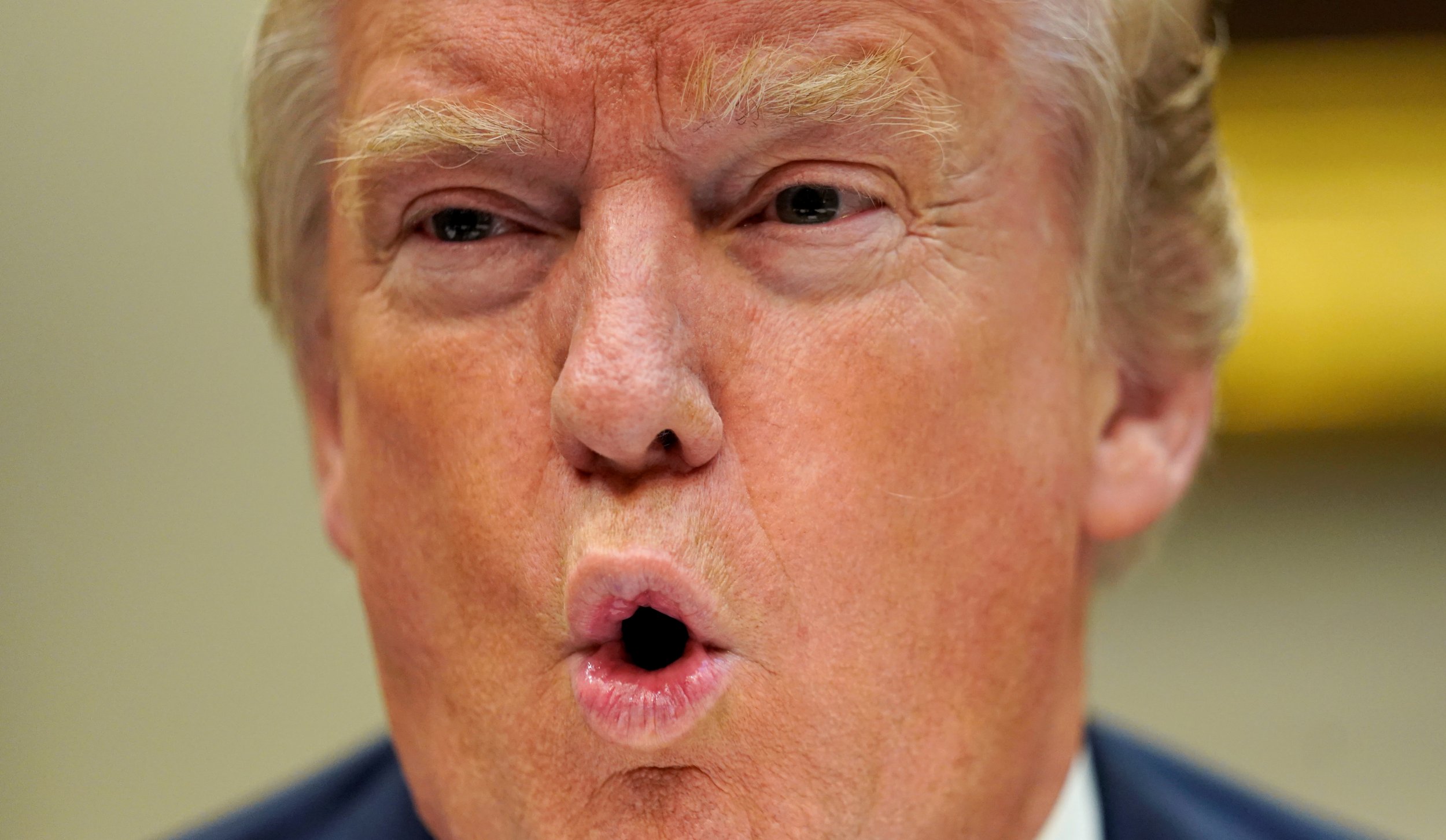 Things are going poorly for President Donald Trump.
To name a few recent issues: the Republicans' plan to gut Obamacare and replace it with their own health care plan has flopped, the investigation into Trump's Russia connections took on new life amid news that the president's son met with a Russian lawyer with the stated goal of obtaining compromising information about Hillary Clinton, and—adding insult to injury for a former reality-TV star obsessed with ratings—viewership for the golf tournament hosted at his property last weekend plummeted by 40 percent, compared with last year.
But there is a modicum of good news for Trump. His approval rating has actually held pretty steady through all the recent turmoil, according to a new poll released Wednesday by Morning Consult/Politico. The survey found 44 percent of voters approve of the job Trump is doing, while 51 percent disapprove. "This level of support has fluctuated little over the last two months," the polling company noted.
The Russia meeting, which has dominated the news cycle in recent days, didn't appear to drag down Trump's popularity. Morning Consult/Politico found that just 23 percent of voters overall thought it was appropriate that Donald Trump Jr. met with the lawyer to get dirt on Clinton. But 44 percent of Republicans felt it was appropriate, and 57 percent of GOP voters thought any campaign person would accept such a meeting, a claim the president made on Twitter.
The Morning Consult/Politico survey has typically found higher levels of support for Trump than many other polls. The weighted average at data-focused website FiveThirtyEight, for instance, pegs Trump's approval at 38.7 percent. It puts his disapproval at 55.7 percent. That's the lowest level of approval for any president at this point in his first term in the history of modern polling, according to FiveThirtyEight's tracker. It has been a slow decline for the president's average approval rating, which briefly got into the high 40s but has tumbled to the mid- to high 30s over about six months since he took office.
But Trump's biggest supporters do seem to be quite loyal. A survey released Tuesday by Public Policy Polling—a company that does public surveys as well as polling for Democratic candidates—found that many Trump supporters actually would not care if he shot someone on Fifth Avenue in New York City, a claim he made in jest during the campaign. Forty-five percent of Trump voters said they would approve if Trump shot a random person on the street, while just 29 percent disapproved.
Among all Republicans, 42 percent approved of the president shooting a person on Fifth Avenue, while just 34 percent disapproved.
The Morning Consult/Politico survey interviewed 1,994 registered voters online from July 13 through July 15. It had a margin of error of plus or minus 2 percentage points.