After Threatening North Korea, Trump's Approval Rating is Up, But That's Not Uncommon For Presidents Before War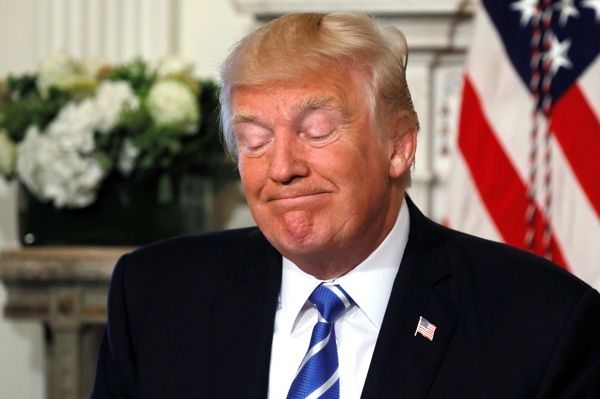 President Donald Trump is finding favor in the polls following his rhetoric against North Korea earlier in the week. On Wednesday, Trump, in a warning to North Korean leader Kim Jon Un, said Pyongyang would "face fire and fury like the world has never seen" if they continued making threats against the United States and U.S. territory Guam. And since then, the president's approval rating has jumped up six points, according to daily presidential tracking poll by Rasmussen Reports.
Fifty-three percent of voters still disapproved of Trump's job performance, according to the poll released on Friday. However, support for Trump's job performance was up to 45 percent compared to the 39 percent reported a week ago.
Meanwhile, 29 percent of voters strongly approve of the president's job performance while 44 percent said they strongly disapprove.
As for Trump's stance on North Korea, a strong majority--some 75 percent--of voters agree with the President that the country has become an increasingly vital national security interest, while only 16 percent disagree. Just a month ago, only 45 percent of voters thought the U.S. should take military action to dentate North Korea's nuclear weapons program.
Sixty-three percent of voters now believe the U.S. is likely to use military force against North Korea within the next six months. Twenty-eight percent believe it is very likely Trump will call for military action in North Korea. While only four percent of voters think it is not at all likely military force will be used against the East Asian country, 28 percent only think that it is unlikely while another 11 percent are undecided.
Trump's spike in approval following his threats against North Korea aren't all that surprising. Typically, presidents see a boost in American support when issues of war arise--an instance political scholars and historians refer to as the rally 'round the flag effect, coined by political scientist John Mueller back in 1970. The effect was created on the basis of increased American patriotism, during which the public generally views the president of as a symbol of national unity while receiving a lack of criticism from opposing parties. In his paper, Mueller used the examples of President Franklin Roosevelt's approval rating, which was at 72 percent before the attack on Pearl Harbor but increased to 84 percent in the days following.
Similarly President George H.W. Bush saw his approval rating jump 18 points from 64 percent to 82 percent around the start of the Persian Gulf war in 1991, and his son President George W. Bush also saw a 13 point spike in approval ratings from 58 percent to 71 percent after he launched the war in Iraq in 2003, according to Gallup polls.
Trump may not be unfamiliar with the rally 'round the flag effect either. Back in October 2012 when President Barack Obama had a 50 percent approval rating, according to Gallup, Trump suggested on Twitter that Obama would have to start a war to improve his ratings.