Donald Trump's Approval Rating Will Probably Plunge Because of GOP's Senate Health Care Bill
Senate Republicans health care bill—an attempt at repealing and replacing Obamacare, which is growing more and more popular—was, at long last, revealed Thursday to the public and many members of Congress. Reviews of the legislation thus far have been, somewhat predictably, quite negative, considering the House version of the bill, dubbed the American Health Care Act (AHCA), polled as one of the least popular pieces of legislation ever.
The Associated Press tweeted the Senate bill scuttles "Obama law, cuts Medicaid, slashes taxes for wealthy." Explainer-heavy news site Vox wrote simply the bill makes "poor people pay more for worse insurance." GOP senators might be backing away from the bill already, with NBC's Chuck Todd tweeting, "Per solid source: at least 3 GOP [Senators] (perhaps more) plan to announce public opposition to [Senate Majority Leader Mitch] McConnell health bill later today."
It might be a smart political move, considering the latest poll from NBC/Wall Street Journal released Thursday found that just 16 percent of Americans thought the House version of the bill was a good idea while 48 percent said it was a bad idea.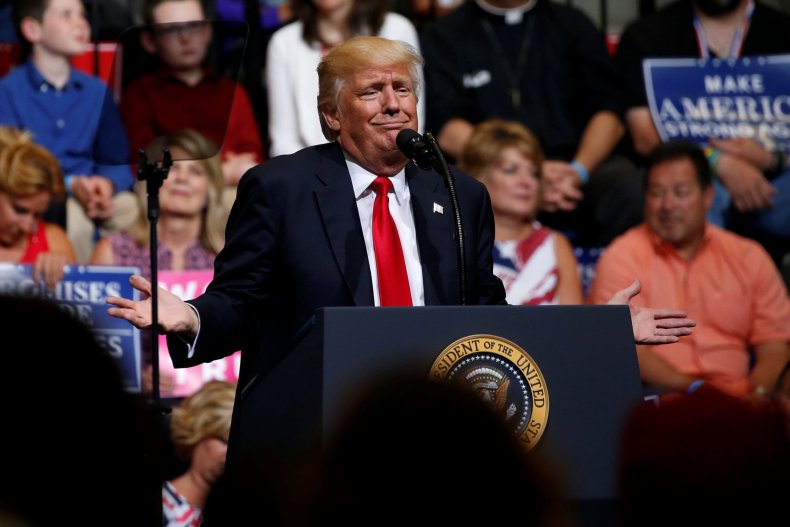 The health care debate has proven toxic for President Donald Trump, who has largely supported the GOP legislation and threw a little celebration in the Rose Garden at the White House when House bill passed.
But after that bill passed in early May the Morning Consult/Politico survey found Trump's approval rating immediately fell to a new low of 44 percent. The previous low had been 46 percent, which came directly after the Republicans bungled the House vote on the AHCA and failed to even register enough support to take a vote.
Looking at the Gallup daily tracking poll, Trump sunk to his all-time low of just 35 percent approval in late March, just after the first attempt at a vote collapsed. In the days following the passage of the AHCA in the House, Trump's approval in the Gallup survey sunk from the low 40s to 38 percent.
The weighted average tracker from data-focused website FiveThirtyEight—which has his average approval at 38.5 percent Thursday—also showed Trump's approval rating declined around the major health care events, as well. Along with the firing of former FBI Director James Comey, health care has steadily dogged Trump when it comes to popularity. Nate Silver, editor of FiveThirtyEight, tweeted in June that, "health care [and] Comey are the two things that have most caused Trump's overall approval to decline."
So, if history is any indicator, Trump's approval rating could be due for a drop soon as polling firms are able to interview folks on their thoughts concerning the Senate health care bill. Of course, Trump's approval rating is already historically low compared with other presidents this early in their respective tenures, so there might not be much room to fall if some of his most ardent supporters are slow to abandon him.
But things aren't trending in the right direction for the former reality star. Rasmussen Reports—the right-leaning firm Trump praised recently because it pegged his approval at 50 percent (still a non-stellar figure)—found Thursday that his approval rating stood at just 46 percent, which remains high compared to most other polls.