Donald Trump's Approval Rating Is Worse Than Embattled Governor Ralph Northam's in Virginia: Poll
Virginia Governor Ralph Northam has seen his popularity fall off a cliff in his home state—which makes a whole lot of sense, considering he is wrapped up in a scandal involving blackface. But, somehow, President Donald Trump is even more unpopular in Virginia, a new poll found.
The survey from Quinnipiac University released on Wednesday found just 39 percent of voters in Virginia approved of Northam, while 44 percent disapproved. That represented a steep drop from the summertime when nearly half of voters—49 percent—approved of of the governor, while just 25 percent disapproved.
Forty-eight percent of voters in Virginia said Northam should not resign, while 42 percent said he should. That is something of a silver lining for Northam in a state in which the the lieutenant governor is also tied up in a sexual assault allegation scandal and the attorney general has a blackface scandal of his own.
"The good news for Gov. Ralph Northam is that Virginia voters have mixed feelings about him - not terrible but hardly reassuring in the wake of the brouhaha over his alleged use of blackface when he was a medical student more than three decades ago" said Peter A. Brown, assistant director of the Quinnipiac University survey, in a statement. "Perhaps working to Northam's benefit is that Lt. Gov. Justin Fairfax is viewed much, much more negatively as he faces sexual assault and rape allegations. And voters say by very strong margins they don't believe his denials."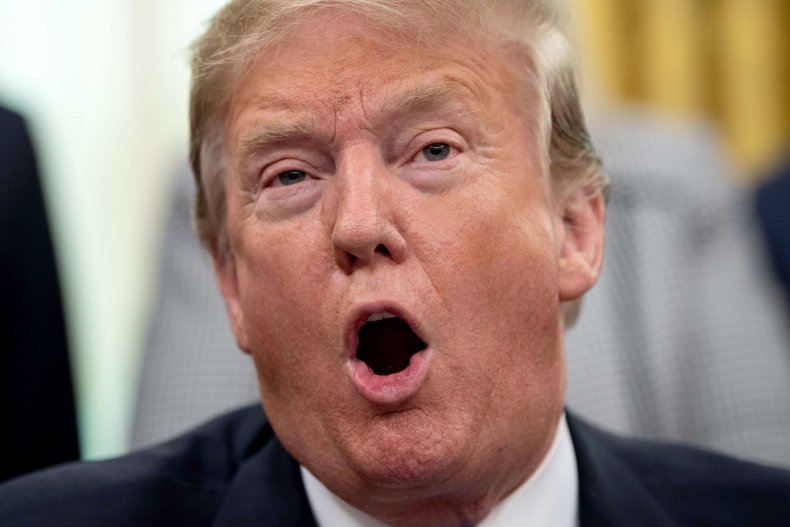 Northam's approval in Virginia remains a few percentage points better than Trump's, according to the Quinnipiac poll.
Just 36 percent of Virginia voters approved of the job Trump was doing, while 59 percent disapproved.
The Quinnipiac survey polled 1,150 Virginia voters from February 14 through February 18. It had a margin of error of plus or minus 4.2 percentage points.
Trump's approval rating in the country overall was a bit higher than what Quinnipiac registered in Virginia. For instance, the tracker from FiveThirtyEight—which aggregates public polls and adjusts for each survey's quality, recency, sample size and partisan lean—pegged his approval rating at 42.1 percent on Wednesday.