Donald Trump's Approval Ratings Are Finally Going Up (but Not by Much)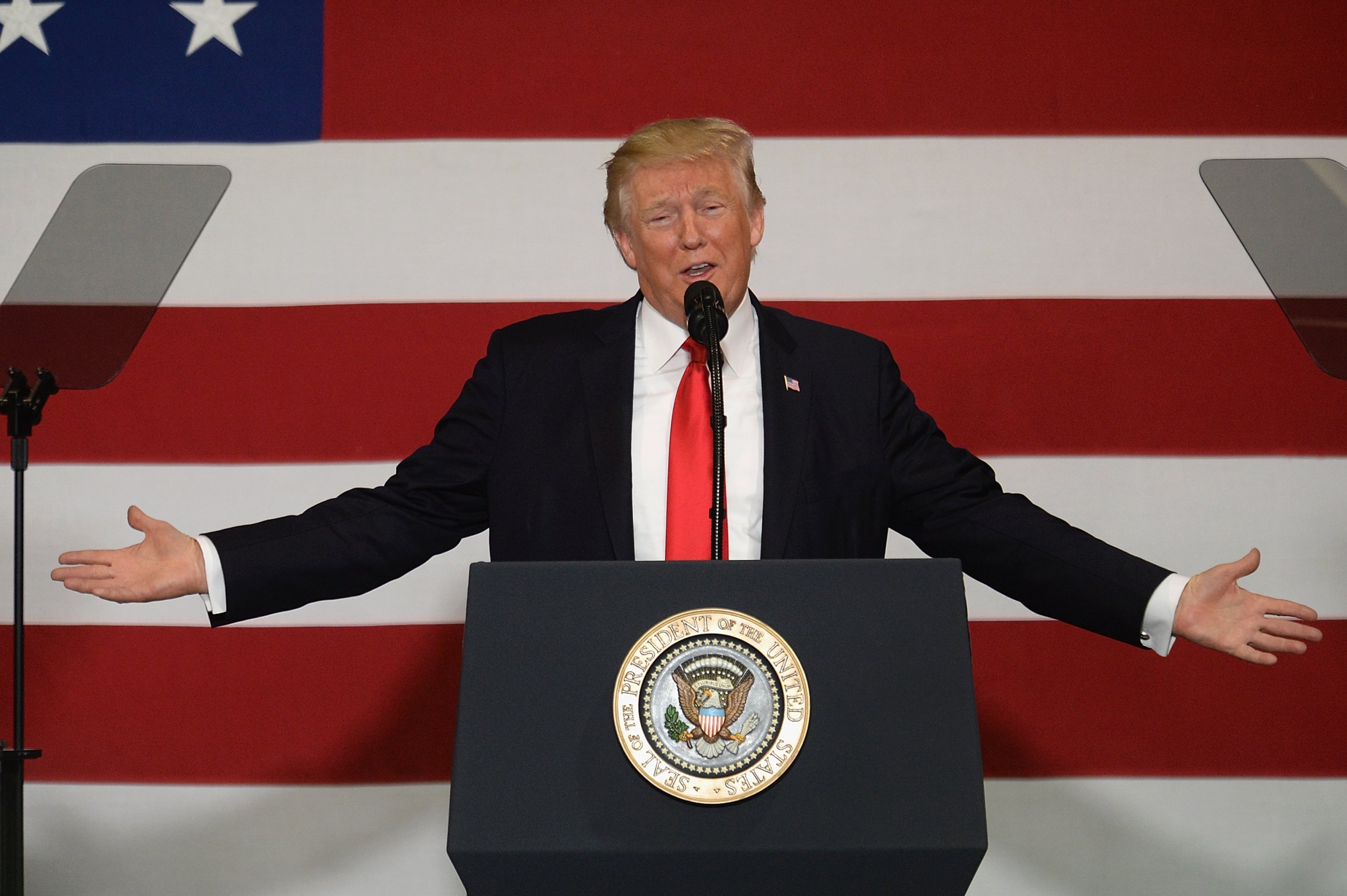 According to the latest round of approval ratings, President Donald Trump is having a decent week—that is, if decent can be said to mean creeping away from the historic lows that may permanently hamper his presidency.
Public support for Trump ticked up to 38.4 percent on Friday from 37 percent at the beginning of the week, and from 35 percent on August 28, according to the polling site FiveThirtyEight. The upward trajectory follows a couple of monumental weeks for the relatively new commander in chief: America was hit with its first major natural disaster under his watch, when Hurricane Harvey ripped through Houston and other parts of Texas, and Trump struck a deal with Democrats to continue funding the federal government; bypassing Republican lawmakers and giving House Minority Leader Nancy Pelosi and Senate Minority Leader Chuck Schumer a seat at the policymaking table.
Related: Here's how Donald Trump could actually be impeached
If history repeats itself, as it often has, Trump's approval ratings could soon decline amid federal rebuilding efforts in the wake of tragedy. For example, former Presidents Barack Obama and George W. Bush suffered decreasing confidence and public trust due to the BP oil spill in the Gulf of Mexico and Hurricane Katrina, respectively.
Still, the majority of the nation does disapprove of the president's performance since taking office—and that figure for the most part has been increasing since Inauguration Day. It decreased this week, though, with 56.4 percent of voters now disapproving of Trump's tenure in the White House, down from 57 percent at the beginning of the week.
Trump's low approval ratings remain unprecedented in modern American history. They could also begin declining once again amid uncertainty surrounding his decision on the Deferred Action for Childhood Arrivals program, an initiative former President Barack Obama put forth to protect from deportation undocumented immigrants who arrived in the U.S. as children. When news broke that Trump was going to rescind the program, he used Twitter to press the Republican-led Congress to pass new legislation defending DACA recipients, commonly referred to as DREAMers.
He was then reportedly instructed by Pelosi to tweet that he would not act on removing the nearly 800,000 immigrants currently in DACA if Republicans are unable to pass a bill.
The president's approval ratings in the coming weeks will largely depend on his administration's immediate response to the potentially catastrophic Hurricane Irma, expected to hit Florida Saturday morning. Trump is already one step ahead, including billions of dollars in relief funding for impacted states in the Democratic funding bill he announced his support for on Wednesday afternoon.