Donald Trump's Approval Rating Is Around the Same as Recent One-term Presidents
Donald Trump's approval ratings have slumped to similar levels as seen by recent one-term presidents, amid the COVID-19 crisis and criticism of his response to protests following the death of George Floyd.
A poll, conducted for CNN by SSRS from June 2 to 5 among 1,259 respondents, sees Trump's approval rating at 38 percent and disapproval at 57, putting his net figure at -19.
These figures, just less than five months from election day, mark the worst that CNN polling has recorded since January 2019. They also coincide with national polling giving Democratic hopeful Joe Biden a lead over the incumbent Trump.
CNN reported that in June of their election years, one-term presidents Jimmy Carter and H.W. Bush were on 38 and 37 percent approval ratings respectively.
According to FiveThirtyEight, which collates an average of Trump's approval and also has data on that of other presidents, after day 1,236 in the White House, H.W. Bush had a net approval of -20.6. At the same point Carter's was 13.5.
By the CNN poll numbers, this would see Trump's approval narrowly higher than Bush's and worse than Carter's.
However, according to an average of different approval polls from FiveThirtyEight, Trump is at net -13.1, putting him only just favorable to Carter's level, though seeing him a few points above H.W. Bush.
Carter, a Democrat, served his one term between 1977 and 1981, after which he was succeeded by Republican rival Ronald Reagan.
Republican H.W. Bush's stint in the White House ran from 1989 to 1993, after which he was defeated by his Democratic challenger Bill Clinton.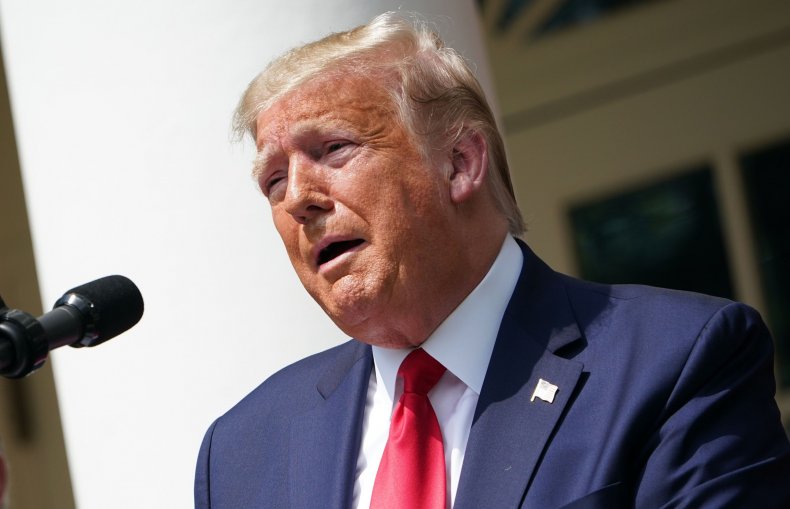 His defeat came following an economic recession late in his term, with Clinton capitalizing by campaigning on a platform of promising to boost economic performance.
Trump similarly campaigned on a desire to boost the economy in 2016 and would have hoped for strong numbers to see him into 2020, however, this has been stymied by the COVID-19 crisis.
He now faces going into the election with unemployment in double figures, though it is lower than had been expected, at 13.3 percent according to the latest Bureau of Labor Statistics data, when some had forecast it might saw to around 20 percent.
The incumbent will be hoping the reopening of states following the stay-at-home measures implemented due to the COVID-19 crisis will allow him to go into election day with the economy on the up.
As well as facing the economic uncertainty posed by coronavirus, Trump also faces falling approval of how he has tackled the virus, with a FiveThirtyEight average showing more than half disapprove, at 53.4 percent, compared to 42.7 percent who approve.
An ABC News/Ipsos poll, conducted among 706 adults between June 3 and 4, with a margin of error of plus or minus 4.3 percent, found 60 percent disapproved of his handling of the pandemic.
The president also faces criticism for his actions following Floyd's death, with a recent poll showing close to 70 percent of Americans disapprove of how he has dealt with the response.
The ABC News/Ipsos also found that 66 percent disapprove of Trump's handling of the situation.
Newsweek has contacted the Trump campaign for comment.