Anti-Trump Display Shows Babies in Cages in Front Window of New Jersey Store
A new political art show starting on Saturday is already causing controversy in the small town of Montclair, New Jersey. Front and centre of the show is a cage of brown baby dolls with a campaign sign behind them reading "Trump – Pence."
The artist, Amy Putman, wanted to provoke as much reaction as possible and she's done just that. Bystanders have said her display is everything from "Pro-Trump" and "outrageous" to "racist," reported NBC.
"I understand this art will generate a strong reaction but that's the price I'm willing to pay for putting a spotlight on Trump's inhumane policies on the border," said Putman to Newsweek.
The art piece is part of a collection of provocative items on display at the Montclair boutique. In the window are around a dozen unclothed brown baby dolls in a cage with the Trump – Pence campaign sign in the background and the slogan "Make America Great Again." It appears to be an attack on President Trump's immigration policy, but has been interpreted in many ways by local residents.
"I don't think that is even remotely pro-Trump. I think it just shows how awful he's been to these poor children who have been forced into cages and ripped away from their parents," said resident Kaelyn Kalas on viewing the piece.
Artist Putman told Newsweek: "The body of work in this exhibition was created over the (hopefully) last four years of Trump's presidency. It's my small contribution to what I call 'Conscience Art.'
"One of the reasons I believe art is so vital in culture is to ignite conversation. I'm trying to provoke that and stimulate more debate about what's going on at the border. It's a shock to the conscience and I hope more artists turn their energy to this.
"I created the babies in the cage piece (recently titled "So Well Taken Care Of") in 2018 when the images of children and their families at the border and in the detention center cages made me distraught. I wanted to help make sure people don't forget this outrage. The news cycle moved on back then but I didn't. Now we've learn that over 500 children can't find their parents and the Trump administration has created more than 500 orphans."
In 2018, President Trump created a zero tolerance policy on immigration, which separated migrant children and parents at the Mexico/U.S. border. "If we don't enforce this, it is the end of our country as we know it," said Trump adviser Stephen Miller at the time.
More than two years later, a report has claimed that kids of more than 500 migrants have still not been reunited with their parents. Around 60 of the children were under five years old when separated, the report claims. President Trump's immigration policy was highlighted in this week's presidential debate with U.S. Presidential candidate Joe Biden.
"They are so well taken care of. They're in facilities that are so clean," said President Trump on the children in detention. "Who built the cages? I'd love you to ask him that," said the president to the moderator of the debate.
The detention centers were built during the Obama administration. Biden, in response to President Trump, argued that he had plans to rectify this: "We made a mistake. It took too long to get it right," Biden said.
On her website, artist Putman outlines that she is in awe of the determination of the migrants who go in search of a safer existence.
"I'm motivated by issues of social justice. The sheer determination of the migrants who are traveling here in unspeakable conditions to get to a safer life has left me in awe, while at the same time the cruelty of how we treat them once they arrive has left me speechless. Their stories break my heart but fuel my passion for creating images that depict their journey and spirit. When I have no words, I have art," she wrote.
Also part of the same collection are images from the border, a collaboration with human rights photographer Tish Lampert. Art pieces "Stop Here" and "Blades of Grass" include powerful scenes. "Stop Here" has a border guard spying through an American flag to see desperate hands reaching through, and "Blades of Grass" has a border guard wearing an American flag staring into a field of grass with hiding migrants.
"Humanity is on the Ballot. Empathy is on the Ballot. Democracy is on the Ballot," said the artist on an Instagram post about her new show.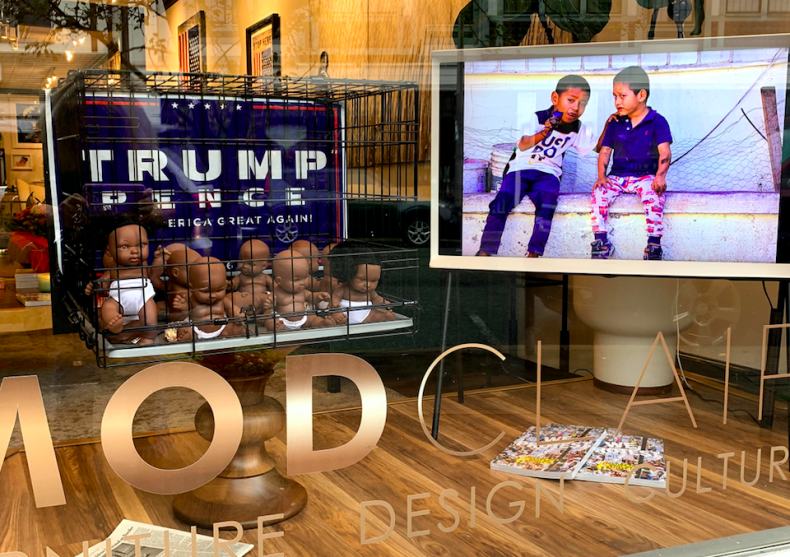 Correction 10/27/20, 5.30 a.m. ET: This article was updated to correct the spelling of Amy Putman. The article was updated to include comments from Putman.