Donald Trump Tweets Video of 'Ask China' Press Conference Clash, Says Reporters Were Conspiring Against Him
Donald Trump has branded the media "out of control" after walking away from a press conference in which he told a reporter to "ask China" when she questioned his comments on coronavirus test levels.
The president left Monday's COVID-19 briefing after clashing with journalists, following a query from CBS White House correspondent Weijia Jiang which he branded "nasty."
Sharing a video of the exchange on Twitter, Trump wrote: "The Lamestream Media is truly out of control. Look how they work (conspire!) together. They are the Enemy of the People, but don't worry, we will WIN in November!"
Jiang had pressed the President on his claims the U.S. is doing "far better than any other country when it comes to testing."
She asked: "Why does that matter? Why is this a global competition to you if every day Americans are still losing their lives and we're still seeing more cases every day?"
In response, Trump said: "Well they're losing their lives everywhere in the world. And maybe that's a question you should ask China. Don't ask me, ask China that question, okay? And when you ask them that question you may get a very unusual answer."
The president then attempted to move on to CNN's Kaitlan Collins, who allowed Jiang to ask a follow-up question.
Jiang asked: "Sir, why are you saying that to me, specifically, about China?"
"I'm not saying it specifically to anybody, I'm saying it to anybody that would ask a nasty question like that," Trump responded.
He then tried to skip Collins after she allowed Jiang's second question. Collins said, "You called on me" to which Trump said, "I did and you didn't respond."
She said: "I just wanted to let my colleague finish."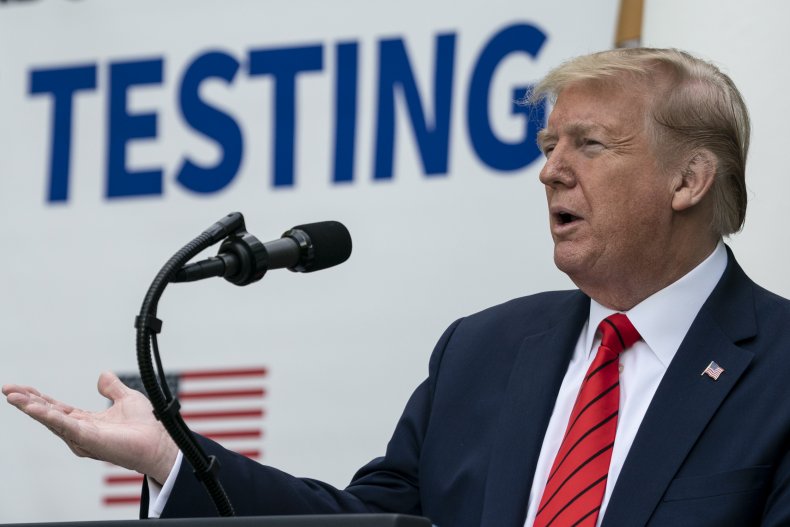 The next reporter called upon was PBS NewsHour's Yamiche Alcindor who deferred backed to Collins, at which point the president said "thank you very much" to the gathered press and left the stage.
Explaining the situation, Jiang said Collins allowed her to ask a follow-up, then Alcindor motioned back to Collins when Trump tried to move to her.
"I am fortunate to work alongside them," Jiang wrote on Twitter. Alcindor also confirmed this chain of communication.
Newsweek has contacted the White House and CBS News for comment.
During the Rose Garden event, Trump stood in front of banners which read "American leads the world in testing."
He said that anyone who wants to be tested in the U.S. is able to receive such a screening.
"As far as Americans getting a test, they should all be able to get a test right now," he said. "If somebody wants to be tested right now, they'll be able to be tested."
Trump also said the U.S. would pass 10 million tests this week. This would surpass any other country in total numbers and be higher than many per capita.
However, questions have been raised due to varying population size and the speed at which tests have been carried out.
The U.S. has seen more than 1.3 million cases of coronavirus and more than 80,000 people infected have died, according to Johns Hopkins University figures. Its numbers also show that more than 230,000 people have recovered from the virus.
New York is the worst-hit state in the U.S. and the graphic below from Statista shows the ten most severely affected as of May 11.