Donald Trump Asked CIA to Make Silent Bombs So Enemies 'Can't Get Away,' Book Claims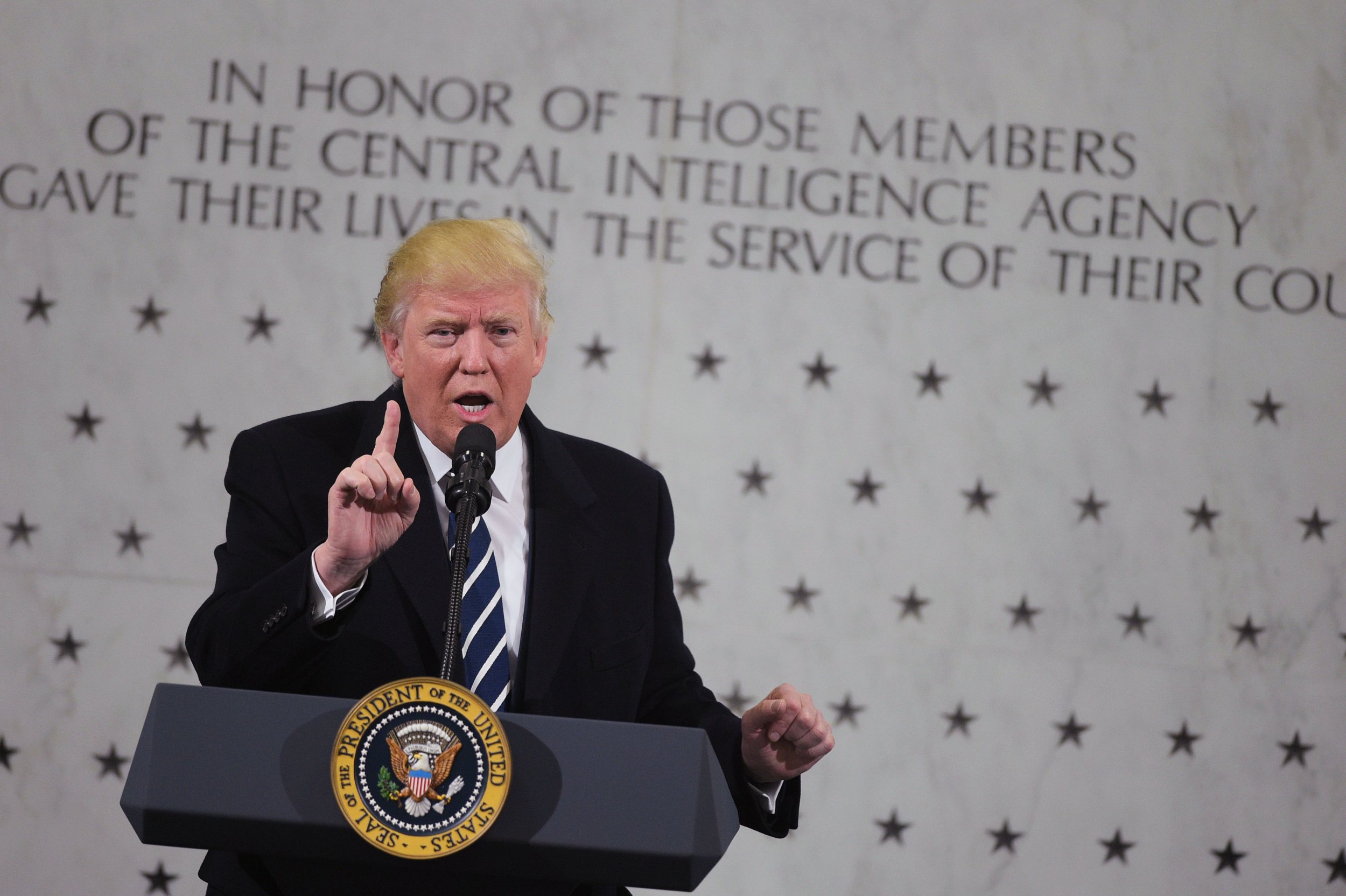 President Donald Trump was puzzled by the CIA's efforts to limit civilian casualties and requested that silent bombs be developed so that militants "can't get away," according to a forthcoming book by Washington Post national security correspondent Greg Miller.
Trump apparently made the remark on his second day in office during a visit to the agency's northern Virginia campus. The CIA's head of drone operations explained that special munitions had been developed to limit the number of civilian casualties, and "the president seemed nonplused," Miller wrote in and adaptation of his new book, The Apprentice: Trump, Russia and the Subversion of American Democracy, which will be released October 2.
"Shown a strike in which the CIA delayed firing until the target was a safe distance from a compound with other occupants, Trump asked, 'Why did you wait?'" Miller wrote in the adaptation published by the Post on Wednesday.
Miller continued: "And when Trump noticed that militants had scattered seconds before another drone attack, he said, 'Can they hear the bombs coming? We should make the bombs silent so they can't get away.'"
That wasn't the only aspect of CIA operations that Trump seemed dissatisfied with.
Shown the Predator display showcasing successful strikes, Trump appeared "suitably enthused, though puzzled by what he regarded as undue restraint," Miller wrote.
When Trump was informed that the CIA had surveillance flights over Syria but that only the military could fire because of an Obama-era policy aimed at focusing on the core espionage mission, Trump demanded that the restrictions be lifted, fast.
"If you can do it in 10 days, get it done," Trump said, according to Miller. Trump's request was eventually fulfilled.
Trump had his own vision for the CIA, and was willing to fund it.
In a speech to the agency that day, Trump said his administration would offer so much support that "maybe you're going to say, 'Please don't give us so much backing.'" He vowed to eliminate terrorist organizations.
Trump authorized the CIA to once again conduct secret drone strikes, which Obama had limited in the face of worldwide backlash over civilian deaths.
The CIA has been conducting drone attacks in Syria, Iraq, Afghanistan and Yemen, and is reportedly expanding its strike operations to Africa. The agency has launched five drone attacks in Libya on ISIS militants so far this year.
The is a narrative history of Russia's meddling in the 2016 presidential election, and includes hundreds of interviews with people close to Trump who either currently serve or formerly served in the White House.