Donald Trump Asked Military for a Plan to Strike North Korea, and Generals Were Terrified: Woodward Book
In early 2018, President Donald Trump asked the U.S. military to prepare a plan for a preemptive strike against North Korea, a request that left top military advisers shaken, according to journalist Bob Woodward's new book, Fear.
The book reveals that General Joseph Dunford, Chairman of the Joint Chiefs of Staff, relayed the request to Senator Lindsey Graham in February.
"When Dunford arrived at Graham's office, Graham could see that the chairman was shaken. Trump was asking for a new war plan for a preemptive military strike on North Korea, Dunford confided. 'The intelligence on North Korea was not good enough,' Dunford said. 'We need better intelligence before I give the president a plan,'" according to the book, a copy of which was obtained by Newsweek.
Former President Barack Obama had also asked his National Security Council whether it would be possible to launch a preemptive military strike against North Korea in order to destroy the country's nuclear weapons and missile programs. Experts assessed that the U.S. has an incomplete knowledge of North Korea's nuclear arsenal, according to the book.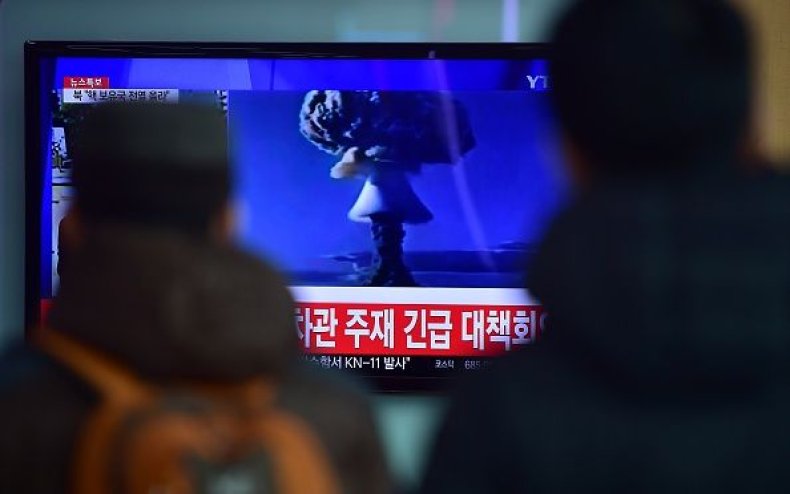 "The intelligence assessment also showed that a U.S. attack could not wipe out everything the North had. There would be lost targets because they did not know about them, and partial destruction of other targets," the book reads. "After a month of study, U.S. intelligence and the Pentagon formally reported to Obama that perhaps 85 percent of all known nuclear weapons and nuclear weapons facilities could be attacked and destroyed and that was only the identified ones."
"The Pentagon reported that the only way 'to locate and destroy—with complete certainty—all components of North Korea's nuclear program' was through a ground invasion. A ground invasion would trigger a North Korean response, likely with a nuclear weapon. That was unthinkable to Obama," the book continues.
Trump later informed his staff that Obama had warned him before he took office that North Korea would be his "biggest nightmare."
Since coming to office, Trump has gone from trading insults with North Korean leader Kim Jong Un to holding a historic summit with him in Singapore in June. Following the meeting, Trump victoriously declared that North Korea no longer poses a nuclear threat to the United States, a statement that the intelligence community says is false. Both countries did, however, pledge to pursue the denuclearization of the Korean peninsula, although the details of what exactly that means have yet to be revealed.
Recently, the diplomatic process appeared to be at a standstill, and Trump cancelled a trip to North Korea by Secretary of State Mike Pompeo, citing the lack of progress. North Korea has demanded that the U.S. declare an official end to the Korea War, which was never officially terminated despite the fact that fighting ended in 1953. The U.S., meanwhile, has asked North Korea to provide a complete inventory of its nuclear weapons. The two sides appeared to have reached an impasse.
But on Thursday, South Korean officials said that North Korea's leadership signalled it hopes to denuclearize the Korean peninsula by the end of Trump's first term in office. A third meeting between officials from North and South Korea has been scheduled for September 18. South Korean media reported that Kim said that his faith in Trump remains "unchanged."