Trump Asks Infectious Diseases Expert, Pharma Execs If Flu Vaccine Would Work Against Coronavirus, Is Told 'No'
President Donald Trump held a Cabinet Room meeting with pharmaceutical executives Monday, pressing them to deliver a vaccine for coronavirus as the epidemic spreads across the U.S.
The president was joined by members of the Coronavirus Task Force for the meeting, which was broadcast live by NBC News.
At one point, Trump asked whether the normal flu vaccine could be used to prevent the spread of the current COVID-19 strain of coronavirus that is causing global disruption. "You take a solid flu vaccine," Trump said, "you don't think that would have an impact, or much of an impact, on corona?"
"No," came the response. Tony Fauci, the director of the National Institute on Allergy and Infectious Disease, added, "Probably not," as the president nodded.
Trump has been criticized for his response to the spread of coronavirus and his apparent lack of understanding about the epidemic. The president has urged calm over the disease and asserted that his administration is fully in control of the situation.
Experts raised concerns about the president's knowledge gap last week when he admitted he was "shocked" to learn that the flu generally kills more than 30,000 Americans each year.
And on Monday, Trump said "maybe a cure is possible" for coronavirus and that a vaccine would be ready "relatively soon." According to The Associated Press, both suggestions were misleading.
Trump has also been criticized for appointing Vice President Mike Pence to oversee the response to the coronavirus spread. Pence has been accused of exacerbating an HIV outbreak in Indiana when he was governor there through inaction.
The president's desire for a quick vaccine was evident when meeting with the pharmaceutical executives in the Cabinet Room. Trump told Gilead Sciences CEO Daniel O'Day that his work on a therapy to alleviate symptoms was "very exciting," and instructed him to "Get it done, Daniel. Don't disappoint us."
Fauci and Health Secretary Alex Azar noted that vaccine work is complex, time-consuming and prone to failure, pointing out the difference between having a vaccine ready for tests and one ready for the market. But the president kept returning to the executives' promising pitches.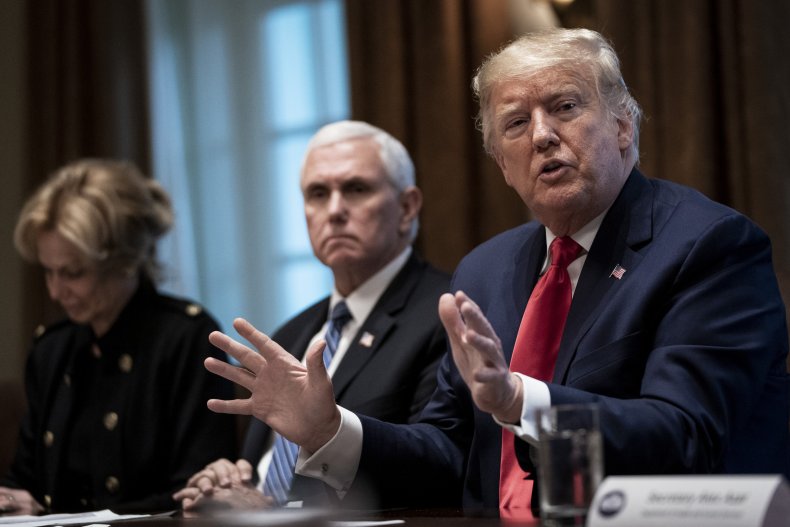 Trump said he had "heard very quick numbers, that of months. And I've heard pretty much a year would be an outside number. So I think that's not a bad range. But if you're talking about three to four months in a couple of cases, a year in other cases."
But Fauci pushed back, saying, "at the earliest, a year to a year and a half, no matter how fast you go."
The Johns Hopkins University tracker has recorded 105 coronavirus infections in the U.S. to date, with six deaths as shown in the below Statista infographic. The Centers for Disease Control and Prevention has warned that the disease's further spread is "inevitable."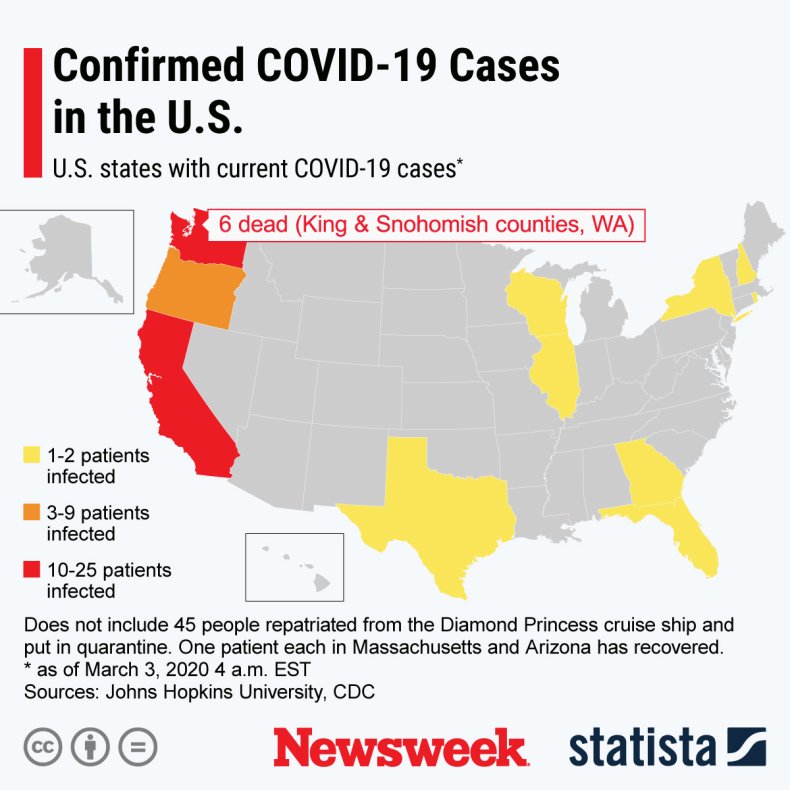 Trump said Monday he is considering new travel restrictions to try and slow coronavirus transmission. The administration has also imposed curbs on travel from China and Iran, and suggested "certain countries where they're having more of a breakout" might be next.
Worldwide, more than 91,000 infections have been confirmed with more than 3,100 deaths. The COVID-19 strain originated in the Chinese city of Wuhan and has now spread to at least 58 countries.