Manhunt for Convict Who Stalked Sarah Palin, Allegedly Threatened to Shoot Donald Trump, Continues for Marshals, FBI, Secret Service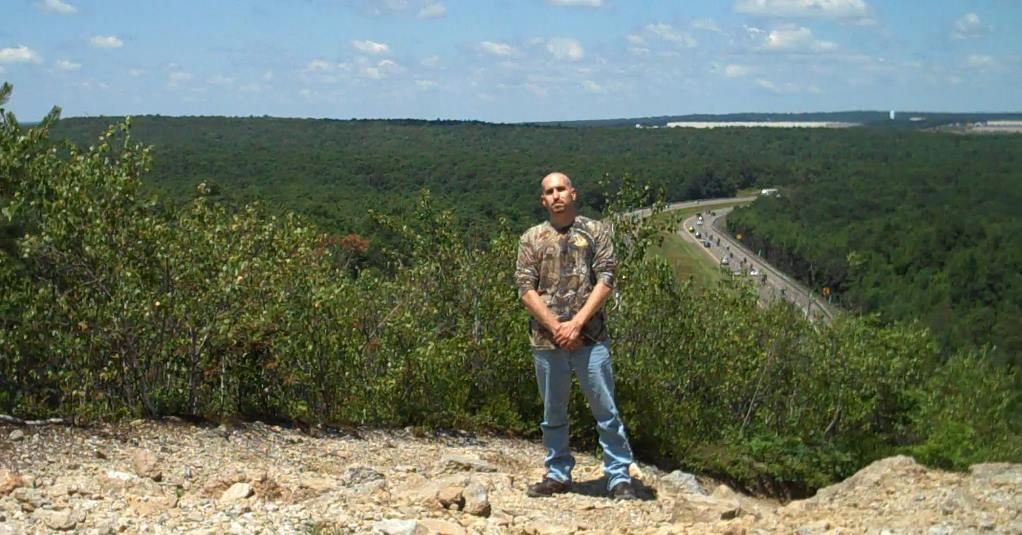 Craig and Karen Christy packed it in for the night at their McAdoo, Pennsylvania, home to watch the Steven Seagal flick Urban Justice.
It was around 12:30 a.m. on June 24, weeks since their son Shawn Christy, 26, went on the lam for allegedly threatening to "put a bullet" in President Donald Trump's head anduse "full lethal force on any law enforcement officer that tries to detain me."
Midway through Seagal karate-chopping his way through Los Angeles's gangland to avenge his cop son's drive-by slaying, the parents turned away from the tube and lowered their ice cream spoons.
Their fugitive son was tapping on the window.
"We let him in," Craig Christy, 54, told Newsweek, as a dozen of the family's rescue felines rushed the visitor. "I told him, 'We were raided.'"
The 26-year-old learned his cat, Arrow, passed away three days earlier when U.S. Marshals, FBI and Secret Service searched their home in hopes of capturing Shawn.
During the five minutes in the den, Shawn assured his parents that he "was safe" and regaled how he managed to duck the dragnet.
He talked of keeping camouflage in the strip mines a few miles north from their home along the Hunkydory Creek, apparently outsmarting marshals motoring through the wilderness.
"He'd seen the marshals out searching for him," Karen Christy, 52, said, echoing her son's account. "He said, 'They went past me quite a few times.'"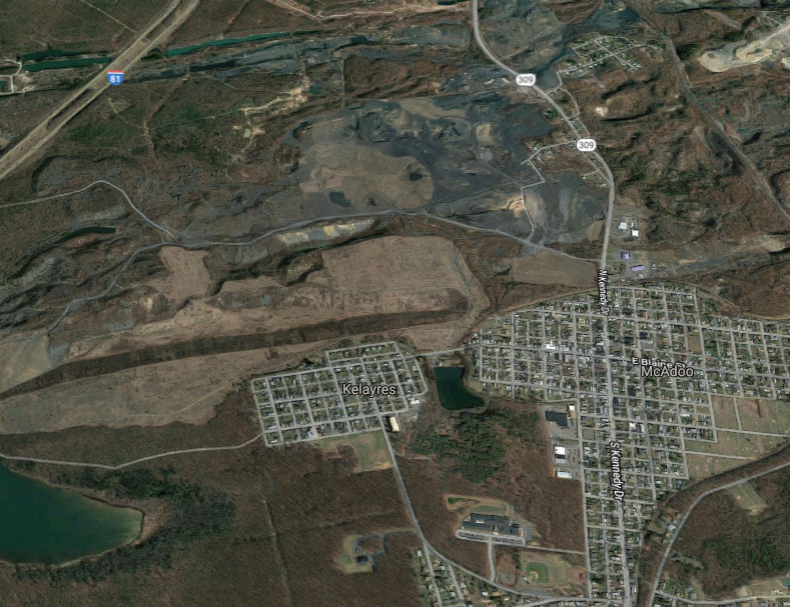 Shawn shared granular details, down to the attire one marshal wore while steering a quad through the wilderness and how he caught an earshot of his "loud music he was playing."
The conversation shifted from cloak-and-dagger to surrender.
"There's a couple federal guys that want you to stay here," Craig Christy told his son. "They're going to come here by themselves and arrest you peacefully."
But Shawn Christy was already halfway out the door.
"I'm not turning myself in until the former mayor of McAdoo, Stephan Holly, and McAdoo police officer Frederick Lahovski are arrested for misconduct," he allegedly declared before fleeing.
His father said he didn't savor the moment.
"He was out the door and going down the driveway," Craig said. "And I was on the phone with the Secret Service."
From court absentee to POTUS threat
A multistate manhunt spearheaded by U.S. Marshals working with the FBI and U.S. Secret Service to reel in Shawn has been underway for months ever since he allegedly beamed a series of threats over social media, aimed at Northampton County District Attorney John Morganelli and President Donald Trump.
"Keep it up Morganelli, I promise I'll put a bullet in your head as soon as I put one in the head of Donald J. Trump. Remember where you came from punk," read a June 12 Facebook post since taken down, according to a federal criminal complaint issued on June 19 in the Middle District of Pennsylvania.
That same day, Shawn Christy allegedly posted another: "Your [sic] a dead man Morganelli, $250 Sarah Palin. Let's play :)."
The feds describe Shawn Christy as speaking "with a noticeable lisp," and he stands 5 foot 10 inches talland weighs 165 pounds. He has a Gothic cross tattoo on his right arm, and dubs himself a survivalist, or "bushcrafter," for his wilderness acumen.
And he's been a step ahead of the professionals leading the manhunt.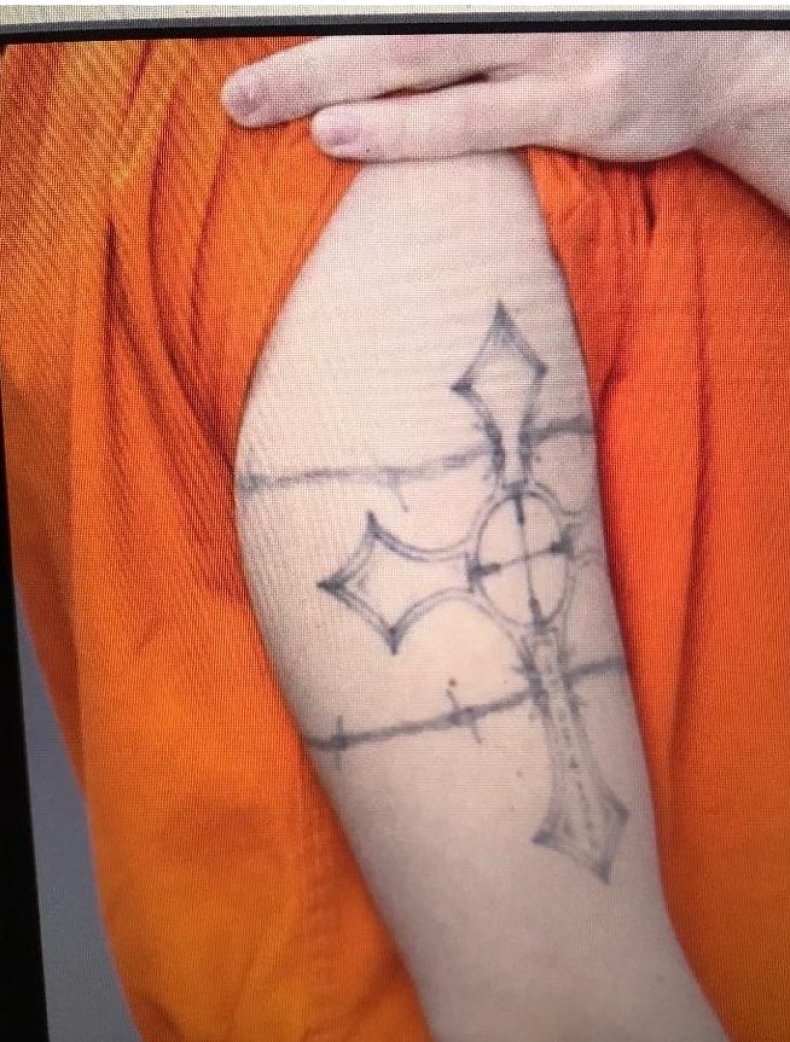 Last week, Christy was caught on surveillance camera footage helping himself to food inside Bristol Palin's ex-husband Dakota Meyer's brother's fridge. He also allegedly took off in a Jeep. The mail carrier SUV is one of many vehiclesin numerous states that Christy has allegedly boosted and ditched. He also allegedly lifted three pistols and ammo from a relative in Drums, Pennsylvania, on July 25, Newsweek has learned.
"He actually busted into his uncle's house in Drums, Pennsylvania," Craig Christy said. "He took three pistols.… He took a .22, .9 [millimeter] and a .380.
"It's not something you can start a war with, but they can wing you."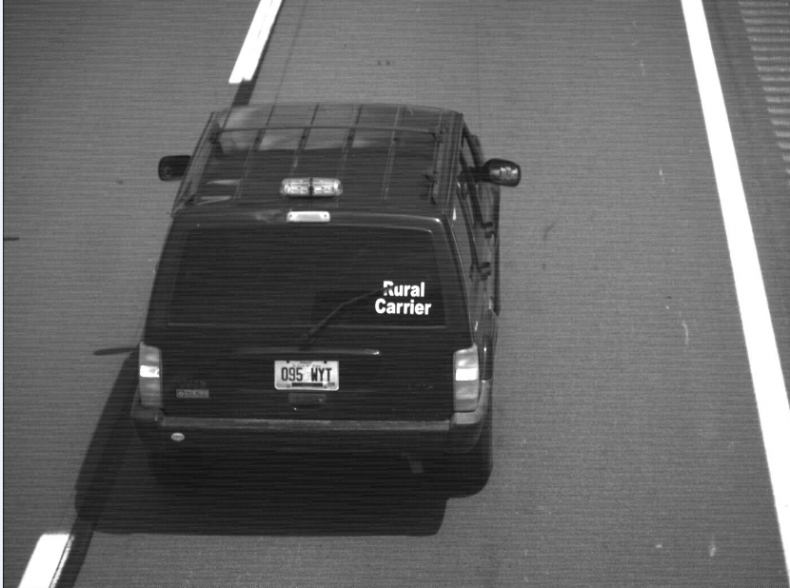 Shawn Christy faces federal charges for transmitting in interstate commerce communications "threats to harm, injure, and kill a police chief, other law enforcement officers, and a district attorney and President Donald J. Trump," according to the federal criminal complaint.
When reached by Newsweek, Morganelli, the unnamed prosecutor in the complaint at whom Shawn Christy allegedly lodged death threats, was unfazed. Since holding the job for almost three decades, running for Congress and twice losing a bid for Pennsylvania's attorney general, he said that he learned about a threat on his life through news reports.
"We've had individuals make threats in writing and in phone calls," Morganelli said. "This happened to be on Facebook. And this got a little more attention because it's entwined with the president."
Morganelli's jurisdiction is where Shawn Christy was facing criminal charges.
On March 13, 2017, Shawn allegedly targeted a tax administrator worker over phone calls. He is accused of threatening to blow up the office of government collection firm Berkheimer Creditech, Bangor Police reported at the time, according to Lehigh Valley Live.
Shawn was contesting a local tax return in which he was in arrears and the matter had gone to collection.
"It was 25 bucks," Craig Christy said. He noted that his son was working on oil rigs out of state, and therefore shouldn't have been taxed.
In the phone call, Shawn Christy allegedly growled at the operator: "I'll put a bullet through your f******g head, bitch... I'll blow your f*****g building up."
Morganelli believes his name appearing on subsequent case documents may have angered Shawn.
"I guess because he violated his probation or parole—my name is stamped on thousands of documents out of this office every year," he said.
So far, Morganelli said no federal agency has reached out to him.
"I haven't spoken to the Secret Service, and they haven't contacted me," he said. "I haven't talked to anybody—no federal marshals. Nobody's contacted me."
Even so, Morganelli said he won't alter his daily routine. "Life goes on here," he said. "I haven't been thinking about him much."
Asked about Shawn Christy's reasons to name both Trump, whom he claimed to have regretted voting for, and Morganelli as potential targets, his parents concede that their son is trying to solve a long-standing row with Sarah Palin and her family, and channeled that anger at both the president and the prosecutor.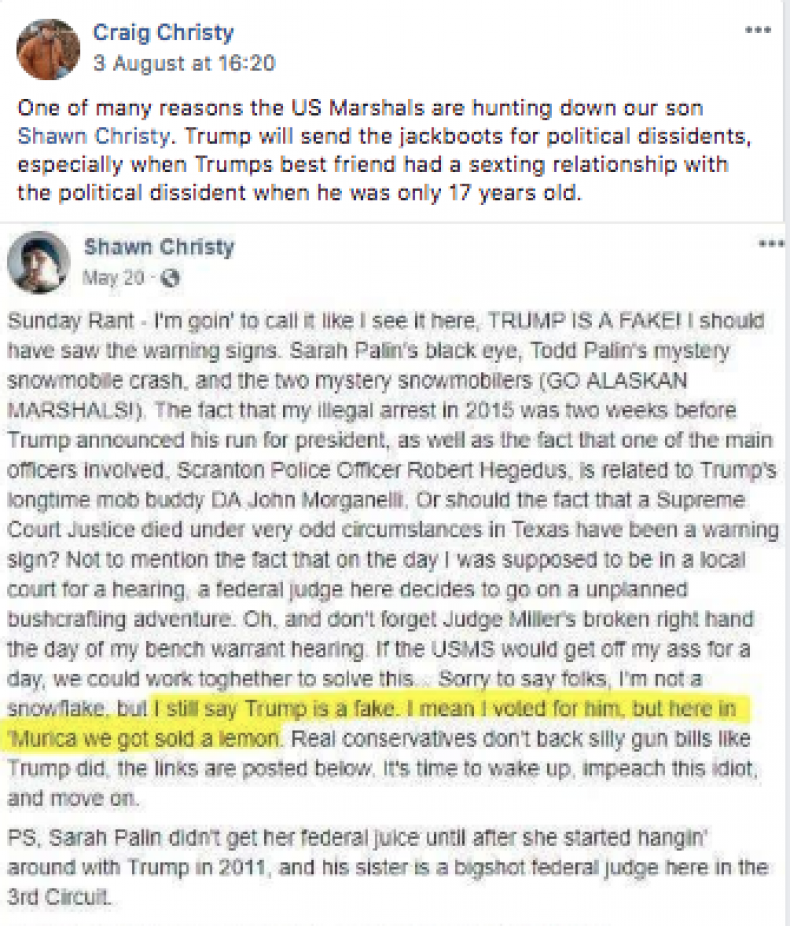 Morganelli and his son were apparently chummy with Trump, based on a series of tweets after the 2016 election, according to the Northampton County News. In one, he seems to pine for a position in D.C.
"Waiting to hear from transition. Hope to serve," Morganelli tweeted on November 20, 2016.
A day later, Morganelli sent a tweet that seemed to tout his qualifications. "I am Pa. most senior prosecutor waiting to hear from transition," he tweeted.
Morganelli tweeted again three days later: "@realDonaldTrump Thankful for your coming leadership. Waiting to hear from transition. Met you at Bedminister when I played in Member Guest."
Karen Christy said Morganelli's public attempt to land a Cabinet post in the Trump administration was for Shawn "a guilt by association thing."
Morganelli calls the blame game tedious.
"I don't know Mr. Christy. I don't know if this is all just a rage that he's in," he said. "I know he has guns now. I know he's armed and dangerous, but I don't think he has any history of hurting anybody."
Christys vs. Palins
Since 2008, Shawn and Craig Christy have been warring with Sarah Palin and her family.
To hear Craig tell it, his son was caught up in a "texting incident" that he described as more of a "sexting incident." His son sent an email to Governor Palin's office querying the vice presidential hopeful about her views and believed he was receiving actual responses in the form of phone calls and emails from the mother and her daughter Willow.
"Shawn was 17 years old at the time, and he wanted to get more politically involved," Craig Christy said. "There were loads of text messages."
But Craig Christy later conceded that Shawn kept the texts private.
"He never showed me the texts, but we talked a lot about it," he said. "It was a big thing in his life.
"Shawn is not the type to lie," he added.
Besides texts, Craig said there were emails, too.
"There were 140 emails between my son and the governor's office in Alaska," he said, adding that he and his son were permitted to survey the emails, but unable to get independent copies as proof of their existence.
"I got involved after 2009 when my son started putting stuff on Facebook and started sending letters to Alaska," he said.
Two years later, he said, their correspondence made national news "because Sarah Palin filed for a protective order against my son."
The father and son tag-teamed the former vice presidential candidate's Fairbanks, Alaska–based attorney John Tiemessen with the lewd voicemails. One voice message left by Shawn Christy on May 9, 2011, was documented by the feds in an affidavit.
"Well surprise, for the first time in your life John, somebody small, some little dick f*** from McAdoo is going to ram it up your f***ing ass and take everything away that you ever f***ing—everything you f***ing love, everything you f***ing like I'm going to take it. I'm going to ransom your f***ing children… if you don't want that life, pay me some f***ing money now, and I'll be quiet and I'll go away. So you know what you pay me enough money I might even think about f***ing Sarah for the hell of it...."
In another voicemail message on August 4, 2011, Craig Christy according to the affidavit, told him "....There's a f***ing threat now, f***ing bring it on motherf***er. You got that? You wanna f*** with my boy like that, I will come and f***ing kill you.…"
Orders of protections were formalized, and Craig said he and his son weathered the legal fight as their own attorneys, holding court via the telephone from Alaska at in their McAdoo kitchen.
The criminal charge of harassment didn't involve the Christys against the Palins, but from their trying to call Palin's attorney and "[letting] the phone continuously ring."
"There has never been any charges against me or my son for harassing Sarah Palin or harassing her family," Craig Christy said. He could name, to the letter, the exact charge code of the charge, which was: "Repeatedly or continuously to ring, with intent to harass any person at the called number."
But it wasn't only the nonstop phone calls.
They were also punished for making hundreds of crude, threatening phone calls and sending notes to the former Alaska governor's family attorney. Craig and Shawn Christy served under a year prison time in Alaska and were shuttling around to other state facilities.
Once sprung, they were put on probation for five years and forced to pay restitution.
Today, Craig Christy acknowledges he was wrong.
"I stepped over the line, and I took responsibility for it," he said. "I admitted in my sentencing statement: "Two wrongs don't make a right."
Newsweek's attempts to reach Sarah Palin or her representatives were unsuccessful.
However, Shawn Christy's vendetta against the Palin family doesn't appear to have waned.
It explains a tit-for-tat cybersalvo between Sarah Palin's ex-son-in-law and Medal of Honor recipient Dakota Meyer (who famously sipped suds with President Barack Obama in 2011) and Shawn Christy while he was allegedly bushcrafting in the wilderness.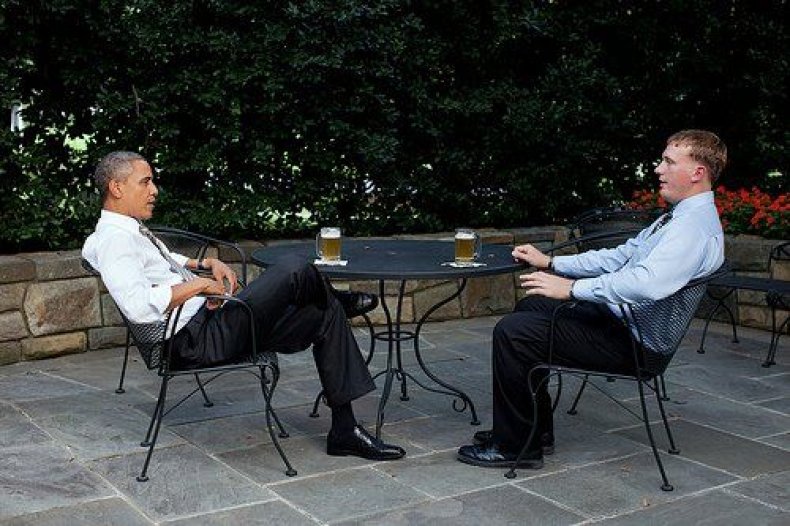 In a series of messages reviewed by Newsweek, Meyer appears to be baiting Shawn.
On August 7, two months since marshals started tracking Shawn Christy, Dakota Meyer exchanged messages with Craig Christy.
Craig was originally posting a flare to Shawn, telling him, "As always Shawn please surrender yourself you made your point. Dakota Meyer is not worth it.… "

A buddy of Meyer replied: "Shawn better hope Dakota doesn't find him."
And Meyer added: "That's a fact."
When Craig Christy attempted to intercede, Meyer allegedly responded: "I'm not the one sneaking around. I'll give him my location if he wants it… Where is Shawny poo at?"
Why bother with a decorated Marine like Meyer?
Karen Christy sighs.
"I think a lot of that is because he was just married to Bristol," she said. "Dakota was in with the Palin crew, and one question Shawn has dealt with over the last 10 years is 'Why was he targeted by Sarah Palin?' 'Why did that happen?' I think that's part of a lot of the questions that I said Dakota would be able to handle."
On August 9 at around 6:30 p.m., Meyer's brother Timothy Gilliam's Columbia, Kentucky, home was allegedly burgled.
Shawn Christy was named as the suspect. Kentucky State Police accuse him of wielding a sledgehammer and cracking open a rear window while nobody was home to help himself to food in the fridge.
"He must have been hungry," a trooper named Nick Hale told Newsweek.
Later, Shawn Christy was seen on surveillance video storming off in a 2001 Jeep Grand Cherokee rural mail carrier truck, according to Kentucky State Police release. Interestingly, there was a generous supply of weaponry that he neglected.
"He had an opportunity to steal guns and stuff but he didn't," Hale confirmed.
Craig Christy said this shows that his son isn't on a blood path.
"He's not a mass serial killer," he assured.
But Robert Clark from the U.S. Marshals Service told Newsweek he's troubled by the fact that Shawn Christy's packing three stolen pistols and ammo. His father said they're not for human hunting, but to fend off bears and catch game.
"Shawn took them for hunting," Craig said. "He is into primitive survival, and it's easier if you have a gun than it is to build a bow and arrow from scratch or build traps."
But Clark doesn't buy the hunting argument.
"His dad can say that, but we're not going to take any chances," Clark said. "The .9mm Ruger handgun isn't for hunting.
"He has enough guns that could produce enough lethal force to any unsuspecting law enforcement officer."
Shawn Christy and the hot Jeep with the steering wheel on the front passenger's side were spotted the same afternoon driving eastbound on Interstate 64 near Huntington, West Virginia, authorities confirmed.
"The truck stolen from Dakota's brother's house still hasn't been located," Clark told Newsweek.
The burglary incident seemed to invigorate Meyer at first.
"I wasn't home…. Unfortunately," he posted on Instagram.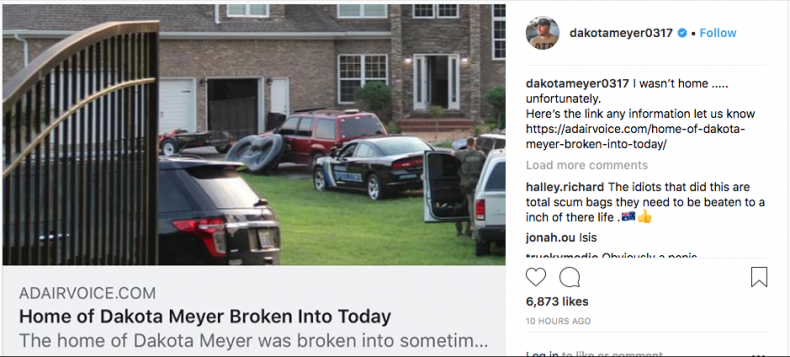 Behind the scenes, Meyer and Craig Christy were extending olive branches.
But not at first.
"Tell your boy it's on now," Meyer allegedly wrote to Craig.
He then softened: "I hope the meal he got out of my refrigerator was good hahaha," he joked.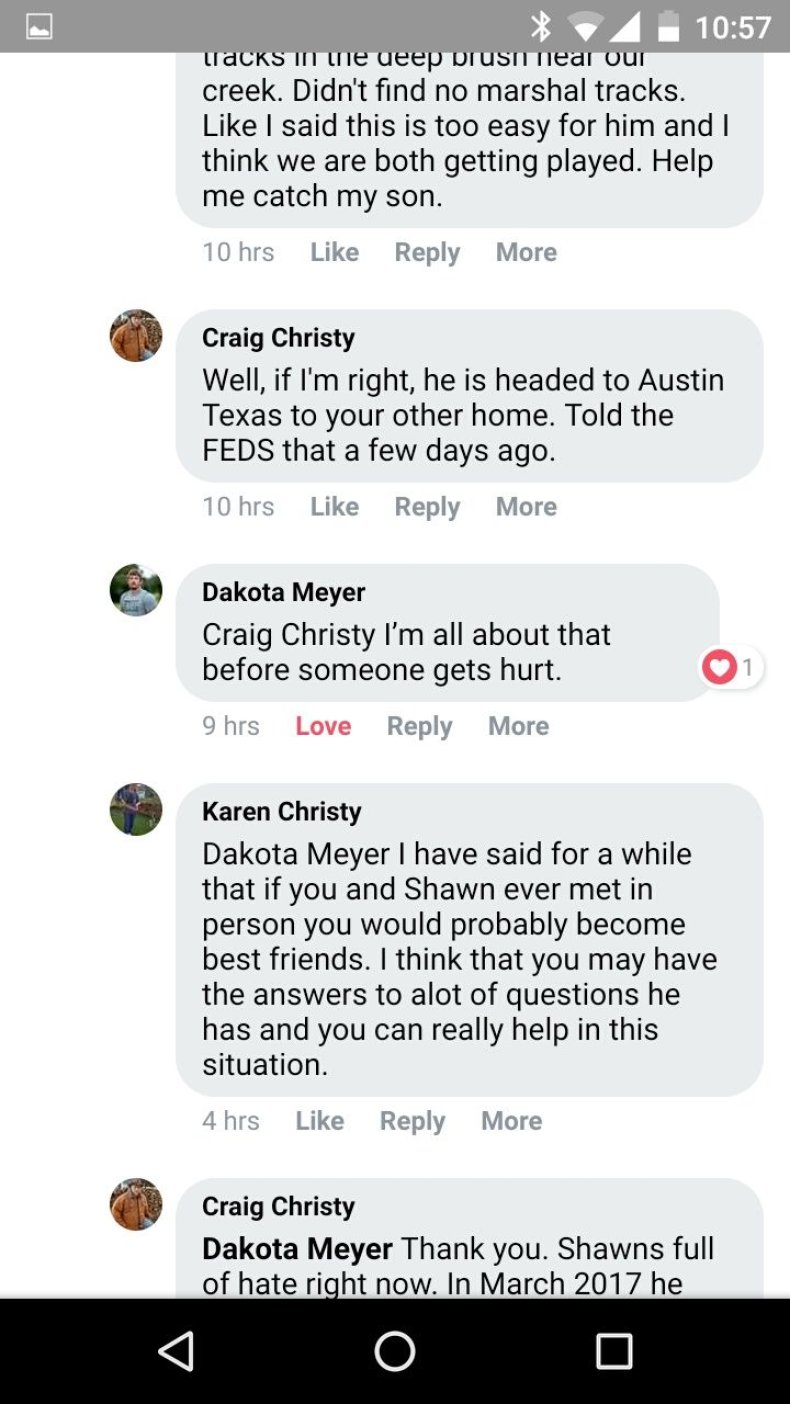 Craig then pleaded: "Help me catch my son."
"Craig Christy I'm all about that before your son gets hurt," Meyer wrote back.
Karen Christy also wrote to Meyer: "I have said for a while that if you and Shawn ever met in person you would probably become best friends."
Striking an accord, Craig is confident the families can work together to bring his son into custody safely.
"I don't think Dakota's a bad young man," Craig said. "He's going through a lot right now with the divorce, and I understand he was in the hospital the day before for panic attacks.
"And Shawn doing all this is not helping the matter."
Snow Fight With McAdoo Mayor
Beyond the bomb threats in Northampton, Shawn Christy is also a suspect in a dustup with former McAdoo Mayor Stephan Holly.
A blizzard socked the tiny coal mining town on March 15, 2017. And the Christys, like their elderly neighbors, were snowed in with approximately 4 feet of snow.
"It was not being plowed," Karen recalled. "My husband has seizures, and if I needed to get him to the hospital or get an ambulance in here, we couldn't get out."
The delay perplexed her and her neighbors because while the main roads were getting plowed, the mayor "did not touch our alleys," where their home stands.
Shawn headed to the center of town with his massive hiking stick. He encountered the mayor, and the two exchanged words followed by blows near the McAdoo Borough building on North Hancock Street, according to the police report obtained by Newsweek.
Shawn Christy, the document states, "swung a large stick, approximately 4-feet-long and 2 inches in diameter at [Holly's] head." Then, the report goes on, Christy "made two separate attempts to strike Mayor Holly," before he "fled the area."
The entire incident was also captured on surveillance video.
In it, the mayor is seen idling on the street inside his silver pickup truck as Shawn Christy comes from the foreground to the driver's side to jaw with Holly, the former mayor told Newsweek.
"He approached the vehicle with the stick and he come up and said, 'Hey Holly, when you gonna plow the alleys?'"
Holly said that Shawn Christy was raring for a fight.
"He had an attitude on him," he said.
Holly opened the door, he remembers retorting: "Holly's going to plow the alleys when he gets to it!"
The former mayor, who has since returned to being a carpenter, said that Shawn Christy was dead set on hurting him.
"You could clearly see he choked up on that big stick and went to hit me across the face with it," Holly said. "That's as clear as day. He attacked me. I didn't attack him.
"He went to hit me across the face and I blocked it. Thank God I blocked it."
Holly was struck in the arm instead, he said.
"All I was trying to do was stop him from assaulting me," Holly said. "I think the video is clear evidence of that."
The video shows Holly seeming to fight back, even managing to wrest Shawn Christy against a black car parked behind his truck.
Shawn Christy later reported that he suffered serious neck and head injuries as a result of the impact of the bout.
In a Lehigh Valley Hospital report dated the same day as the fight and obtained by Newsweek, Shawn Christy was diagnosed with "cervical neck strain" and "minor head injury."
It also referred to Shawn Christy's bout with Lyme disease. In fact, the Christy family has been riddled with Lyme disease. Craig is on disability and constantly fending off ulcers and seizures. Karen has neurological damage that affects her lower extremities.
"Shawn has a lot of neurological pain as I have, but not as bad as I have it," she said.
Holly wasn't aware of any of Christy's injuries after their scrap. He made it clear that he wasthe one who suffered the bash to the arm and also a kick in the chops.
"He tried to hit me with the stick again," Holly said, of the alleged whiff. "That's when he fell into the snowbank and then he kicked me in the stomach."
Months later, Shawn Christy tacked on a harassment charge by allegedly leaving voicemail messages for McAdoo Police Officer Lahovski.
"The defendant was angry and demanded that Mayor Stephan Holly and myself be arrested by Monday," one message left on October 6 of last year stated, according to an affidavit of probable cause.
Shawn Christy allegedly warned he would "pick them up myself" as a citizen's arrest.
On October 9, Shawn Christy allegedly called again, this time irate for being blocked on the police department's Facebook page. The affidavit states that Officer Lahovski was called "a freak" by Shawn and the man "made references to me being a homosexual who would be forcibly turned into a heterosexual in prison."
Shawn Christy's harassment and assault cases were supposed to be tried in Schuylkill County Court. Instead, his public defender crossed the aisle to become a county prosecutor. Instead, his case was moved to Berks County to avoid a conflict of interest.
Then Shawn Christy allegedly absconded.
"With regard to the aggravated assault case: [Shawn Christy] failed to show up to jury selection," said Jordan Fegley, Berks County deputy district attorney, who is trying both the harassment and assault cases.
A bench warrant went out for Shawn Christy's arrest for his no-show.
Craig Christy chalked it up to a miscommunication—his son allegedly received word from his public defender that he didn't need to be present during the May 30 jury selection court date.
"He had gone bushcrafting," his father said. "He was coming back home, but he was told in a voice message that he didn't have to show up.
"We have the message still."
Thinking he could skip the court date, Shawn Christy stayed in the wilderness. But upon learning about the bench warrant, Shawn allegedly posted the threats against Morganelli and Trump.
"He was staying out in the woods at that point when he put the threats up," Craig Christy said. The father called the posts "pleas for help" and has tried to fight for his son by managing sympathetic Facebook accounts including "Shawn Christy Political Prisoner" and now defunct "McAdoo Streets Police Corruption."
With the bench warrant out on Shawn Christy and the Northampton bomb threat case that already compromised his probation plus the threats that began on June 3, U.S. Marshals started pursuing him by June 6.
One of the central issues at play in the fight with the former mayor is the surveillance video itself. The Christys contend that it was initially suppressed and may have been "altered" by authorities.
"They didn't even mention there was a tape," Karen Christy said. "Berks County wasn't even given the tape."
Fegley dispelled this, calling the case a "run-of-the-mill assault case" and called the video footage "great evidence."
"I intended to use it at trial," he said. "My position is it clearly shows Shawn Christy approaching the vehicle, and he initiated the confrontation. Whether or not a jury believes that, that's up to the jury."
To think there are forces working against Shawn Christy in his case isn't the reality.
"From what I gathered, there's a lot of paranoia," Fegley said. "My thing is I hope it doesn't get any worse than it already has for everybody."
Meanwhile, Holly wants to snuff any doubts about Shawn Christy's potential peaceful ways. He suggests that he committed physical harm to him and shouldn't be underestimated.
"I heard he has guns, and that's scary," said Holly. "If he had a stick and he did damage, imagine what he'd do with guns?"
To Catch a Bushcrafter
To bring in a bushcrafter like Shawn Christy has been a tall task for the three federal agencies—the U.S. Marshals, Secret Service and the FBI—who have been trying to wrangle him…even after the reward leading to his capture has upped from $10,000 to $20,000.
"Mr. Christy is unpredictable, and he's been desperate," Robert Clark of the U.S. Marshals Service said. "He's shown the willingness to allegedly commit numerous crimes, and that presents a different challenge for us."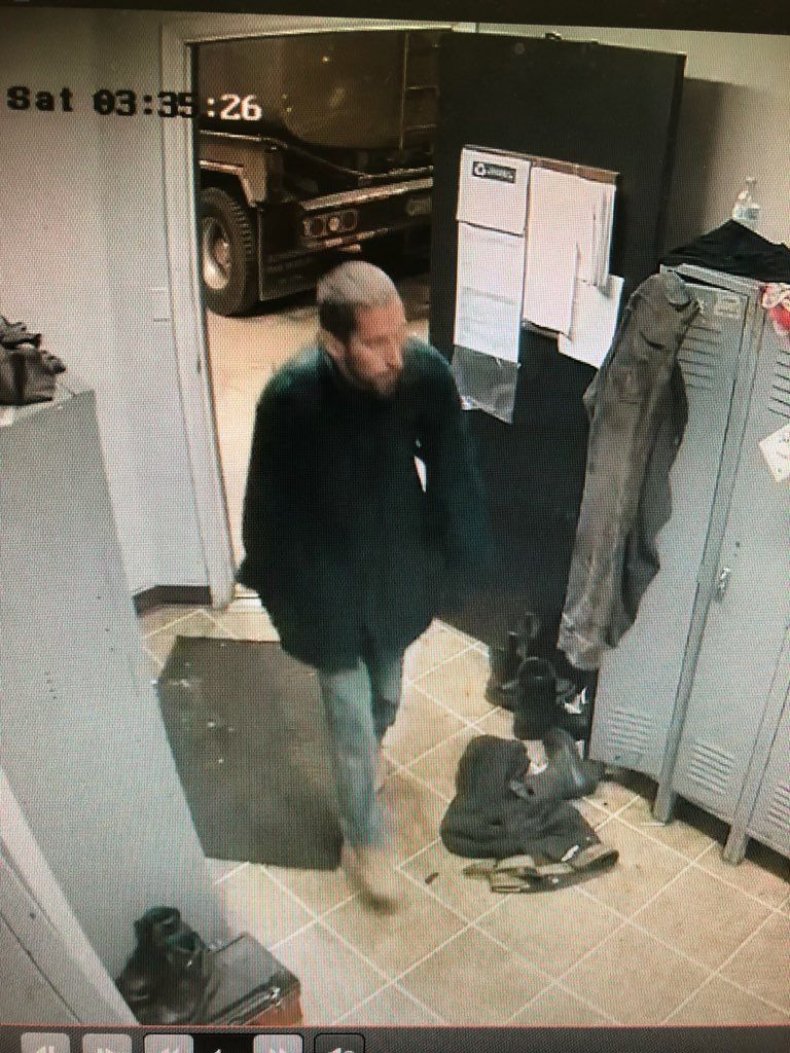 And despite the cat and mouse in the woods from as far up as Canada and down to Kentucky where Shawn Christy has so far had the upper hand, Clark said that there won't be any letup.
"We're going to do the best we can to stay behind him," he said. "And the Marshals aren't going to quit anytime soon.
"Hopefully we can bring him in safely and without harm."
The feeling of trust between the authorities and the Christy family has frayed, beginning on the early morning of June 20.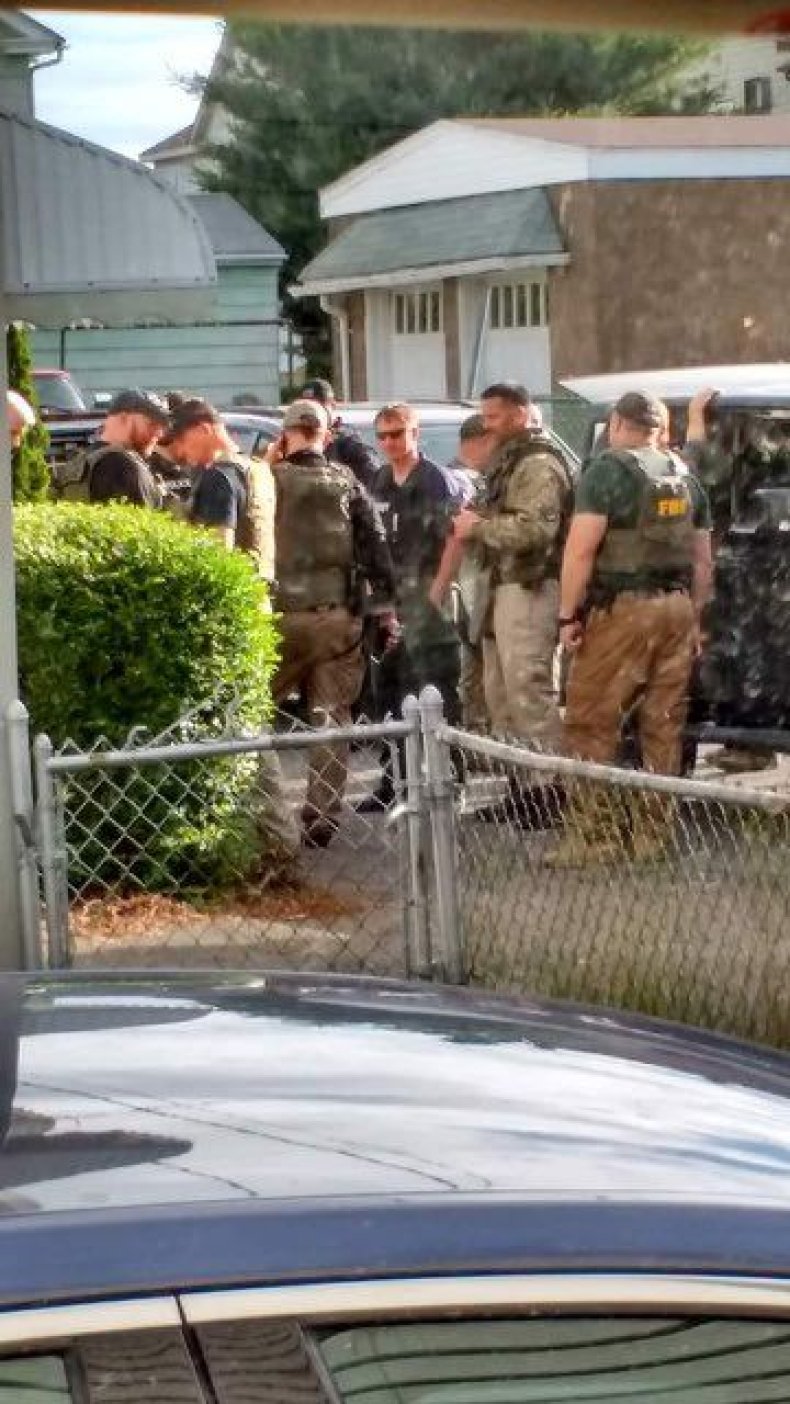 Craig and Karen said they awoke to the whirling blades of a chopper overhead and then spotted a BearCat armored vehicle rolling up.
"Will the people of 23 South Harrison Rear please come out of the house," a voice boomed from a bullhorn, Karen Christy recalled.
The Christys were questioned separately and said they were ultimately shown a warrant. But they criticized the methods overkill.
Karen Christy contends that one of their dozen cats was kicked and that Shawn's cat Arrow died of the stress the next day.
"I'm screaming at them, 'I told you I have cats in there,'" she said.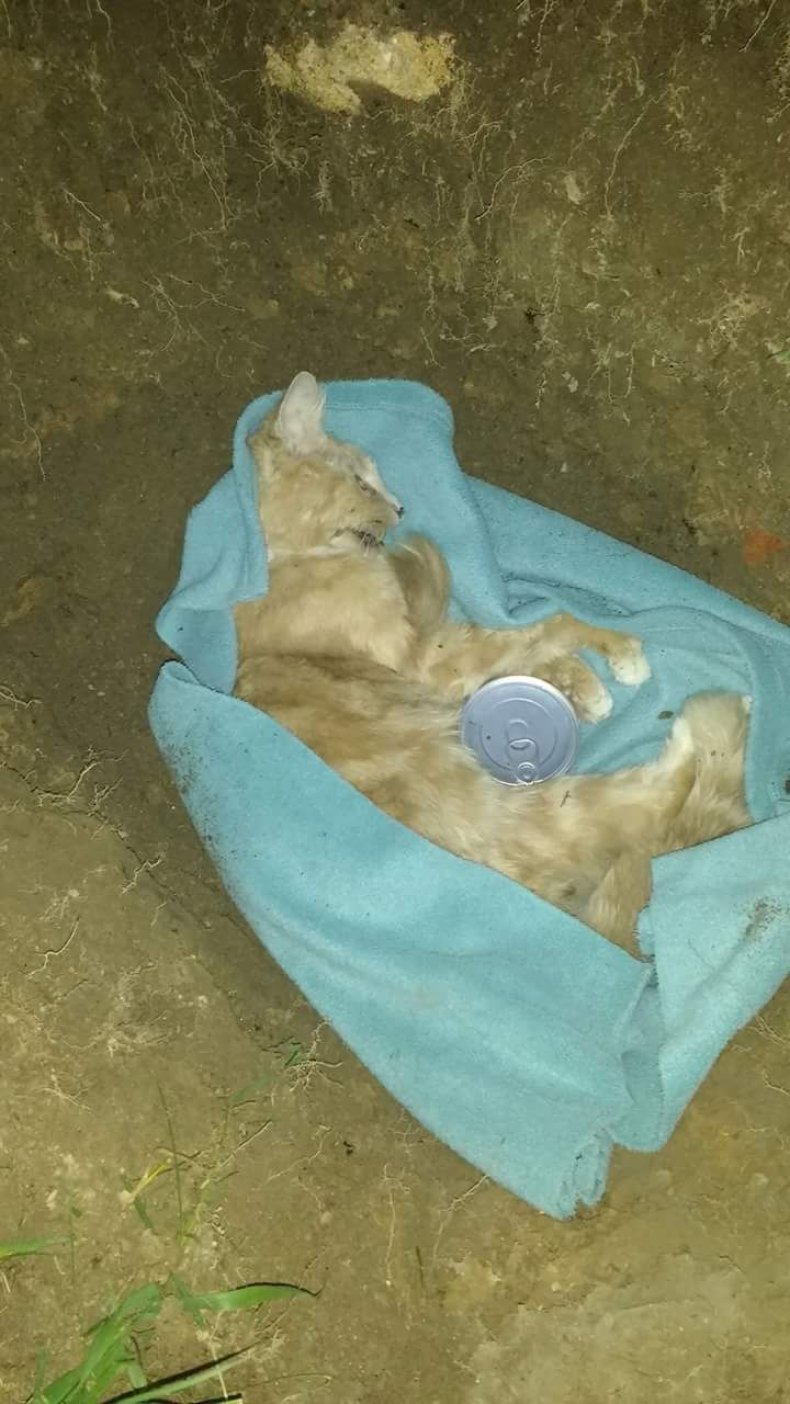 She also claimed a cellar door was "lifted off the door jam."
Clark, who said he was present during the warrant search alongside Special Operations Group or SOG members, said a cat getting kicked is "totally false."
"Yes, some doors were left open, a fridge was moved but no damage certainly," he said. "They came out and were fully cooperative and stated that nobody was in the home, and we went in there methodically and diligently."
Whatever gripes there may have been after the raid, Craig and Karen Christy said they never wavered from wanting their son to surrender. They still want the same thing as the authorities pursuing him, and they're adamant that since the night in their den, they haven't heard a peep from Shawn.
Craig Christy even tried to scout for his son to his Wolverine boot imprints, wandering around old haunts they used to hike years back.
"I got lucky, and I found his encampment," he said, going off-trail around Hunkydory Creek days after Shawn's visit. "You could see his tracks were super fresh."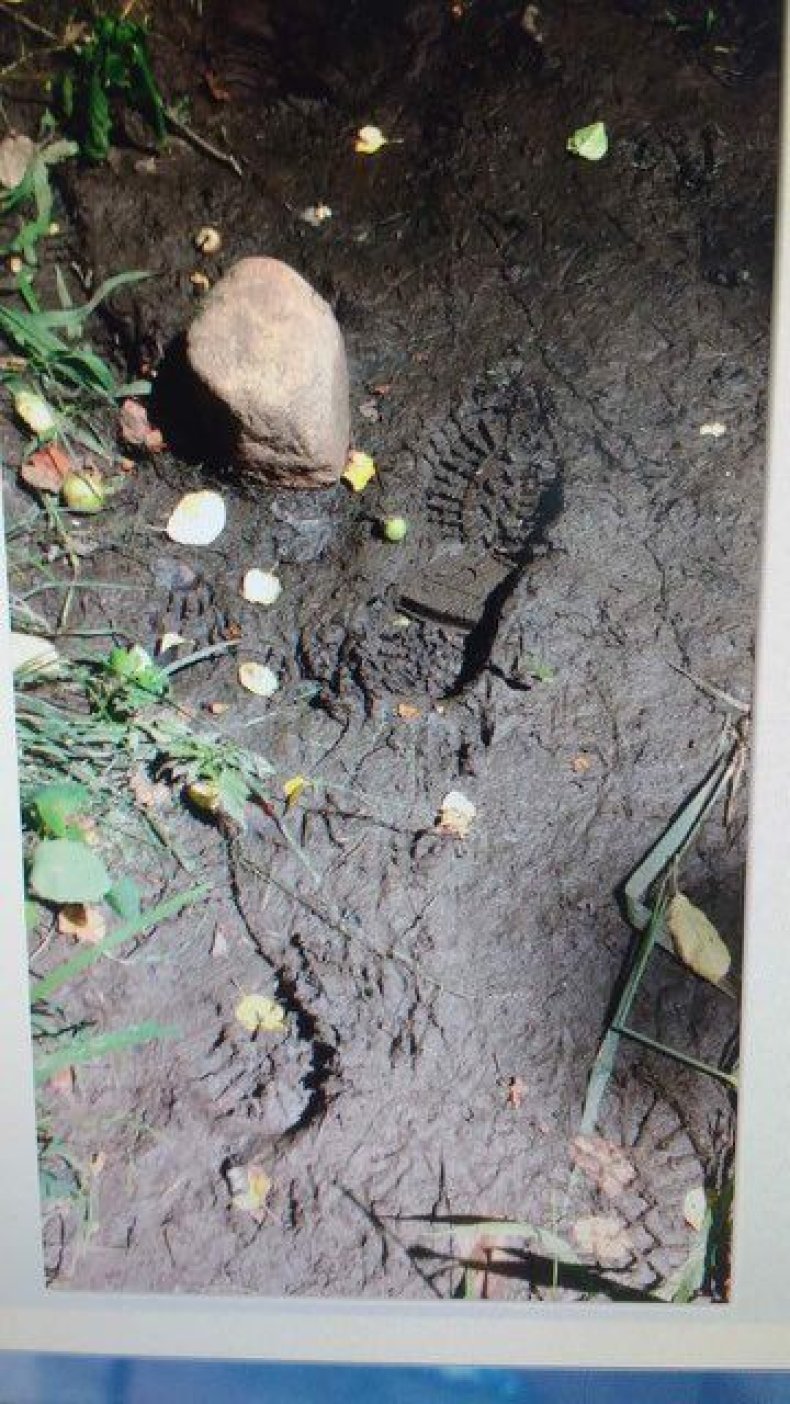 Craig Christy estimates he was only hours off his son but lost him while heading down some bear trails deeper inland. He snapped pictures of the encampment evidence and made sure to alert authorities.
"I have them all on speed dial," he said. "As soon as I found the stuff I emailed the pictures to the U.S. Marshals investigating the case."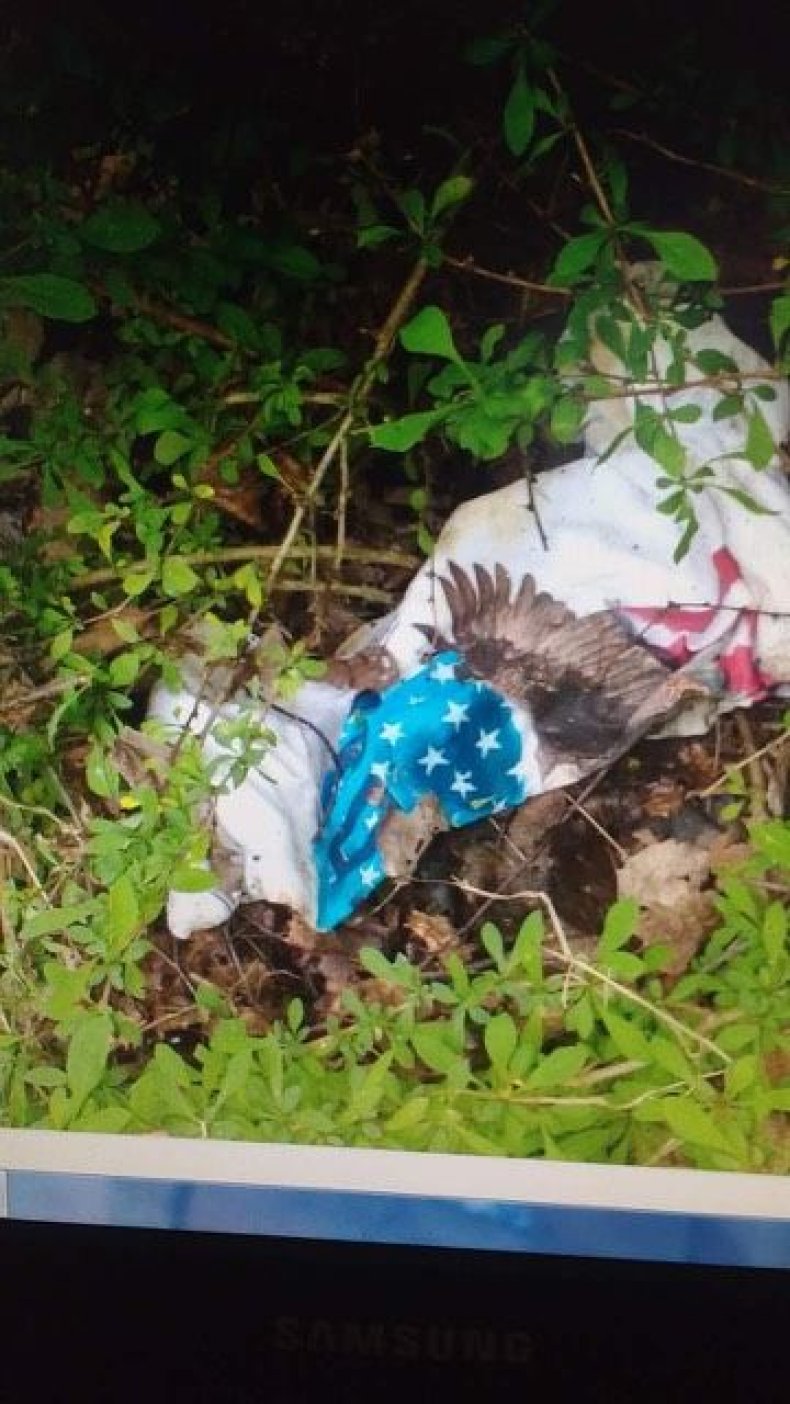 Clark of the Marshals confirmed that Craig Christy did inform the authorities of his find.
"We did receive those pictures from him via text…and we appreciate his cooperation," he said.
But he said there was no way to be "100 percent" sure that the T-shirt and boot marks "were made by Shawn Christy."
"We did pursue those leads," Clark stressed.
Beyond his comfort in the wild, Christy's alleged car thieving has also flummoxed law enforcement.
Authorities say Christy allegedly stole a Ford F-350 truck from his former oil rig employer and left it in Constable, New York—some 100 yards from Canadian border—on July 9. At the end of that month, Christy was spotted abandoning a Dodge minivan in West Virginia that he'd allegedly took from a Pennsylvania school, officials confirmed.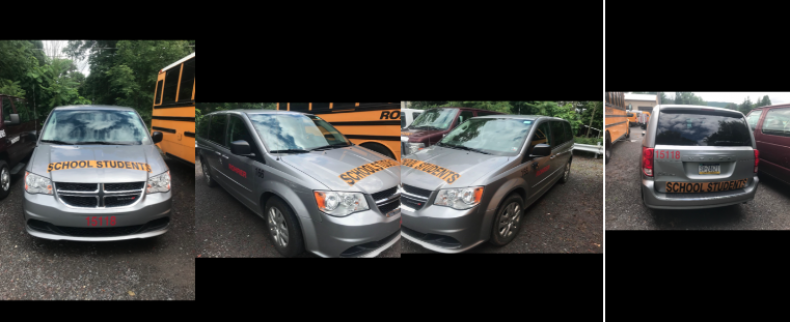 Because of the friction since Shawn Christy went on the run, there has been some sense that the parents aren't being completely forthcoming.
"We can't say with certainty that Shawn Christy has had communication or no communication with the family," he said. "That's anybody's guess right now."
They vehemently dispute this.
Working with the authorities may be causing a gut-check, but they say it's the right thing to do.
"The toughest thing in the world you gotta do is pick up the phone and turn your kid in," Karen Christy said. "We don't want anybody getting hurt out there. Shawn's not the type of person who would hurt anybody."