Donald Trump Attacked Six Black Women in Three Days: 'Nasty,' 'Loser,' 'Racist Question' and 'Stupid Question'
President Donald Trump, who defended himself against claims of racism just this week, has attacked six prominent black women in the three days since the midterm elections that resulted in Democrats taking House control from the Republicans.
Trump challenged the women's intelligence and in a degrading tone called one "nasty" and a "loser." He also said he was being asked a "racist question" and a "stupid question."
The women ranged from journalists to an election official, a politician and a former first lady.
Here is what Trump said about the women:
Michelle Obama
During a gathering with reporters Friday morning, Trump was asked to comment on former first lady Michelle Obama's forthcoming memoir, Becoming, in which she writes that she will "never forgive" Trump for pushing the "birther" conspiracy theory that falsely claimed her husband was not born in the United States. "Donald Trump, with his loud and reckless innuendos, was putting my family's safety at risk," she wrote.
"Oh, Michelle Obama said that? I haven't seen it," Trump commented, before accusing the former first lady of drumming up controversy for money.
"I guess she wrote a book, she got paid a lot of money to write a book, and they always insist that you come up with controversial—well, I'll give you some controversy back," Trump said.
"I'll never forgive him [Barack Obama] for what he did to our United States military by not funding it properly.… What he did to our military made this country very unsafe for you and you and you," Trump said, pointing to reporters. "I'll never forgive him for what he did in many other ways, which I'll talk to you about in the future."
April Ryan
Trump on Friday called April Ryan, a veteran White House correspondent, Washington bureau chief for American Urban Radio Networks and CNN contributor, "nasty" and a "loser." This added to a number of demeaning comments he has made about her in the past.
"I watch her get up, I mean, you talk about somebody that's a loser," Trump said. "She doesn't know what the hell she's doing. She gets publicity and then she gets a pay raise, or she gets a contract with, I think, CNN. But she's very nasty, and she shouldn't be, she shouldn't be."
Two days earlier, when Ryan tried to ask Trump a question during a heated post-midterms press conference, he told her to "sit down" and remarked, "It's such a hostile media."
Abby Phillip
CNN White House correspondent Abby Phillip also got a verbal beating from Trump on Friday when she asked a question on many Americans' minds: whether Trump expects his new acting attorney general, Matthew Whitaker, to be involved in special counsel Robert Mueller's investigation.
"It's up to him," Trump responded, walking closer to Phillip.
"Do you want him to reign in Robert Mueller?" Phillip followed up.
"What a stupid question that is. What a stupid question. But I watch you a lot—you ask a lot of stupid questions," Trump fired off at her, before walking back to where he was originally standing and shaking his head.
Yamiche Alcindor
During the Wednesday presser, Trump accused PBS NewsHour White House correspondent Yamiche Alcindor of asking a "racist question."
Alcindor had asked Trump if his reference to himself as a "nationalist"—rather than a globalist—was in support of white nationalists. Following a deadly white nationalist rally in Charlottesville, Virginia, last year, Trump had blamed and praised both sides.
"I don't know why you'd say that—that's such a racist question," Trump told Alcindor. "Honestly, I know you have it written down and you're going to tell me. Let me tell you, that's a racist question."
Trump went on to brag about himself: "Why do I have among the highest poll numbers with African-Americans? I mean, why do I have my highest poll numbers?"
While a Rasmussen Reports poll recently put Trump's approval rating among black voters at 40 percent, other polls have found it to be between 15 and 17 percent.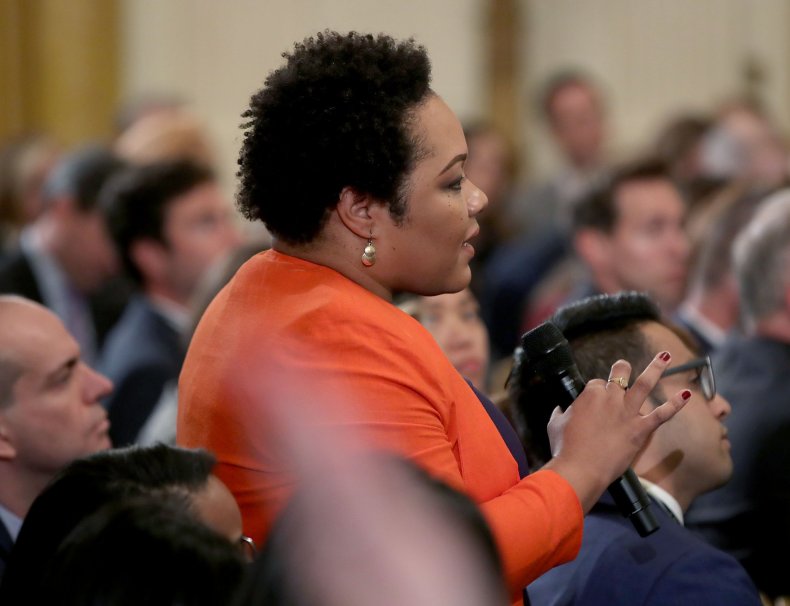 Brenda Snipes
Without naming her, Trump questioned the competence of Florida's Broward County supervisor of elections, Brenda Snipes, amid a vote discrepancy in a county that has faced similar controversy before—and may cause a midterms recount in Florida. Trump and Republicans do not want a recount because Democrats conceded to Rick Scott and Ron DeSantis in the Senate and gubernatorial races, respectively. But the Republicans' leads have narrowed.
"If you look at Broward County, they have had a horrible history, and if you look at the person—in this case, a woman—involved, she has a horrible history," Trump said of Snipes.
"All of a sudden, they're finding votes out of nowhere, and Rick Scott, who won by, you know, it was close, he won by comfortable margin, every couple of hours it goes down a little bit," Trump said.
The president reiterated that there are "really bad things" that have happened in Broward County and said, "She's been to court, she's had a lot of problems, she's lost."
He concluded, "I think people have to look at it very, very cautiously."
Mia Love
During Trump's press conference Wednesday, he mocked Republican Congresswoman Mia Love, who had refrained from embracing him and his administration, for losing her re-election bid to Democrat Ben McAdams in Utah's 4th Congressional District.
"Mia Love gave me no love. And she lost," Trump said. "Too bad. Sorry about that, Mia."
In 2015, Love was the first black Republican woman to be elected to Congress. She was also the first Haitian-American to win a Utah seat.
After Trump's attacks, the women backed each other and saw a wave of support from others on social media.