Donald Trump Attends Masks-Optional Indoor Las Vegas Church Service, as COVID Cases Spike in Nevada
President Donald Trump attended a church service in Las Vegas on Sunday morning, video footage shows.
The event, which reportedly took place at the International Church of Las Vegas, drew a large group of congregants to an auditorium-sized indoor space. Those who attended the event were seated side by side, and many, including Trump, did not wear face coverings.
Trump's appearance at the Las Vegas church service came shortly after Nevada reported its largest single-day jump in cases of the new coronavirus since August, the Las Vegas Review-Journal reported. On Saturday, health officials confirmed more than 960 new diagnosis, the most significant daily rise in statewide infections since mid-August, when close to 1,100 cases were confirmed on a single day. The most recent number followed a steady increase in infections recorded throughout Nevada over the past several weeks. Clark County, where Las Vegas is located, has confirmed the highest incidence of COVID-19 cases in the state.
With nearly 75,000 positive tests and more than 1,400 deaths confirmed, numbers recorded in Clark County alone make up the majority of diagnoses and fatalities confirmed across Nevada. As of Sunday, upwards of 90,260 people have tested positive for COVID-19 statewide, and 1,710 have died as a result, according to Nevada Health Response. Clark County's per capita infection rate currently exceeds those reported by other hard-hit Nevada counties by at least 1,000 cases per 100,000 people.
Trump arrived in Nevada on Saturday night and is expected to deliver remarks at a campaign rally in Carson City on Sunday afternoon. The president has been subject to widespread criticism for frequently holding crowded, in-person rallies throughout the presidential race. Photographs from Trump's campaign events often show attendees without face masks, against public health guidelines to reduce risks of COVID-19 transmission.
The president was diagnosed with the respiratory illness at the beginning of October, and returned to the campaign trail 10 days after he was hospitalized for treatment.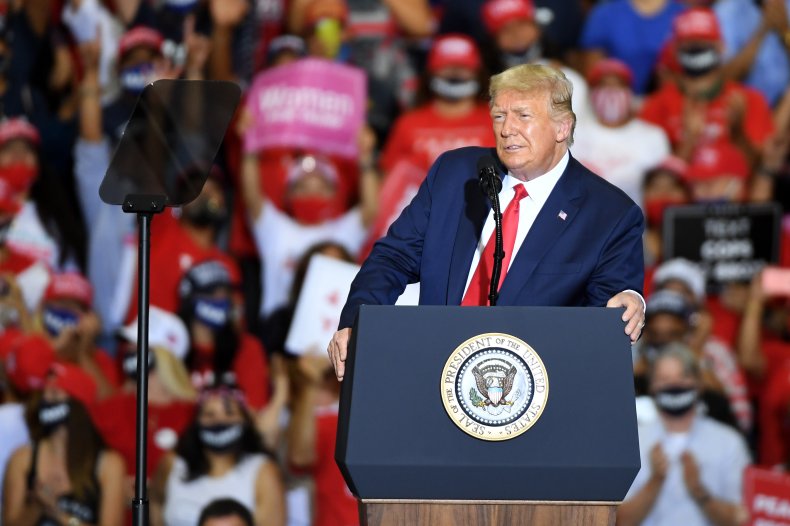 Health authorities are reporting rising COVID-19 cases across the Midwest in October. Although increasing case counts, and subsequent hospitalizations, in Kansas City, Missouri, forced some medical facilities to turn non-emergent patients away last week, hundreds gathered for a worship event in the city on Saturday, according to CBS 42. Many of those present at that event were not wearing face masks, despite restrictions outlined by the Kansas City Missouri Health Department.
The health department's guidance requires people to maintain physical distance in gatherings of 250 people or more, and wear face masks in settings where distancing is not possible.
Newsweek reached out to International Church of Las Vegas and the Trump campaign for comments, but did not receive replies in time for publication.