Donald Trump Attorney Scrambles To Change Defense Before Looming Indictment
Donald Trump's attorney Joe Tacopina has said the former president is a victim of extortion amid indications that he may be indicted over alleged hush money payments made to adult film star Stormy Daniels.
Tacopina, speaking to Fox News' Sean Hannity on Monday night, denied the allegations.
Trump is currently facing a host of legal challenges, including Department of Justice probes into his role in the Capitol riots on January 6, 2021, his alleged mishandling of classified documents, and an investigation into alleged election tampering in Georgia. A formal charge resulting from any of those investigations would make Trump the first former president in American history to be indicted.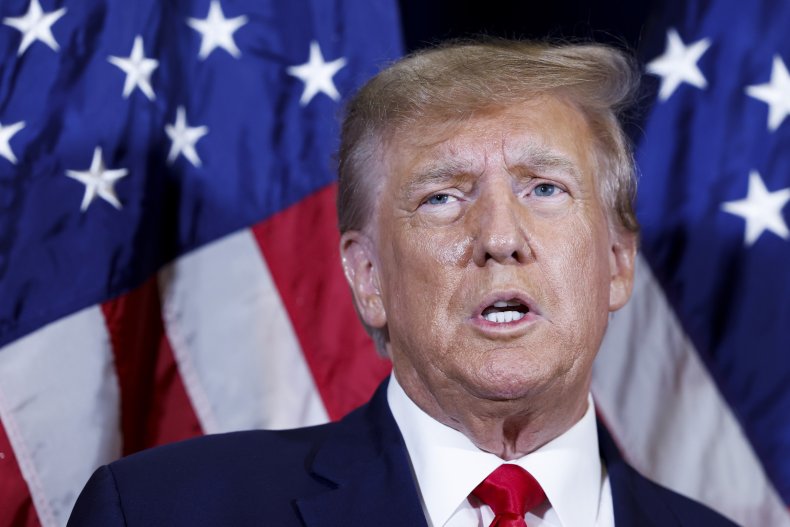 MSNBC producer Steve Benen summarised Trump's shifting defenses in a tweet on Monday. He wrote: "Trump's evolving story on the hush money scandal: 1. I didn't know about the payment. 2. Well, maybe I knew, but I didn't tell Michael Cohen to break any laws. 3. Actually, I was the 'victim of extortion.'"
Trump's former lawyer Cohen testified before a grand jury probing the alleged campaign finance violations in Manhattan on Monday and is expected to offer further testimony on Wednesday, per Associated Press. Cohen pleaded guilty in 2018 to a violation over payment made to Daniels and was subsequently sentenced to three years in prison.
On Thursday, legal analyst and former federal prosecutor Glenn Kirschner said Trump had reached the "last stop before an indictment" by the Manhattan district attorney.
Kirschner said that being invited to testify in front of a grand jury is typically the final step before charges are brought forward in a majority of cases. Trump's attorney had confirmed that on March 9 this invitation had been extended to his client.
'Legal System Weaponized'
Speaking to Hannity, Tacopina said: "I still hold out hope that justice will prevail, Sean. There has to be—and there is, in fact—a heavy dose of disgust in the legal community, in the bar, with prosecutors, defense attorneys, [and] judges, that they are doing this. This is not what we do.
"This legal system has now been completely weaponized."
"One thing is clear: that every single legal scholar, former members of the federal election committee, have opined that no crime was committed here, that there was no campaign law violation at all," Tacopina said.
The attorney said that Trump has denied from "day one having an affair with this woman." "What he is, is an extortion victim," Tacopina said.
"By the way, it is regardless of whether he did or didn't [have an affair], he said he didn't and I believe him, and the evidence I think is very powerful that he never had an affair with her.
"But more importantly, he is a victim of extortion because she came out right before the election and said, unless you pay me, I am going to make a public story about something he says is completely untrue.
"Here is the key, it would be done irrespective of the campaign because as Michael Cohen—the convicted purger, liar, the guy has zero credibility, I don't even think he had a law license, quite frankly.
"Honestly, what he said when he pled guilty in this case was that his client was doing it to prevent personal embarrassment and prevent embarrassment to his family.
"That takes it out of the realm of exclusively campaign finance. This is not a campaign finance law case at all."
On Thursday, Trump's team issued a statement alleging he was a victim of extortion and argued potential indictments were a political attack on the former president, according to ABC News' executive editorial producer John Santucci.
The statement from a Trump spokesperson read: "The Manhattan District Attorney's threat to indict President Trump is simply insane.
"For the past five years, the DA's office has been on a Witch Hunt, investigating every aspect of President Trump's life, and they've come up empty at every turn—and now this.
"The fact that after their intensive investigation the DA is even considering a new political attack is a clear exoneration of President Trump in all areas.
"President Trump was the victim of extortion then, just as he is now. It's an embarrassment to the Democrat prosecutors, and it's an embarrassment to New York City."
Newsweek has contacted Trump's office via email for comment.