Donald Trump's Average Approval Rating Remains Pretty Bad Ahead of 2018 Midterms
When the midterms approach, observers often look to the popularity of the president to get a read on how folks are feeling ahead of Election Day. But President Donald Trump can't boast about a great approval rating ahead of the voting in November.
Trump did earn some positive headlines over the weekend. An NBC News/Wall Street Journal poll said his approval rating stood at 47 percent—notably 2 points higher from where former President Barack Obama was in October 2010 in the same survey. It was the highest mark Trump has hit in an NBC/WSJ poll.
Both Democratic and Republican voters seem ready to head to the polls next month. "Midterms are about mobilization, and we are headed into the stretch run with unprecedented enthusiasm among both parties," Democratic pollster Fred Yang, who conducted the survey, told NBC/WSJ.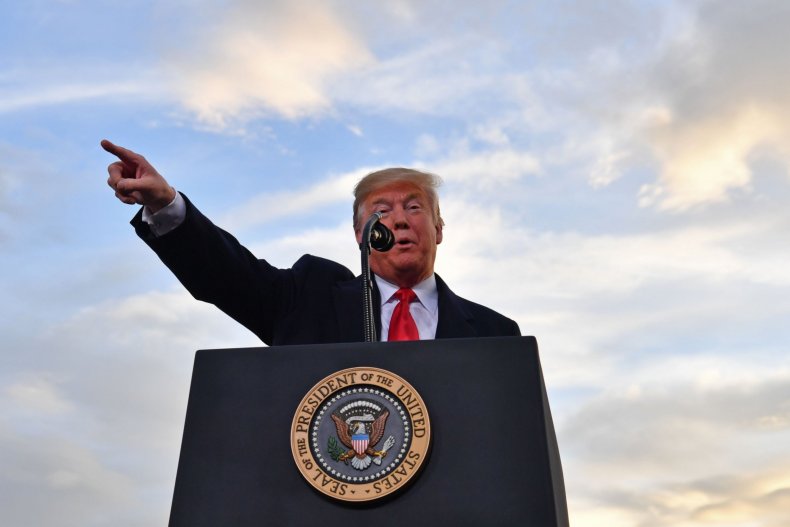 While the new poll from NBC/WSJ was a bright spot for the Republican president, Trump's job approval, on average, is still struggling. Take a look at two major aggregators of public polls: FiveThirtyEight and Real Clear Politics.
FiveThirtyEight's tracker—which aggregates public polls while weighting the survey's quality, recency, sample size and partisan lean—pegged Trump's approval rating at 42.7 percent on Monday. Real Clear Politics's average had the figure a bit higher, at 44.2 percent. Both FiveThirtyEight and Real Clear Politics included the NBC/WSJ poll in their respective averages. (Real Clear Politics used NBC/WSJ's likely voter approval, which was 45 percent, instead of registered voter approval, which was 47 percent.)
According to FiveThirtyEight's tracker, Trump is behind, on average, where Obama was at the same point in his presidency. On Day 640, where Trump is now, Obama had an approval rating of 47 percent, according to FiveThirtyEight, well above Trump's 42.7 percent.
Heading into the midterms, the Democrats are looking to flip at least one of the chambers of Congress. They might have an advantage heading into Election Day. The same NBC/WSJ poll found Democrats holding a 9-point lead among likely voters.
On Monday, FiveThirtyEight's projection gave the Democrats an 86 percent chance of flipping control of the House and about 22 percent at winning control of the Senate.