Can Donald Trump Create an Avignon Presidency? Constitutional Scholars Weigh In
President Donald Trump is expected to leave office on January 20, 2021 but he hasn't yet conceded the election to former Vice President Joe Biden and his campaign is continuing to make unsubstantiated claims of voter fraud.
However, with states set to certify their electoral college votes and major news outlets calling the election for Biden, it looks increasingly unlikely that Trump will return to office for a second term.
Trump's refusal to concede and claims of election irregularities have caused some critics to suggest he will simply act as though he had won when his term expires, and even possibly hold an alternative inauguration.
"Looks like we're heading towards an Avignon Presidency. As long as none of the military shift allegiance (and I don't think they will), it'll be incredibly funny," tweeted Jeet Heer, National Affairs correspondent for The Nation, on Monday.
Heer is referring to a period in the history of the Roman Catholic Church when there were two rival popes. One was based in Rome and one in Avignon, France.
"I mean on January 20th, Biden will be sworn in and have the government on his side. Power will be divested from Trump but he'll keep pretending to be president. Maybe set up an alternative White House at Mar-A-Lago," Heer went on.
The idea has gained some traction online, mainly among the president's critics, as Trump and his supporters have continued to claim he won the election. On Thursday, lawyers for the Trump campaign said he had won by a landslide.
Elizabeth Sanders is professor emeritus at Cornell University's Department of Government whose research interests include the executive branch and American political development. She told Newsweek that the threat from Trump is overstated and suggested Republicans are already looking beyond him.
"I think people are overreacting to Trump fears," Sanders said. "He'll fade into the background as his party searches for more appealing leaders. Note that the two current Republican Senate candidates are worried about Trump as a 'burden' on their election chances."
Sanders is referring to the two run-off Senate elections in Georgia, where Republican senators Kelly Loeffler and David Perdue face Democratic challengers Rev. Raphael Warnock and Jon Ossoff, respectively.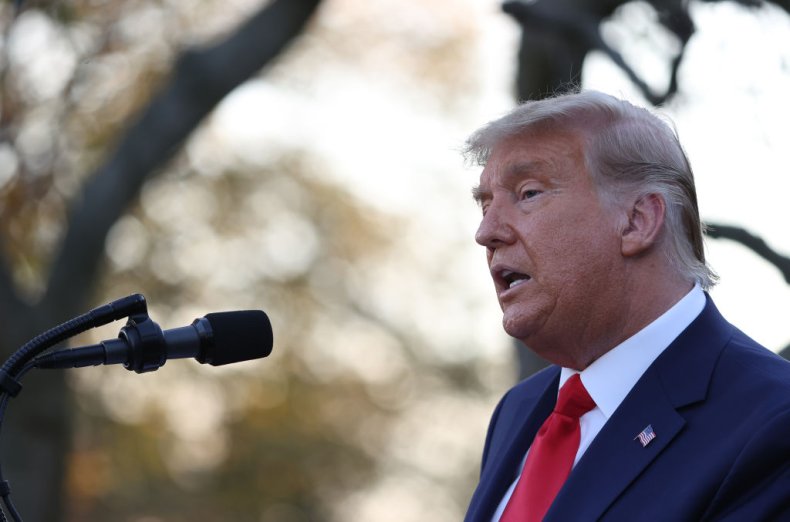 Justin Crowe, associate professor of political science at Williams College, agreed that the possibility of an "Avignon Presidency" was remote. Constitutional law and theory are one of his areas of expertise.
"Whether to try to maintain popular support in advance of a 2024 campaign, raise money to pay off campaign debts, or build momentum for some sort of self-branded media enterprise, Trump may well engage in a variety of activities designed to keep him in the public eye, but the idea that he tries to set up a rival administration seems pretty far-fetched," Crowe told Newsweek.
"Might he host a rally as counter-programming to Biden's inauguration? Possibly. Will we see him continue to call into Fox and Friends to offer a running critique of everything Biden says or does? Probably. Will he tweet about poor ratings for Biden speeches or how he really deserves credit for positive development on COVID and the economy as well as re-tweet fringe ideas about how the election was rigged? Absolutely."
"But, as profoundly bizarre and pathetic all that is in terms of how former presidents have historically acted (and as disturbingly corrosive it is of broader democratic norms in the long-term), it seems well short of him actually trying to run a shadow government - or even just pretend to be president - from Mar-a-Lago," he said.
"That would seem to require far more effort and forethought than he's likely willing to expend at this point."
'Potential lawsuits galore'
If the president is not willing to try to set up a rival administration after leaving office, he may have to focus on his finances and other concerns, according to Sanders.
"Trump has a lot of worries," she said. "Potential lawsuits galore. So he needs to earn some money (his own network might make sense, though a real gamble). Some have speculated that he'll leave the country to avoid prosecution...would Scotland accept him?"
Trump has a golf course in Scotland as well as one in Ireland, though it is unclear how welcome he would be in either country. A YouGov poll in October showed just 12 percent of Scottish adults supported his re-election.
"Trump is a purely narcissistic individualist," Sanders said. "He'll do just what he thinks is best for him and his vulnerable economic prospects. Were he to resign now and [Vice President Mike] Pence become acting president, he might get a pardon."