Donald Trump Baby Balloon: London Museums Vying to Display Blimp
London museums are competing to obtain the giant Donald Trump baby balloon that flew over the U.K.'s capital during Donald Trump's recent visit.
The British Museum and the Museum of London have both expressed interest in displaying the inflatable satirical likeness of the president, either during exhibitions or as additions to their permanent collections.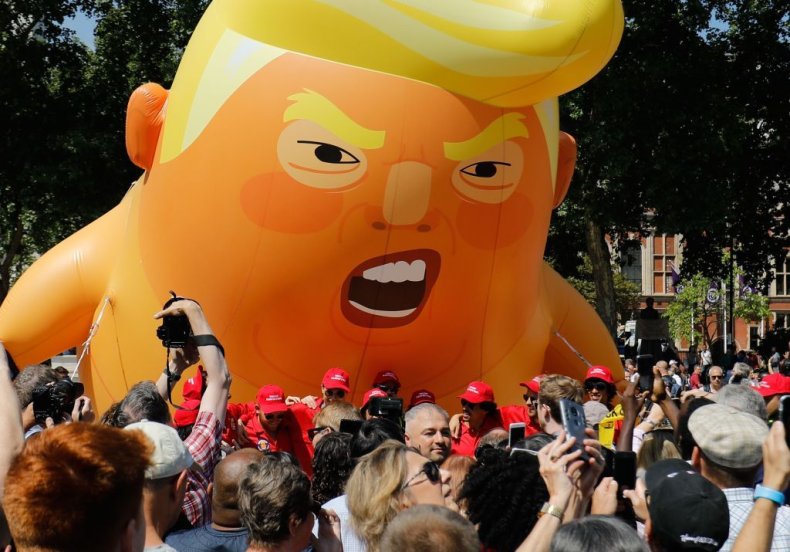 "It's great that many different museums recognize the cultural significance of the Trump Baby and have been speculating about where its eventual home might be," Kevin Smith, one of the activists behind the balloon, who have dubbed themselves the "babysitters," told London's Evening Standard Friday.
The balloon flew in Parliament Square outside the Houses of Parliament during mass protests that greeted Trump on his first visit to the U.K. as president earlier in July. It depicts Trump as a giant orange baby clutching a cellphone.
The British Museum confirmed its interest in flying the balloon during a forthcoming exhibition chronicling the history of satire, while the London Museum want to display the balloon as part of its archive about protest in the capital.
The New York Times reported that museums including the Bishopsgate Institute and London's Design Museum also expressed an interest in adding the balloon to their collections.
"The Museum of London would be interested in adding the Trump Baby Blimp to our collection. The museum houses an important collection of protest material ranging from the Suffragettes to Brain Haws and Occupy London. This object would be a great addition to this significant collection," Museum of London director Sharon Amnet told the Standard.
The "babysitters" are currently raising money to take the baby blimp on a global tour, following the president to mock him on international trips. Anti-Trump activists in New Jersey have raised $24,000 to take the balloon of a tour of the U.S.
"Our priority is to send the Trump Baby off on his global tour of trolling Trump in various parts of the world, and once that's underway we can start thinking of what his long-term future might be," Smith told the newspaper.