Donald Trump Diaper-Clad 'Baby' Blimp Gets Approval to Fly Over London During President's Visit Next Week
Donald Trump will be greeted by a giant, unflattering orange blimp when he makes his first visit to the United Kingdom as president next week. London Mayor Sadiq Khan gave his approval Thursday for the so-called "Trump baby" blimp to fly over the Houses of Parliament on the morning of July 13, when the president is scheduled to be in the capital.
"The Mayor supports the right to peaceful protest and understands that this can take many different forms," a spokesperson for the mayor said. "His city operations team have met with the organizers and have given them permission to use Parliament Square Garden as a grounding point for the blimp."
The 6-meter-tall blimp, which depicts an angry Trump wearing a diaper, has been organized by a group dubbing themselves anti-fascist activists. The costs of flying the giant balloon have been covered by more than $21,000 raised from a crowdfunding campaign.
"When Trump visits the UK on Friday the 13th of July this year, we want to make sure he knows that all of Britain is looking...and laughing at him," the crowdfunding page said.
Thousands of people signed a petition calling for allowing the blimp to take flight during Trump's visit.
"We didn't get off to the best start with the mayor's office over this, who originally told us that they didn't recognize Trump Baby as legitimate protest," one of the activists behind the stunt, Leo Murray, told Sky News.
"But following a huge groundswell of public support for our plan, it looks like City Hall has rediscovered its sense of humor. Trump Baby will fly!" he said.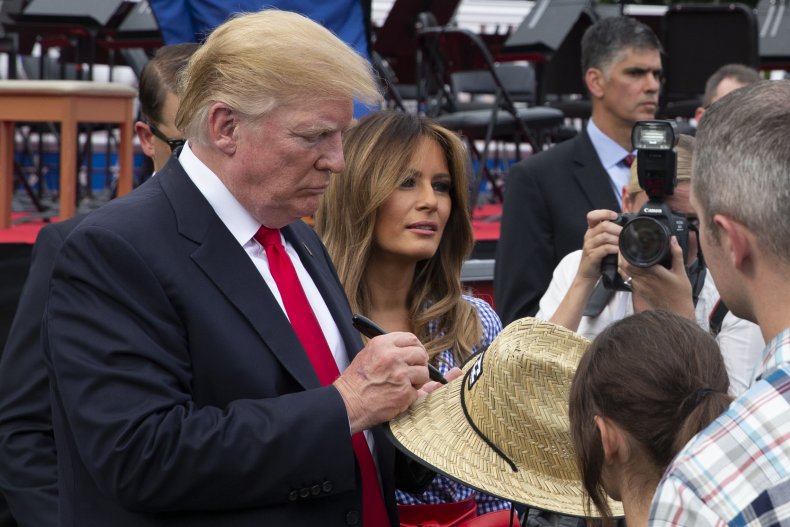 The blimp is to be flown as part of the "Stop Trump" march through London. Trump's visit to the United Kingdom will come almost 18 months into his presidency, although British Prime Minister Theresa May became the first foreign leader to meet Trump in Washington after he took office. At the time, May gave her approval for Trump to make a state visit to London, but, amid a huge groundswell of opposition, it never materialized.
Khan has been one of the most outspoken critics of the U.S. president, with the pair engaging in a war of words over Trump's criticism of Khan's response to the attacks at London Bridge and Borough Market that killed seven in 2017.
"I don't know how to tell you this, but I really don't care.… I really couldn't be bothered about what Donald Trump tweets," Khan said in response.