Donald Trump, Not a Popular President or Baby Name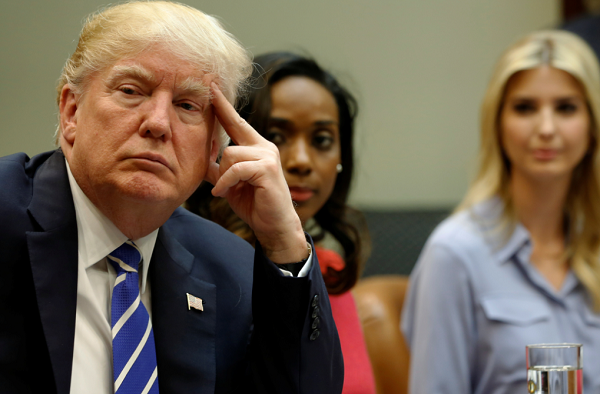 President Donald Trump's popularity has been plummeting and not just in the polls. Since the now commander-in-chief started his campaign trail, the name Donald has decreased in popularity among new parents. In fact, in 2016, the name Donald dropped 45 spots below its 2015 baby name ranking, according to the Social Security Administration's yearly Popular Names list.
Every year, the Administration releases a list of the top 1,000 names parents have chosen to name their children, and in 2016, the name Donald dropped from the 443rd spot to 488.
Similarly, Trump's ranking among Americans has continued to drop with the latest Quinnipac University survey finding only 36 percent of voters approve of the job the president has done so far, while 58 percent didn't approve.
Although the name Donald is apparently growing in dislike among parents, the name Hillary didn't even make it on the Social Security Administration most recent list, which was released Friday. In fact, Hillary hasn't landed in the top 1,000 baby names ranking since Trump's opposing candidate ran for the White House for the first time in 2008.
During an interview with the Associated Press, Laura Wattenberg, the founder of parenting website BabynameWizard.com, said the name Donald could be losing its popularity because parents generally don't like to name their children after anything that could become shrouded in controversy. Names after political figures overall didn't seem to be big hits with parents.
"Even parents who are huge Donald Trump supports are unlikely to name their child Donald," she said. "In part, we just want to avoid controversy in picking names."
Wattenberg's theory could be the reason why the name Caitlyn dropped entirely off the list.
Caitlyn placed in the top 500 in 2014 and in the top 600 in 2015, but in 2016, Caitlyn and the other three versions— Caitlin, Katelynn and Kaitlynn—didn't appear in the top 1,000 baby names at all.
Olympic Gold medalist Bruce Jenner announced in 2015 that she was a transgender woman and appeared on the cover of Vanity Fair magazine donning her new name, Caitlyn Jenner. Wattenberg noted that the name had already been losing steam with parents before Jenner, who was formerly married to reality TV star and entertainment manager Kris Jenner, made the transition.
"It was inevitable. Caitlyn was already falling in popularity. Now it is suddenly controversial," she said.
In 2016, the top five names for boys were Noah, Liam, Mason, Jacob and William, while girl names including Emma, Olivia, Sophia, Ava and Isabella were the most popular. Frankie, Ayan, Camren, Deshawn and Jayvion were the least popular names for boys in 2016 while Janiya, Jocelynn, Libby, Princess and Sidney ranked the lowest for girls.