Trump-Backed Candidate Deletes Controversial Videos Amid Governor Race
Doug Mastriano, the Donald Trump-backed GOP gubernatorial nominee in Pennsylvania, has reportedly deleted numerous controversial videos and posts from his social media accounts.
The trend was initially reported on by The Philadelphia Inquirer on Monday, with the outlet finding that Mastriano had deleted 14 videos from his Facebook account over the past three months. The topics of the videos varied but often featured the Republican candidate discussing controversial topics, indulging in conspiracy theories and butting heads with other right-wing lawmakers.
Among the examples cited by the Inquirer were videos in which Mastriano claimed that the Democratic Party would engage in voter fraud in the 2020 election, denounced climate change as "ridiculous" "pop science" and called the fight to end abortion "the most important issue of our lifetime."
"Heck, the weatherman can't get the weather right 24 hours out," Mastriano said regarding climate change in one of the now-deleted videos, according to the Inquirer.
A former colonel in the U.S. Army and a state senator representing Pennsylvania's 33rd District, Mastriano successfully won the Republican nomination to be the gubernatorial candidate in the upcoming midterm election. He has secured the endorsement of Trump and has long supported the former president's claims about the 2020 election being stolen. He now faces the Democratic nominee, Josh Shapiro, with recent polls putting Shapiro ahead.
Mastriano notably was present at the January 6, 2021, Capitol riots, with some reports indicating that he was among the attendees who went past police barricades. He has denied these reports, claiming to have stayed away from any barricades.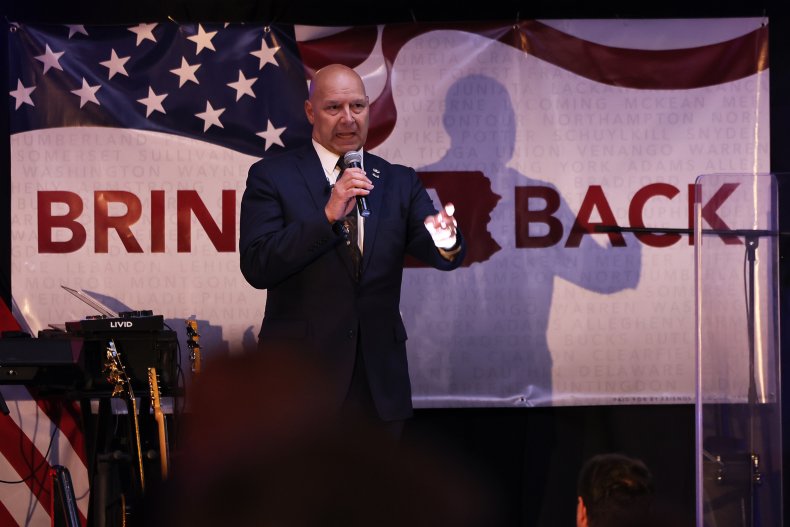 Along with engaging with controversial topics and spreading conspiracies, the videos Mastriano allegedly deleted also involved feuds with local faith leaders, whom he dubbed "cowards," and with Republican officials in the Pennsylvania capital, Harrisburg. These latter videos, in particular, could be potentially damaging to Mastriano's campaign, as his candidacy has already led some Republican leaders in the state to back Shapiro in November.
In one video, Mastriano reportedly railed against critics from within his own party, calling local leaders "corrupt" and accusing them of opposing him out of some sort of disdain for veterans, the Inquirer added.
"That's the reason why I'm running, because of...lying, deceitful people that lack integrity and honor like them," Mastriano was quoted by the Inquirer about his GOP detractors in one video, urging supporters to confront them in person.
Some pundits and election reform advocates have pointed out that a Trump-backed governor could be particularly troublesome in a state like Pennsylvania, since the governor is the one who appoints the secretary of the commonwealth, who then in turn oversees elections in the state.
Newsweek reached out to Mastriano's campaign for comment.