Donald Trump Backs Police After Milwaukee Shooting, Says Hillary Clinton Doesn't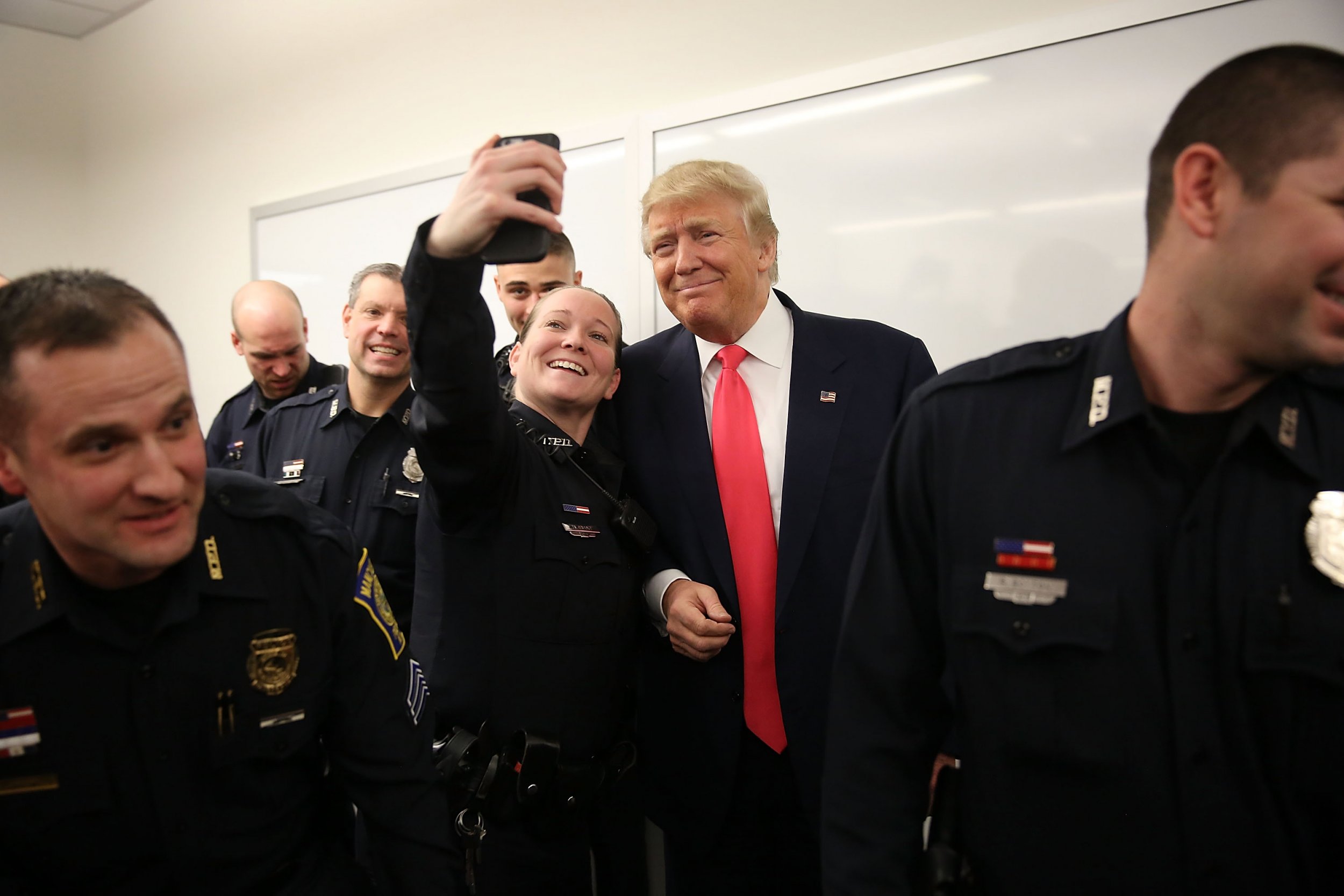 Republican presidential nominee Donald Trump has backed the United States police over the fatal shooting of a black man in Milwaukee, which prompted riots in the city.
Police in the midwestern U.S. city shot Sylville Smith, 23, on Saturday after fleeing following a traffic stop. According to police, Smith was carrying a stolen handgun loaded with 23 rounds of ammunition and failed to drop the weapon when requested by police.
Smith's shooting sparked demonstrations in predominantly African-American areas of the city, which saw protesters hurl bricks at police vehicles and set a gas station on fire. The governor of Wisconsin, Scott Walker, put the state's National Guard on standby to deal with the rioting but it was not deployed.
Trump met with Milwaukee County Sheriff David Clarke on Tuesday before addressing a rally in the city. Speaking to Fox News after visiting the city's police, Trump said that initial evidence showed that the police were justified in shooting Smith. "The gun was pointed at his [a police officer's] head supposedly ready to be fired," said Trump. "Who can have a problem with that? That's what the narrative is. Maybe it's not true. If it is true, people shouldn't be rioting."
Trump has marketed himself as the law-and-order presidential candidate and accused Democratic rival Hillary Clinton for being indirectly responsible for the riots. "Hillary would rather protect the offender than the victim," said Trump at the Milwaukee rally. "Hillary Clinton-backed policies are responsible for the problems in the inner cities today, and a vote for her is a vote for another generation of poverty, high crime and lost opportunities."
Trump also accused Clinton of being "against the police" and said that the "war on our police must end and it must end now," Fox News reported.
Relations between African-Americans and law enforcement have become increasingly tense after a string of deadly police shootings, mostly of black males. Protests were held in Minnesota in July after a police officer shot Philando Castile during a traffic stop for having a broken taillight. There were also demonstrations in Louisiana after Alton Sterling was shot following an altercation with two white police officers.
Police officers have been attacked in incidents since those shootings. Former Marine Gavin Long shot dead three police officers in Baton Rouge in July before being killed himself, while five officers were killed in a sniper attack during a peaceful protests in Dallas in the same month.
Trump is trailing Clinton in opinion polls after a series of controversial comments, including a perceived attack on the parents of Humayun Khan, a Muslim U.S. soldier killed in the Iraq war.