Trump Administration's Banned Words Would Be Deadly For LGBT Americans, Just Like the Aids Crisis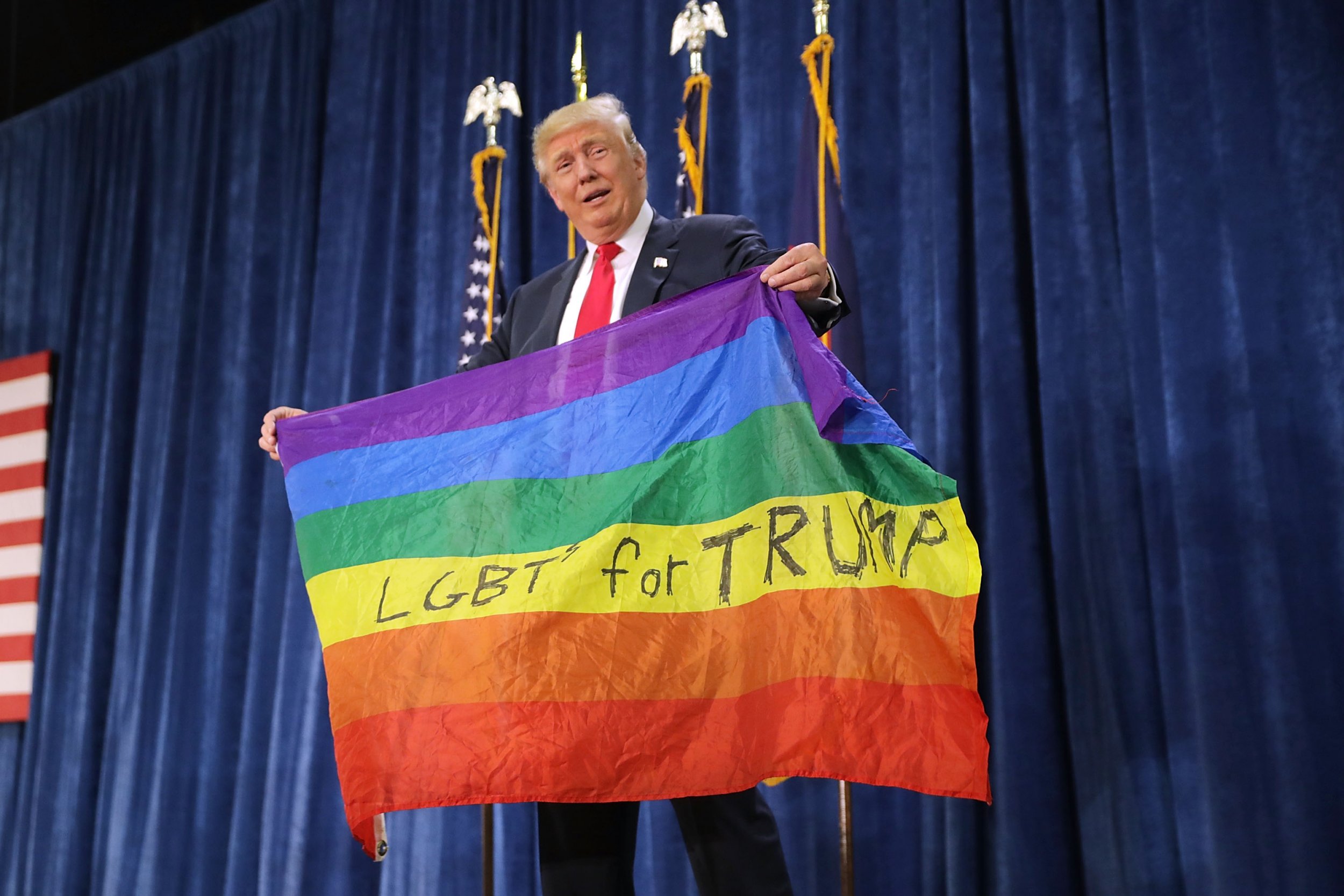 The Trump administration may be telling the nation's top public health agency to avoid terms such as "transgender." The last time a sitting U.S. president refused to communicate LGBT health risks, thousands died on his watch.
An uproar followed a report in The Washington Post that claimed the administration is prohibiting officials at the Centers of Disease Control from using a list of seven words or phrases, including "fetus," "transgender," "vulnerable," "entitlement," "diversity," "evidence-based" and "science-based." In response, CDC Director Brenda Fitzgerald has denied that there is any outright prohibition, with the New York Timesreporting it "was not so much a ban on words but recommendations to avoid some language to ease the path toward budget approval by Republicans."
Whether a ban or merely a suggestion, eliminating LGBT terms isn't new, and the U.S. has seen the repercussions. President Ronald Reagan wouldn't utter the words "HIV" or "AIDS," and thousands of LGBT people died as a result.
"It's not like this is about PC wording—this is about people being dead because there's no way to serve them or research appropriate ways to serve them," Jaime Grant, the executive director of PFLAG, an LGBT-rights organization, told Newsweek.
This implementation could lead to organizations closing down, research being slowed or even stopped, healthcare solutions never coming to fruition—and people dying.
"If you can't collect the data to understand the problems, and define who's impacted, then you can't solve it," David Stacy, the government affairs director of the Human Rights Campaign, told Newsweek. "It's part of erasing LGBT people from the federal government data."
Stacy argues that the Trump administration is doing something similar to what the Reagan administration did during the AIDS crisis—pretending something doesn't exist and hoping that it will go away.
"But it didn't go away, it got worse," Stacy told Newsweek. "People died because the administration ignored them."
Stacy said that denying transgender people's existence isn't backed up by science whatsoever, "so it isn't surprising that they're eliminating the words 'evidence-based' and 'science-based' too."
And the issue isn't specific to the AIDS epidemic that defined a presidency. In 1989, Louis Sullivan, the secretary of Health and Human Service under President George H. W. Bush, suppressed a report on teen suicide because it showed that LGBT adolescents are at a much greater risk than their non-LGBT counterparts for suicide. Because of Sullivan's stand, no recommendations for further research were made. LGBT youth are still almost five times as likely to have attempted suicide compared to heterosexual youth.
LGBT representation has actually gotten a lot more common in the federal government, activists argue—but the Trump administration's reported discomfort with certain words could worsen the fate of the most vulnerable people.
Cecilia Chung, the senior director for strategic projects at the Transgender Law Center, told Newsweek it took three decades to get where we are today and eliminating these words is "a clear message that the administration wants to delegitimize [transgender] existence."
Refusing to speak frankly about vulnerable communities and the issues that affect them most will have an immediate effect.
And the implementation of such a ban will begin affecting transgender people immediately. For instance, the National Center for HIV/AIDS, Viral Hepatitis, STD, and TB Prevention is working on ways to prevent HIV among transgender people and reduce health disparities, which will be harder if they can't even use the word "transgender." Providing grants for studies that affect vulnerable communities will be much more difficult if the applications can't even use the word "vulnerable."
"It's frankly terrorizing and it sends a signal across the board that transgender lives don't matter," Grant said.