Donald Trump Wished Everyone 'Happy Holidays' When Obama Was Saying 'Merry Christmas'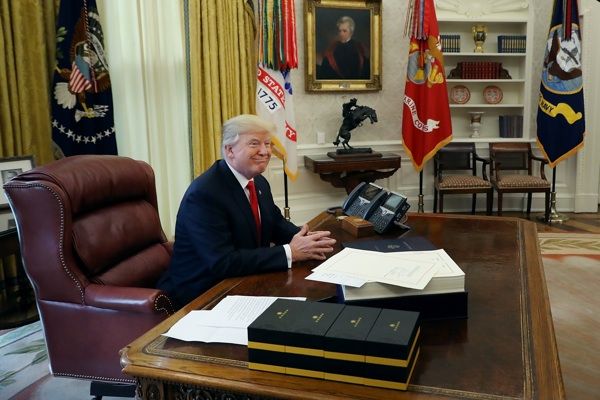 President Donald Trump says he was "proud to have led the charge against the assault" on the phrase "merry Christmas," but the 45th president was actually using his hated phrase—"happy holidays"—before he turned into America's self-proclaimed defender in the "war on Christmas."
Back in December 2010, when President Barack Obama was in office, the former reality-TV star spread some Yuletide cheer with his Twitter followers and failed to use the very phrase he recently alleged was under attack.
"Wishing everyone a very Happy Holiday season!" Trump wrote at the time.
Trump has often accused Obama of not saying "merry Christmas" during the holiday season. But, as he did every year of his presidency, Obama wished all of his followers a "merry Christmas" on Twitter on Monday.
"On behalf of the Obama family, Merry Christmas. We wish you joy and peace this holiday season," he wrote.
In addition to his presidential social media accounts, Obama wished Americans "merry Christmas" in his yearly holiday video while in office. He was also caught on film using the phrase while addressing citizens and giving speeches during his tenure.
The controversy surrounding the holiday phrases was launched by religious conservatives who maintained that saying "happy holidays" instead of "merry Christmas" was an attempt to rid the season of its Christian significance.
Trump apparently agrees and has expressed his disdain for retailers, instructing employees to say "happy holidays" instead of "merry Christmas" during the holidays. While on the campaign trail in 2015, he even vowed to "make Christmas great again" by requiring people to greet others with "merry Christmas," not "happy holidays."
"If I become president, we're going to be saying 'merry Christmas' at every store," he said during one rally.