Trump, Obama Approval Ratings Are Exact Same 922 Days Into Respective Presidencies
President Donald Trump and former President Barack Obama have the exact same overall approval rating, 42 percent, at the two-and-a-half-year mark of their respective time in office.
Trump and Obama hold identical 42 percent overall approval ratings 922 days into their respective times spent in the White House. But there are massive racial differences separating who was supporting each president at the same juncture in their administrations––the end of July 2011 and the end of July 2019. When placed side-by-side, Trump has the support of 53 percent of white U.S. adults, compared to just 36 percent of white Americans who supported Obama eight years ago.
On the other hand, Obama's holds staggeringly higher support among black and Hispanic U.S. adults, according to the latest Gallup presidential job approval ratings data released this week. Obama had the support of 83 percent of African-American adults 922 days into his presidency, while Trump has only a 14 percent approval rating among black respondents 922 days into his current presidency.
Among Hispanic adults in 2011, Obama held a 45 percent approval rating, while Trump has only a 25 percent approval rating under his administration in 2019.
The Gallup polling data was collected between July 15-31 and was conducted in the wake of Trump telling four non-white U.S. congresswomen to "go back" where they came from despite three of them being born in the U.S. Trump's low approval among black and Hispanic adults also comes in the wake of his "infested" remarks about Baltimore that drew accusations of racism from figures including House Democrat Elijah Cummings.
These recent controversial comments didn't sway the overall polling data too far, with Trump's approval ratings never straying outside the 11-point lows and highs of 35 percent and 46 percent.
Trump's highest overall approval ratings came on day 830 of his presidency in late April this year when he hit 46 percent. Obama had a much wider range throughout the course of his 8 years in office, with his lowest ever approval rating of 40 percent and his highest approval rating of 69 percent. Obama had his lowest approval rating 936 days into his time in office.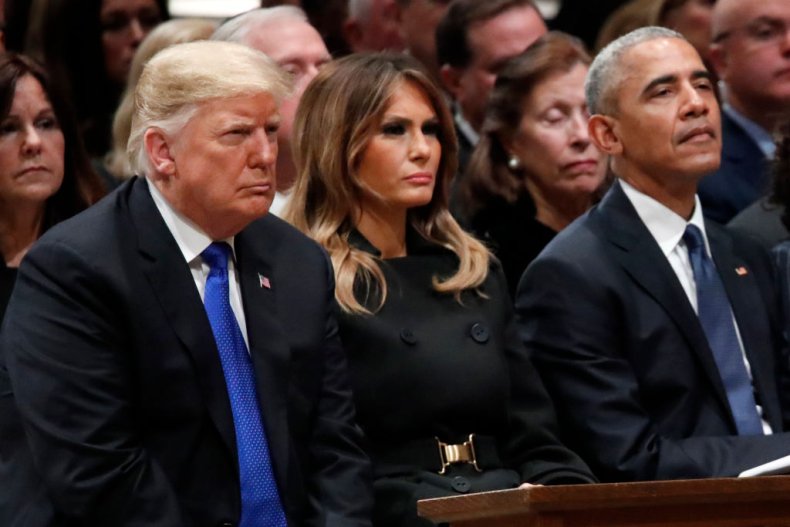 The Gallup poll factors in two July surveys which drew from more than 4,500 interviews about the president's approval rating. The party divide in Trump's approval is massive, with 89 percent of Republican Party voters and only 7 percent of Democratic Party members offering support for his presidency.
Just more than half of non-Hispanic white Americans, 53 percent, approve of Trump's presidency, compared to just one-quarter of Hispanics and just 14 percent of non-Hispanic blacks.
Trump also has a wide gender gap in approval, with just higher than one-third (34 percent) of women approving of Trump's presidency compared to a majority, 51, percent of American men. Just shy of half of Americans over the age of 50 approve of Trump.