Obama Beats Trump, But President Is More Popular Than The Pope And Bernie Sanders In Latest Poll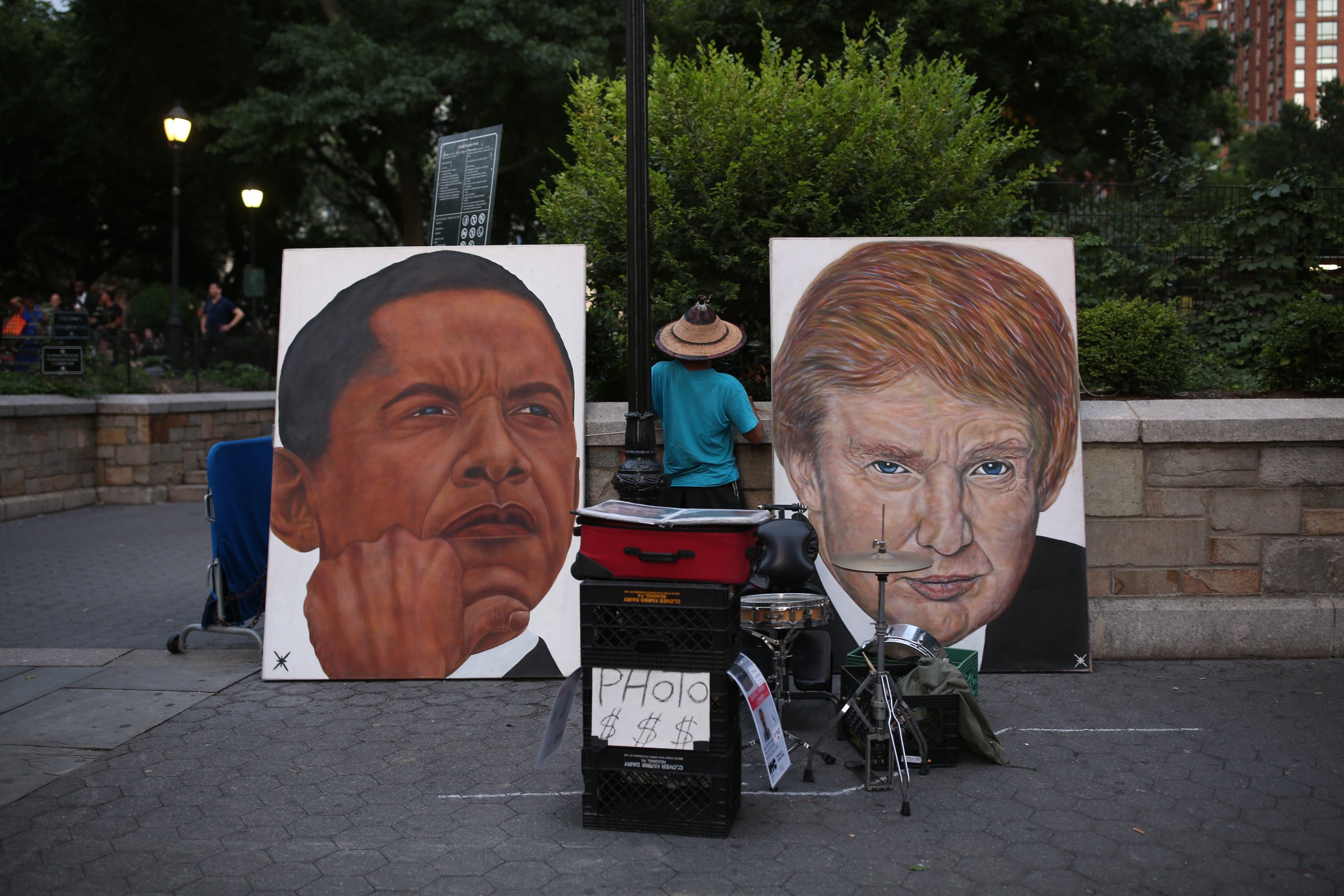 He's the "America First" president, but Donald Trump rates second in a new poll of the world's most admired figures.
Former President Barack Obama narrowly edged out his successor in a Gallup survey released Wednesday that asked Americans to name the men and women they hold in the highest esteem.
About 17 percent of Gallup respondents named Obama, who has now held the top spot 10 times, second only to the 12-time record held by President Dwight Eisenhower. Obama's rating slipped from 22 percent in the 2016 survey.
Trump came in at 14 percent for 2017, about on par with the 15 percent he received in 2016 and way up from the 5 percent he got in 2015, the year he launched his long-shot run for the presidency.
Newsweek subscription offers >
Even as silver medalist, Trump easily surpassed American and world figures such as Pope Francis, the Dalai Lama, Bernie Sanders, Bill Gates and Elon Musk.
Newsweek subscription offers >
Trump has been struggling with his favorability ratings for months, and the Gallup survey reflects it. "The incumbent president is the usual winner, since he is arguably the most prominent figure in the country, but when the president is unpopular, other well-known and well-liked men have been able to finish first," according to Gallup.
Other incumbent commanders in chief who didn't top the list since Gallup began asking the most-admired man question in 1946 include Harry Truman, Richard Nixon, Jimmy Carter and George W. Bush.
Trump also easily outstripped his 2016 election opponent, Hillary Clinton, who topped the list of most admired women with 9 percent of the Gallup vote.
"The 2017 survey marks the 16th consecutive year Clinton has been the most admired woman," Gallup researchers reported. "She has held the title 22 times in total, more than anyone else. Eleanor Roosevelt is second with 13 wins."
Her husband, Bill Clinton, didn't make Gallup's top 10, missing the cut for the first time in 25 years.
Former first lady Michelle Obama slightly trailed Clinton with 7 percent, followed by talk show tycoon Oprah Winfrey and German Chancellor Angela Merkel.
Way back in the pack, with just a single percentage point each: current first lady Melania Trump and U.S. Ambassador to the United Nations Nikki Haley.
Winning the "most admired" slot comes with a certain irony. Of the 1,049 adults polled by Gallup from December 4 to 11, the largest group of respondents, roughly one-quarter, couldn't even name a man or woman they admired at all, pollsters reported.
Others stayed closer to home, with 9 percent picking a friend or relative as the man they most admire and 13 percent doing the same when naming a venerated woman.
The poll has a margin of error of plus or minus 4 percent.
Obama Beats Trump, But President Is More Popular Than The Pope And Bernie Sanders In Latest Poll | U.S.