Trump Supporter Yells 'Lock Him Up' After President Talks About 'Barack Hussein Obama' at Arizona Rally
Supporters of President Donald Trump booed when he mentioned his predecessor Barack Obama during a Keep America Great rally in Arizona.
Trump was boasting that median household income in the U.S. under his presidency had gone up more than under previous presidents.
"Median income, think of this, this is such a big deal, median household income reached the highest level in the history of our country and under President Bush, in eight years, it went to $450 more," Trump said. "Under President Barack Hussein Obama," he said, before pausing, as boos started to ring out in the Arizona Veterans Memorial Coliseum.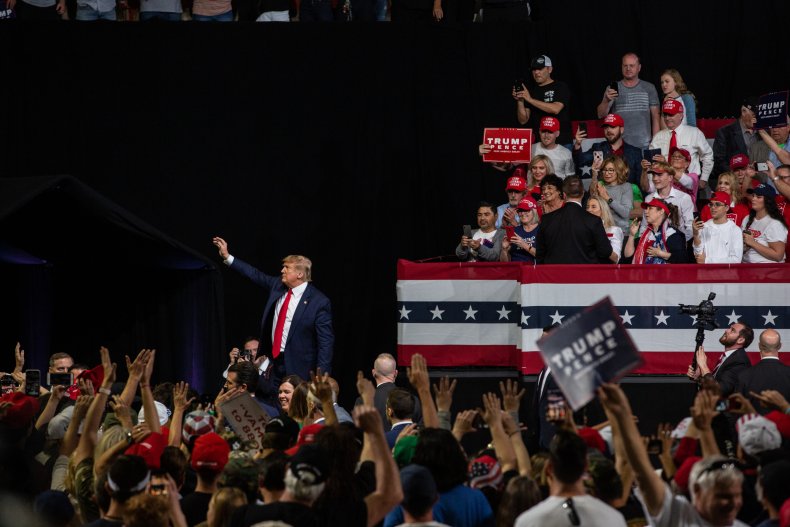 When the boos stopped, the shout "lock him up!" could be heard before Trump continued by saying that "under a period of eight years, it went to $975."
After he mentioned Obama, Trump then continued on his theme about rising median income.
"Under President Donald J. Trump, did you ever hear of him? In only three years, including regulation cuts and tax cuts, because the other one raises taxes and we cut taxes... it went to $10,000 per family. A record," he said to cheers.
Trump's crowds started chanting "lock her up" on the 2016 campaign trail, referring to Democratic nominee, Hillary Clinton. The chant was also used earlier this month at his New Hampshire rally to disparage Speaker Nancy Pelosi, according to The Hill. Newsweek has contacted Trump's campaign team for comment.
Trump has boasted about increased median income before. During his State of the Union address on February 4, he said that "real median household income is now at the highest level ever recorded."
But The New Yorker reported that the increase actually started in 2015 during the Obama administration after slipping for a decade.
Elise Gould from the Economic Policy Institute (EPI) said comparing the median household income across time is difficult due to changes in data methodology, and told CNBC that "2018 is not the highest it's ever been."
However it did note that 2018 median household income of $63,179, was 2.3 percent higher than in 2016 when it was $61,779, according to EPI data.
Citing the Census Bureau, Factcheck.org noted that there had been a change to the survey questions in 2014, which included other sources of income and this could explain the higher numbers.
Aside from mentioning Obama, Trump also took swipes at Democratic presidential contenders at Wednesday night's rally. He called Michael Bloomberg "Mini Mike," Bernie Sanders "Crazy Bernie," and Elizabeth Warren "a phony," USA Today reported.