Whose Fault Is It? Obama and Trump to Blame for Russia Hacking, Former NATO Ambassador Says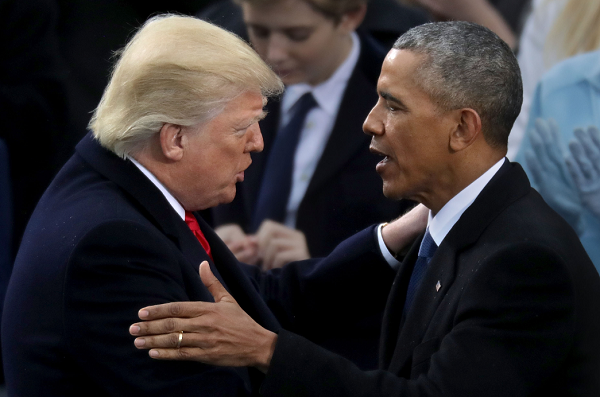 Both President Donald Trump and his predecessor President Barack Obama should have done more in response to Russian intelligence forces' hacking of the 2016 presidential election, according to former U.S. Ambassador to NATO Nicholas Burns.
While speaking before the Senate intelligence committee on Tuesday, Burns condemned both presidents for their lack of action regarding Russia's cyberattack on the U.S.
Although the brunt of Burns' criticism was directed at Trump, the former NATO official, who also served in the State Department under President George Bush's administration, said Trump's unwillingness to make a public statement regarding Russia's meddling was a "dereliction of the basic duty to defend the country."
"I find it dismaying and objectionable that President Trump continues to deny the undeniable fact Russia launched a major cyberattack against the U.S.," Burns said. "President Trump has taken no action whatsoever, and that's irresponsible."
Trump recently appeared to confirm Russian involvement in the election for the first time in a Twitter post while suggesting that the Obama administration "did nothing" to prevent it, even though they were made aware of the matter months before the election.
"Just out: The Obama Administration knew far in advance of November 8th about election meddling by Russia. Did nothing about it. WHY?" Trump tweeted Friday.
The CIA learned Russian President Vladimir Putin had directed Russian intelligence to interfere in the 2016 campaign in August 2016, according to a recent Washington Post report. Intelligence officials reportedly made Obama aware of Putin's efforts at that time and worked with the president to devise a secret plan to plant cyber weapons in Russia's infrastructure, none of which was made public until the Post's Friday report.
Burns, who was speaking to the Senate intelligence committee in regard to Russia's hacking in European elections, said the Obama administration "should have acted earlier and more vigorously" when they first learned of Russia's actions.
Warning that the Russians are more than likely "going to do this again," Burns suggested Trump needed to beef up his efforts to prevent further cyberattacks operated by Russian forces.
"It's his duty to investigate and defend our country against a cyber offensive because Russia is our most dangerous adversary in the world today," he said. "And if he continues to refuse to act, it's a dereliction of the basic duty to defend the country."
During a press briefing Monday, press secretary Sean Spicer told White House reporters that the president recently signed an executive order with regard to strengthening cybersecurity. Trump also inducted an election commission, which Spicer said will specifically look "holistically at the election process to make sure we are taking all the steps to protect the integrity of our voting system."